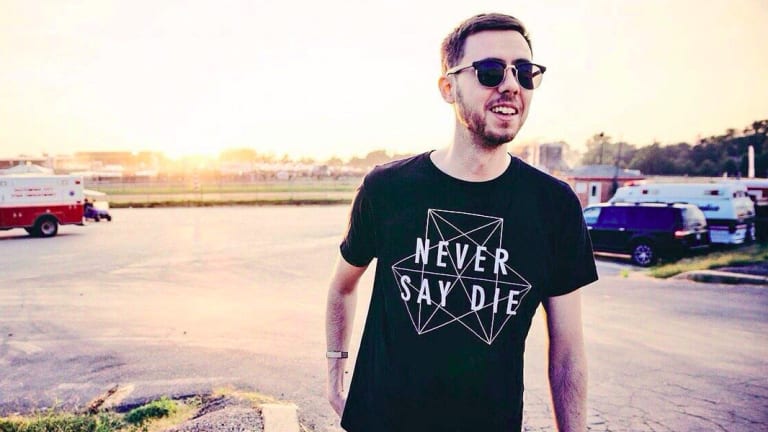 LAXX Is Back With the Fake Friends Remix LP [INTERVIEW]
We talked to LAXX about his new music, Remix LP and influences from the UK and US music scene.
After the success of his LP Fake Friends, the Oxford, UK DJ and producer LAXX is back with another piece of music. Fake Friends (Remixes) is more than just a remix album - it's rather a dancefloor attack full of star-power, and yes, it's out via Never Say Die. We caught up with him to discuss the new release, his influences, and future plans. 
EDM.com: Your remix LP is finally out, and the story of Fake Friends now received its second chapter. Looking at both releases, to whom would you recommend the original one, and to who remixes?
LAXX: I think Fake Friends is much more of an experimental record with all different styles of on it, while the Remixed LP is an absolutely solid dancefloor assault. So both have got their time and place, but the original is more of a listening experience in places, and remixes take songs to the whole new levels of energy.
Fake Friends received really positive reviews, as well as reaction from fans. Have you heard any reactions for the Remix album so far, or it's still so early?
Across the board, I haven't heard anything other than pure love. We got some fresh talent and some established names involved, and everyone crushed it!
How did you first felt when you received the remixes?
Hearing the remixes as they came in, honestly, I was pretty blown away. Every single remixer SMASHED it to pieces. It's nuts to hear sounds I made from scratch twisted and chopped into something completely different. I think my favorite part of it was every artist we got involved took each of the remixes somewhere unique.
In general, how does it feel to hear your music remixed by someone else for the first time?
It's definitely strange at first. Each of the sounds I made/ used in the originals I handpicked and carefully made to fit the vibe so at first, it feels strange having someone else work with them.. but I can't complain about a single thing, I'm so proud of what these guys did on the Remixed album!
For this release, you once again worked with Never Say Die Records. How motivating it is to be part of the family and to be surrounded by top talents when it comes to bass music?
Never Say Die is an incredible label. So much talent on the music, but the guys behind the scenes are just as talented and dedicated. It's a family, from all over the world, and though intimidating with the likes of Habstrakt, Eptic, Trampa, Oddprophet, Megalodon, Zomboy, Must Die, Badklaat, to name a few... It's a solid group of producers who make music they believe in and don't follow short-lived trends. I still find it insane that I'm alongside these guys, but it's massively inspiring and motivating.
You come from the UK, but it seems like you're equally popular in the USA, if not even bigger. How would you explain that fact? Do you have any idea why your music is so well-received across the pond?
You know what, I was thinking about this the other day... I grew up hearing so much music from the US as a kid that I think it inspired me a lot. But as I got older, and got into dance music, it was mainly UK sounds, so I think my music is a blend of both. I listen to a lot of Grime, Bassline, and Garage which inspire my sound a lot and I think it comes out in my music in certain ways. I think I take elements from these and mix it with sounds I like from the US scene.. and people seem to like it!
So, I know the new material is still fresh, but I know many would like to know what you're up to next. Do you have any new music coming up?
I've got a few cheeky bits and pieces dropping pretty soon... which you'll hear soon enough! Fake Friends was massively liberating for me, being able to put all different styles out on the record felt like I was able to flex styles people wouldn't have expected from me, and it feels like the doors have been opened honestly. I've never been one to follow the trends, and I'm going to continue to make music that speaks to me. As I grow and learn and evolve, my music does, too. Fake Friends is just the beginning...
You can buy and stream Fake Friends (Remixed) here: https://nsd.lnk.to/NSDX140
FOLLOW LAXX:
Facebook: https://www.facebook.com/LAXXuk/
Instagram: https://www.instagram.com/laxxuk/
Twitter: https://twitter.com/laxx
Soundcloud: https://soundcloud.com/laxxuk