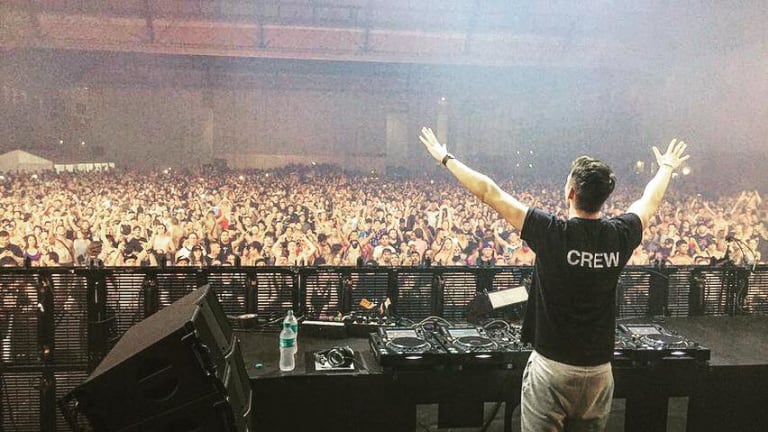 Life is Suffering & Sefa is Going To The Top
Take a look into the world of one of the craziest 17 year old producers out there
The past few years have been pretty crazy for Sefa. At only 17, he's managed to get himself booked at some of the biggest festivals in Europe while performing one of the most esoteric styles of dance music out there. His unique take on a subgenre of Hardcore, called Frenchcore, has taken the Hard Music world by storm and is spreading beyond that. This style of music is incredibly fast. Most tracks are over 200 BPM, however, there is no set tempo. Sets can range all over different tempos in the spectrum of dance music.
At first glance, this music seems totally crazy to most people. It takes a little bit of time to get used to listening to something with such a fast beat, especially when the kick and bass are front and center in both composition and the mix. The extremely rhythmic, aggressive, yet melodic style of music was created in France by DJ Radium in the late 1990s. Since then, it has taken over dancefloors all around the world and experienced rapid growth in recent years with the rising popularity of Dr. Peacock & The Sickest Squad.
Frenchcore is a style of music that attracts one of the most diverse & international audiences we've seen in dance music. If you look at the video above of Sefa's performance at Defqon.1 last summer, you'll see a crowd of different characters, all united by fast, crazy beats. The folks you will meet at these parties are some of the most positive, yet crazy party people on the planet. 
Sefa came to our attention in 2016 with his track "Singing a Song." His potential really started to show when his track with Mr. Ivex, "LSD Problem" blew up on our Hardstyle channel in 2017. 
Additionally, Sefa's solo career isn't his only project. Peacock in Concert is a live electronic act consisting of Dr. Peacock, Sefa, MC Da Mouth of Madness and a crew of live musicians. The performance: Frenchcore with live instruments, in formal clothes, featuring a whole band. 
Although Sefa has been at it for a while, it feels as if his story has only just begun. He just released his new album, "Leven = Lijden", which means "Life is Suffering" in Dutch. Pretty strange name for an EDM album, isn't it? Especially for someone who is performing in front of thousands of people multiple times every weekend. 
We spoke to Sefa about the new album, his live act, and his journey through the music industry:
EDM.com: Sefa! It's a pleasure to speak with you. Thanks for talking to us. 
Sefa: Hey guys! Of course, thank you for the interview. 
EDM.com: For sure! Let's get started. Could you please tell us about the way that you compose your music?
Sefa: I listen to classical music in my free time, so that explains the harpsichords, organs and other stuff in my music. I don't use a classical way of writing though - I just use melodies that I like. When I write, I envision myself on the dancefloor. Just me, standing there, and the DJ is about to play a record. What do I want to hear? Sometimes, I wake up with a melody in my head, and so I write it out as soon as I wake up.
I didn't have any formal music training. All the chords, theoretical aspects, and notes that you hear are all self-taught. I never had a piano teacher - started playing a year and a half ago because I wanted to play melodies from my songs. Then, I noticed patterns in melodies that I liked, and then I started to learn them well. I noticed that I could really improvise, so now, sometimes I improvise for over two hours a day. I record my sessions, and sometimes I hear a melody I really like, so I use it for a track.
EDM.com: When did you start producing, and how did you start?
Sefa: When I was 9 years old, I wasn't really a fan of music. One day, my mother took me to a friend's place, and he had FL Studio running on his TV. I started to see how music was made, how complex the process was, and how creative you could be. I told myself that this is what I wanted to do, and for my 10th birthday, my mother bought me a laptop with some music production software on it. I locked myself in my room for weeks, didn't have any social interactions with my classmates at all.
After that, I came across Hardstyle on YouTube. At first, I was pretty intimidated. It was rough, and in your face, but after a few more songs, I started to appreciate the style and the feeling it gave me. So, I started to produce Hardstyle. Then I started to listen to Headhunterz & Noisecontrollers, and they really inspired me. My tracks started getting pretty advanced when I was 11.
Then, my mother met Dr. Peacock at a bar in my hometown. They started talking, had a few beers, and my mother said, "My child produces music, could you come visit him?" He agreed, and came to my house, and was really surprised by such a young kid making this style of music. I had no idea who this guy was, only that he was in my living room. Then he started inspecting the way I produced music and left. My mom told me it was Dr. Peacock, so I looked him up, and thought, "Wow, this music is amazing!" I fell in love with Frenchcore.
I started making Frenchcore and started sending demos to Peacock every few months. After a few tracks, he was really impressed and invited me to his producing masterclass. It went from there. One day, he said a track was good enough, and that turned into my first EP on Peacock Records. From there, I got a contract at BKJN Bookings and started getting booked, making more tracks, and now we're here!
EDM.com: Could you tell us about your album title and the recurring themes in the album?
Sefa: My idea for the album title is "Leven = Lijden", which means "Life is Suffering". It came from a philosopher I used to read a lot, Schopenhauer (which also is the name of the first track on the album). It's really pessimistic stuff. I started using samples from his philosophy, and asked myself, "Why not use this pessimistic philosophy and all the weird stuff with my happy tracks?" It's kind of a "Ying & Yang" concept. I called the album exactly that and gave some tracks depressing names.
It's also a joke we have as DJs at Peacock Records. Whenever something goes wrong, we say "leven is lijden". It's a meme inside our group. If you listen to the endings of some of the tracks, those are actually samples from other DJs, when they're angry and scream messages in their WhatsApp microphones. They didn't think about it when they screamed it in the mic, but I used it anyway! I cry every time I hear one of those samples and ask myself, "WTF am I doing?"
In general, I think the music industry takes itself too seriously. I like to have some funny WTF elements in my tracks. You don't hear any tracks on Spinnin' Records with stuff like this, so that's the whole idea.
EDM.com: We noticed that your album went beyond EDM's standard 4/4 time signature. Can you tell us a bit about this?
Sefa: I am actually one of the first people to use 3/4 in Hardcore. It started when I heard Handel's Sarabande, and I wanted to make a Frenchcore version of it. However, it was in 3/4, so I had some issues doing the remix. I tried to change it to common time, but it lost its groove. So, I decided to make a track in a different time signature, and it actually worked out really well. It has an extra swing to it. Instead of having the snare on every second beat, you put it on the third beat. It works really well on the dancefloor! You do however need to make sure the intro is in common time otherwise it's going to be impossible to mix.
EDM.com: Can you tell us about the album's upcoming vinyl release?
Sefa: I've already had some vinyl releases on Frenchcore Worldwide, and I'll be doing one with the album as well. After the album has been out for a while, I'm going to check the popularity of each track, and put together a special vinyl release with the most popular tracks. Something like a best of, collector's edition thing.
Frenchcore Worldwide has been releasing vinyl for a while - Dr. Peacock decided to find a label that still produces vinyl consistently and successfully. He ended up working with the guys from Underground Tekno, who operate a successful business in France pressing Hardtek vinyl. Lots of fans want the vinyl as collectors editions in their houses.
EDM.com: What's the plan after the album?
Sefa: I'd like to release another EP in the same style as the album. Something like an epilogue, with the tracks that everyone's asking for. But first, I'm going to let this album sink in before I start releasing other tracks.
EDM.com: Could you tell us about "Peacock in Concert"?
Sefa: Peacock in Concert is going really well! Peacock asked me to play the piano at Defqon.1 last summer. It went so well that I got integrated into the roster of Peacock in Concert. I'm playing next to professional musicians - a violinist, and an opera singer. It's become a nice team - Peacock supplies the tracks, and we study them. A plus of being part of Peacock in Concert is that you get to perform on some of the biggest stages in Europe. Defqon.1 Black Stage, of course, and over the winter we did Toxicator in Germany, which had a huge stage. It's really nice to express myself with just a single instrument on stage. Having a booking where you only play the piano is a nice change from the USB sticks and the CDJs.
EDM.com: Do you ever get hot wearing the suit?
Sefa: Well, yeah (laughs). My hands actually get really sweaty, so my hands slide off the keys. It's something I have to deal with, so I put on the suit as late as possible. 30 minutes before my set, I put it on and stand next to the air conditioning and hope my fingers won't get wet. The suit is an integral part of the performance. Nothing has gone wrong yet!
EDM.com: So, what's the plan for the rest of 2018?
Sefa: When it comes to big bookings, I'm happy to return to Defqon.1, of course. Masters of Hardcore just happened, and I'll be at Harmony of Hardcore as well. Later in the summer, I'll be at Hard Island as well. It's an even better festival season than last year!
Check out a short preview of Sefa's new track with Revealed Recordings artist Dr. Phunk in his Masters of Hardcore recap video: 
EDM.com: Thanks for talking to us! We wish you a pleasant festival season with lots of great parties.
Sefa: Thanks for the interview! See you all out there. 
Make sure you follow Sefa on his social media pages: