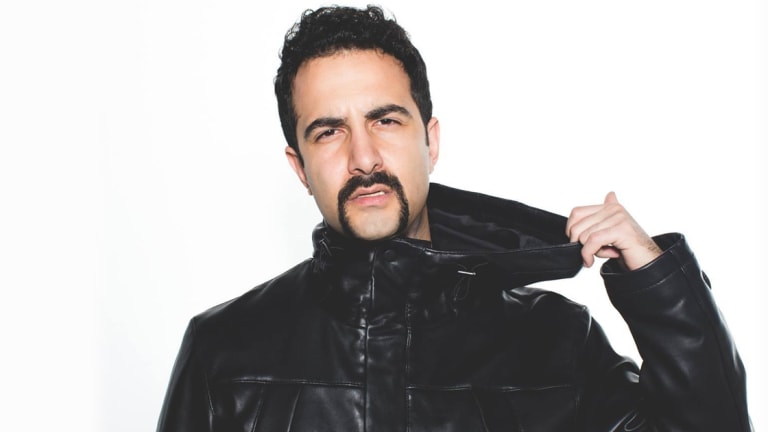 Valentino Khan Is Ready to Throw It down at Light & Life's Dillon Francis Halloween Event [Interview]
Get to know the DJ behind some of the most epic, bass-filled parties.
This upcoming Friday, Light & Life will be holding one of the biggest Halloween events in Brooklyn, New York - and no one knows exactly where. Known for booking high-profile acts in unique New York spaces with cutting-edge production, the promoter strives to cultivate an air of exclusivity with each of their events. 
In the past they've hosted shows for Axwell Λ Ingrosso, Steve Aoki and David Guetta in which ticket holders were given the location details closer to the event. On the 26th, the master of moombahton himself, Dillon Francis, will be added to this growing roster. Supported by rising DJ Nitti Gritti and rave stalwart Valentino Khan, the night will definitely be filled with earth-shattering bass and fresh new music. 
Before the event this week, EDM.com got the chance to catch up with Valentino Khan, who's understandably pretty pumped for the Halloween bash. Mostly known for his bassy electro house hit on OWSLA, "Deep Down Low," Valentino Khan not only produces electronic music, but also hip-hop. We got to talk to him about this, the process behind his music, some of his favorite tracks, and what he might be for Halloween. 
EDM.com: Going back to when it all began, what was your first experience with music and what genre did you like listening to the most growing up?
Valentino Khan: I was lucky enough to be surrounded by really cool music growing up. My parents did a really good job of that. I grew up listening to people like Prince and James Brown and Parliament Funkadelic. I also listened a lot of hip-hop, but that's definitely what I was raised on.
Right out of school you started your music career as a hip-hop producer for artists like T.I., 2 Chainz and B.o.B.. What was your favorite hip-hop track among those you worked on and why?
I'd have to say my most recent hip-hop production of mine is my favorite. I co-produced "Welcome To The Party" with Diplo for the Deadpool 2 soundtrack. To have artists like Lil Pump and French Montana be involved with the record, and to then see it be involved with such a huge motion picture was something that was really awesome. 
If you could produce a song for any artist, not necessarily in hip-hop, who would it be and why? 
I'll give you an artist living and not living. Not alive right now, I would have loved to have worked with Prince. He was one of my heroes growing up. Currently, I'd love to work with Kendrick Lamar. I think he's probably the best rapper alive right now. 
How did you get into electronic dance music?
I was always listening to hip-hop, but one day I walked by my brother's room and he was playing "Waters of Nazareth" by Justice. That was the song that first spoke to me and made me want to get into dance music.
How different is it producing tracks for EDM as opposed to hip-hop? Is the process that much different? 
I feel like with dance music it's normally for my own artist project so I have complete freedom there, and I don't necessarily have to worry about leaving space for a vocalist. When I'm working with another artist, it's important to leave that space, and I think it really requires a keen ear to know how much to do and where to hold back in terms of production. I think the goal at the end of the day is to maximize that artist potential and have them sound as great as they can on that track. 
The best thing about you is that you're very versatile when it comes to producing your music. You've released tracks under a variety of subgenres like house, jungle terror, trap and moombahton. When you're working on a new track, how do you decide what subgenre you're going to make? 
When I'm working on a new song, it really depends on where the inspiration comes from. If I start with a vocal and I feel like a house record makes sense for that, then I'm going to go in that direction. But if I find a synth that's really aggressive and weird I might do something really aggressive and weird to match that. It really all depends on what point I'm coming from when I'm attacking a track. 
When you're in the studio and you're stuck on some part of a song, what do you do to get out of that funk?
I really believe that writer's block is something that we create in our own head and it's something that we do to sort of mindfuck ourselves. What I always do is try something different that I haven't tried before - that might be using a different synth, it might be flipping it in a different way, or it might be starting from scratch. I think it's important to keep an open mind when you're in that situation and try everything possible. 
Out of all of the music you've ever produced, what is the most meaningful song to you and why?
I think my most meaningful track at this point in my career is "Deep Down Low." It brought me into a whole different world, and was really a launching point for a lot of different things. 
When people listen to your music, what do you hope they get out of it? What kind of message are you hoping to get across?
I don't know if I'm specifically trying to get anything across, other than pushing music forward and pushing the sound forward. I think that's always really important to me. In terms of what I hope people get out of it, I think that's kind of up to the listener. At the end of the day, I just hope people enjoy it. That's all that matters. 
Since Halloween is coming up soon and you're going to be playing at Light & Life's Halloween event, are you going to dress up as anything or anyone?
A lot of people for some reason want me to dress up as Macho Man Randy Savage. But I don't know, I haven't dressed up for Halloween in a long time. If I do, though, I'll do it big. 
Do you have any pre-show rituals or perhaps something you always do after shows?
My #1 pre-show ritual is definitely stretching. I move around a lot out there and the last thing I want to do is pull a hamstring or something. 
After Light & Life's event, what's next for Valentino Khan? Do you have any new releases or big shows coming up?
I'm working on a lot of new music – a lot of great house music. I also have collaborations coming with GTA and Kayzo, among others. I'm looking forward to doing my own tour at the top of 2019 and doing some incredible shows. 
Follow Valentino Khan:
Website: valentinokhan.com
Facebook: facebook.com/ValentinoKhan
Twitter: twitter.com/valentinokhan
Instagram: @valentinokhan
Soundcloud: soundcloud.com/valentinokhan