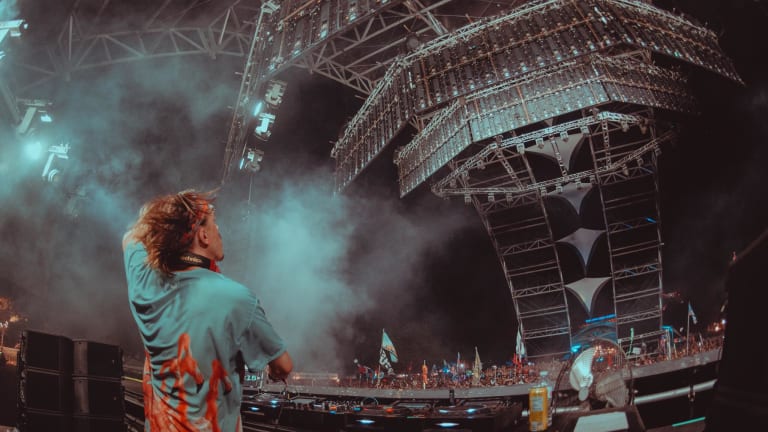 Liquid Stranger on How the Inaugural Wakaan Music Festival Came About [Interview]
EDM.com caught up with Liquid Stranger to talk about his first festival and the growth of his label, Wakaan.
Most artists strive to create something that inspires people, but few have done it to the same level of success as Martin Stääf, known professionally as Liquid Stranger.
Ever since his early days as a studio producer, Stääf has made his influence felt in every endeavor with which he's been involved. While the Liquid Stranger project now boasts a nearly two-decade music catalog, the 40-year-old, Swedish-born producer's magnum opus might just be his artist imprint, Wakaan.
From its inception in 2015 as a collection of like-minded friends and bass music artists to its present-day standing as one of the most respected independent labels in the industry, Wakaan has exemplified the genre of freeform bass with its intent to create positive, uniques experiences through the power of music.
Behind its edifying intent and staggering rotation of artists like Space Jesus, Champagne Drip and LSDREAM, Wakaan has quickly become one of the most popular and widespread brands in electronic music. As is per usual in the EDM world, its rise in popularity has cultured a rabid fanbase that has become every bit as integral to the brand as its leader.
As the label continued to gain traction - in particular on the festival circuit - its newfound, widespread fan base began to clamor for a full-on festival organized by the label that would showcase its talent and bring together its family from around the United States. The immense demand, Stääf admits, forced their hand to proceed with plans to organize its first-ever Wakaan Music Festival, which is now slated for this fall.
"I always try my best to listen attentively to what the fans desire," said Stääf, who caught up with EDM.com earlier this month. "It was the main factor that made us do a festival this year."
Both before and after the announcement, one of the biggest queries remained how the talent would be organized, with a consensus majority asking for a Wakaan-heavy lineup that featured a few gems from the bass music community. On June 30th, fans finally got their answer.
The lineup boasts a heavy array of Wakaan talent, as well as influential bass music and electronic artists like Manic Focus, Jantsen, and Subtronics.
"We wanted to give our fans a broad representation of the main players within the freeform bass community," said Stääf. "Of course, we have a lot of the Wakaan talent playing — but [we] also tapped a bunch of our favorite producers, who we are fans of and love."
In addition to this, the festival will also host up-and-coming label parties from the likes of Sub.mission, Sermont Nation, and the Midwest collective Spicy Bois, led by talented up-and-comer Meso.
While the lineup only came out this past weekend, fans wasted little time in locking in their spots for the inaugural festival. Tickets went on sale May 1st, and as of June 1st they were 85% sold-out - an impressive feat for any festival without a lineup to promote let alone a first-year event.
Additionally, the festival will be hosted at Mulberry Mountain, an intriguing pick for the label's first-ever gathering. Nestled in Arkansas' Ozark Mountains, Mulberry Mountain presents a unique and beneficial opportunity for Wakaan to forge its own tradition in a region that is largely unclaimed by any big events or festivals aside from Mulberry's annual Backwoods Festival.
"Mulberry Mountain is a beautiful, scenic location that creates the right setting for the festival," said Stääf. "In addition, since it's been used for festivals in the past it already has most of the infrastructure in place that we need. We also took inventory of other festivals and their locations and felt like we could bring something new and special to the region."
Another factor that played into the festival's location is its climate. With the not-too-distant memory of the tragedy at Lost Lands this past year, it was important to Stääf to find a venue that would be a good fit for fan safety as much as its music accentuation.
Despite having the responsibility of organizing his "biggest event" to date, Stääf maintains it's been "all fun" as he gets to put together his first lineup, as well as lead visual art direction. While we pressed him on what sound system production team he's booked, Stääf promises that too will be unveiled for fans very soon.
Tickets remain available in limited numbers for Wakaan Music Festival, and are likely to sell out soon with the lineup now available. 3-Day GA, VIP, and RV passes can be purchased here.
FOLLOW LIQUID STRANGER:
Facebook: facebook.com/liquidstranger
Twitter: twitter.com/LiquidStranger
Instagram: instagram.com/liquidstranger
Soundcloud: soundcloud.com/liquidstranger 
FOLLOW WAKAAN:
Facebook: facebook.com/WAKAANofficial
Twitter: twitter.com/wakaanofficial
Instagram: instagram.com/wakaanofficial
SoundCloud: soundcloud.com/wakaan