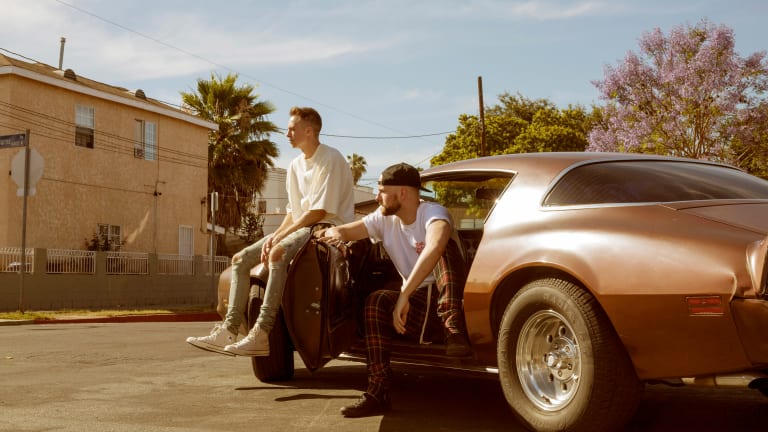 Get To Know The Lost Kings [Interview]
Right in time for Prime Music Festival!
Los Angeles based producers Lost Kings have been making a pretty big splash this summer. From their hit "When We Were Young" featuring Norma Jean to their latest hit "Stuck" featuring Tove Styrke, fans have been taking notice.
The duo has risen up through the ranks of new producer talents gaining over 200 million total streams worldwide and have had 14 #1s on Hype Machine and securing a longstanding Las Vegas residency at The Wynn.     
Next up, the duo will be playing at Prime Fest in Lansing Michigan! In prep for the big show, the duo took some questions in order to give us a better understanding of who Lost Kings are and why we should take notice. 
First off, thank you so much for taking these questions, I love the work you two have been putting out! I read you guys paired up after meeting at a party. Do you ever think what your lives would be like if you didn't end up going to that party or do you think eventually the universe would've brought you two together? 
We do think about that and hate that scenario haha. We think this was meant to be
Did you always know you wanted to be electronic music producers? 
Not electronic music, we both grew up influenced by other Genres but Music was always the goal
I love the meaning behind your moniker, can you explain it to the audience for those who don't know? 
LA can be a crazy place especially when you just move there. It's easy to get caught up in the party scene and kind of lose yourself out here which we both did and that's where lost comes from. Even though we did get caught up in the scene, we always knew what our goals were and they were extremely high. So that's where Kings come from.
How long did it take you guys to settle on that?
It took a while and we ran through some bad names haha

Any funny names that didn't make the cut?
There is but only the day 1 fans get to know that

Lost King's have been killing it lately with the major success of "When We Were Young" to your newest single "Stuck"! Both tracks are super relatable, can you break down the headspace you were in while making them?
We always strive to make our songs universal so that anyone can relate to them. These were two concepts that we really felt we related to and also thought others would.
I also loved the music videos for each. I appreciated how you had the kid flossing in the "When We Were Young" video then you guys do the same move in "Stuck" haha! I always imagine doing music videos for the song is one of the best parts of the job. Do you guys play a big part in that process? 
We love coming up with the ideas and being involved in the process. We were able to come up with the idea for the W.W.W.Y. Video and give it to the director who took it and ran. For the stuck video and some of our videos our videographer and brother and basically 3rd member Tyler Bailey did that Video. He knows how to capture how we are off the stage and we love showing people that side of us. We had an unbelievable trip where we went to Ibiza, Split Croatia and Hungary and those settings were perfect for the summertime vibes of stuck.
You guys have played some major festivals, where would you guys like to see yourselves next? Any bucket list venues/lineups? 
Coachella Lollapalooza and Red Rocks for sure
On that same note, if you could collab with anyone who that be?
Nickleback or Fred Durst.
Who do you look up to most in this industry? 
We honestly look up to a lot of people in other genres who are really pushing the boundaries. Some people at the top of EDM get complacent so they inspire us on what not to do.

Finally, if you could describe each other in 3 words, what would it be?
Big dick energy
Make sure you grab your tickets to Prime Fest to see the guys perform live and follow them here: 
Website: http://www.wearelostkings.com 
Facebook: https://www.facebook.com/wearelostkings 
Instagram: https://www.instagram.com/wearelostkings 
Twitter: https://twitter.com/wearelostkings 
Soundcloud: https://soundcloud.com/wearelostkings