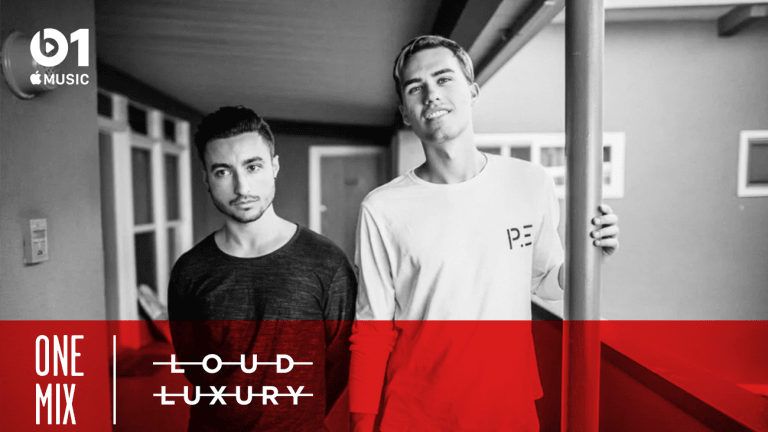 Buzzing Basslines & Bright Melodies as Loud Luxury Star on Beats 1 One Mix [INTERVIEW]
The duo bring their self-dubbed "deep house with a shot of tequila" sound to Beats 1's weekly electronic music radio show.
One Mix, Beats 1's weekly radio show, hosts LA-based Canadian duo Loud Luxury this weekend. Self-dubbed "deep house with a shot of tequila," Loud Luxury's sound is characterized by deep bass lines, bright vocals, and pop-inspired melodies. It's no wonder, since they cite Disclosure and Calvin Harris as inspirations.
Expect a feelgood a mix with music from Martin Garrix, DVBBS, Kaskade, CID, Fisher, exclusive mashups, and hit originals like "Body" and "Love No More."
Tune in here exclusively on Apple Music.
Air Date: Friday 2nd November 2018 - 21:00 LA / 00:00 NY / 05:00 UK
Andrew Fedyk and Joe Depace (the producers behind Loud Luxury) met back at college in London, Ontario through an on-campus club dedicated to music production. Initially, Fedyk was largely producing hip-hop with no real interest in electronic music. That changed when Depace took him to a Porter Robinson show, instantly spurring his passion for electronic music.
The duo cut their teeth playing frat parties and bar mitzvahs, working on their productions until they felt confident enough to upload them to SoundCloud. Given the platform's passionate and far-reaching community at the time, they got lucky networking with artists and garnered substantial reposts and shares when they finally posted their tunes.
Loud Luxury's remixes of Dzeko & Torres' "Home" and Justin Timberlake's "Can't Stop The Feeling" put them on the map. Soon after, they gained support from heavy-hitters like Tiësto, Oliver Heldens, and Martin Garrix, going on to release music on Tiësto's AFTR:HRS label and remix Garrix's "Scared To Be Lonely" with massive success.
The duo has a string of well-received singles under their belt too. "Body," their club pop track which took a year and a half to make, garnered over five million streams on SoundCloud and won song of the summer at the iHeartRadio Much Music Video Awards. Their most recent single, "Love No More" follows up the "Body" sound with a similar emphasis on pop-savvy vocals, bright toplines, and buzzing bass lines.
As Loud Luxury gear up for their One Mix, we caught up with them to see what makes their musical minds tick. The pair shared their biggest inspirations, guilty pleasure record, dream B2B partner, and more.
EDM.com: First time you brought your mom to one of your shows?
Loud Luxury: The very first festival we played, we brought all of our parents out. They danced the entire time.
EDM.com: The artist who inspired you to become a musician?
Andrew: Drake and Disclosure.
Joe: Avicii and KISS.
EDM.com: Go-to places for new music?
Loud Luxury: Spotify and Apple Music.
EDM.com: Guilty pleasure record?
Andrew: "Backstreet's Back" by The Backstreet Boys.
Joe: "Photograph" by Nickleback.
EDM.com: Desert island dance record?
Andrew: "Panic Room" by Camelphat and Au-Ra.
Joe: "Levels" by Avicii
EDM.com: Dream B2B partner?
Loud Luxury: A-Trak.
EDM.com: Favorite BPM?
Loud Luxury: 124 - the sweet spot.
EDM.com: Piece of gear you always need on the road?
Loud Luxury: Laptop and headphones.
EDM.com: All-time favorite festival?
Loud Luxury: Veld Music Festival in Toronto, California.
EDM.com: Biggest misconception about dance music?
Loud Luxury: That it's a bubble.
EDM.com: How often do you get out and have fun, and where do you go?
Loud Luxury: We have fun no matter where we go (trust) but when we're back in Los Angeles we like Delilah or Lost & Found in Toronto.
EDM.com: City with the most underrated dance scene?
Loud Luxury: Boston.
EDM.com: Industry prediction for the next year?
Loud Luxury: House is here and bigger than ever.
EDM.com: Best piece of advice for new producers?
Loud Luxury: Keep going (seriously).
EDM.com: Dead or alive, who would be your dream collaborator?
Loud Luxury: Jim Morrison.
EDM.com: A unique travel experience you've had?
EDM.com: Loud Luxury: When we didn't have a lot of money we took four flights in a single day from Miami to Los Angeles to Toronto just to get to a show.
EDM.com: What's one track that fans always lose their mind to?
Loud Luxury: Our track "Body."
EDM.com: What was the first album you ever bought?
Andrew: Room On Fire by The Strokes.
Joe: The Marshall Mathers LP by Eminem
EDM.com: Name one remix that you think is better than the original.
Loud Luxury: Crookers' remix of "Day N Nite" by Kid Cudi.
FOLLOW LOUD LUXURY:
Facebook: facebook.com/loudluxury
Twitter: @LoudLuxury
Instagram: @loudluxury
SoundCloud: soundcloud.com/loudluxury