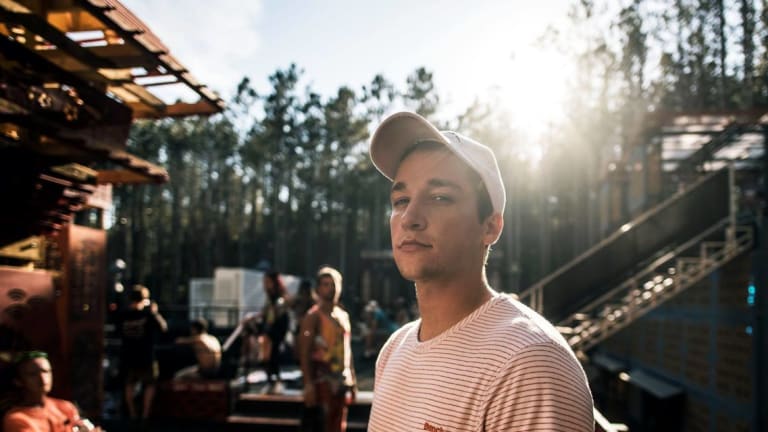 Louis Futon Ends His Headlining Tour On A Very High Note [Interview]
Louis Futon is 26 years young and at the top of his game.
Louis Futon ended his Fall On Me tour with a bang, selling out The Teragram Ballroom in Los Angeles, California. The show was filled with high energy, vibrant lights, and insane instruments. When Louis Futon steps on stage, you feel the music flowing through his veins. Even off stage, that energy transcends through his music production and social media presence. With an oversaturated electronic music market, Louis Futon is a breath of fresh air. He pushes the boundaries of his sounds, bringing in soul, R&B, hip-hop, and jazz to the table. His live set included an amazing trumpet player who goes by Ariel Shrumpet on Instagram. His addition to the tour took the show to another level of artistry.
Louis Futon is not a stranger to the music world. In 2015, he released "Wasted On You" with ODESZA's record label Foreign Family, amassing millions of streams. Since then, he has been producing feel-good music, touring across the country, and creating sensational beat challenges with his friends. He's doing pretty well if you ask me.
We sat down with Tyler (Louis Futon) before his Los Angeles show to talk about his upbringing, creativity, and some deep pizza thoughts. 
EDM: How did you and Foreign Family first come together. What's was the process to land the official release of "Wasted on You" with them?
Louis Futon: Ah, I actually forget. I really don't know because it was right at the beginning of Foreign Family when we started talking and they said "Hey we got this label, it would be sick if you put out a song" and I said "How about this one?" and then they said they loved it. They might have reached out to us or we might have reached out to them I'm not sure. That's a terrible answer. (laughs)
EDM: Your show tonight is with Brownies and Lemonade. How did you first get introduced to the LA crew?
Louis Futon: 
Well, it's funny, we were having brownies and lemonade... Nah I'm just kidding. I met Kush (B&L member) awhile back, we met at Hard Summer 2 years ago and said "we should do something together" and then it never happened for another 2 years. But it finally did happen! And here we are. 
EDM: So you live in LA, what's your best and least favorite part about the city?
Louis Futon: My favorite part is the smog and my least favorite part is the ocean... I'm more of a smog guy. 
EDM: We absolutely love your beat challenges they are so entertaining to watch. What made you think of the beat challenge?
Futon: So I did this one for J Dilla's death and I did a step by step to honor him and it did pretty well and then my managers were like "we should turn this into a thing"  and I said "nah it won't do well" and they said "yea lets try to ask people what they would want you to flip and then just flip it" and then I agreed and it just blew up. 
EDM: It seems like it comes so naturally for you.
Futon: That's my process it comes so naturally to me because I don't think twice about it that's how I make music but it's actually insightful because it's really that easy. It's kinda intimidating for other people who want to get into music where people don't know the process and how it's that simple. It's more about the energy and flow of producing rather than the technicalities of it. 
EDM: You seem like you have a lot of musically woke friends. Did you always have musically inclined people in your life growing up? 
Futon: I did, I was in and out of bands my whole life. I picked up drums and guitar and I was in and out of so many bands that definitely helped shaped my music taste and pushed me further. I used to write all of our old stuff with all my friends. I was getting in raps when I was in 6th grade. And for electronic music, its hard to say, maybe my friend right here way back when introduced me to Skrillex. I really like hip-hop too so I try to blend those two, and I'm always changing now, it's completely different from when I started 3 years ago. I never know where I wanna take my music, I just take it day by day. 
EDM: There has been a big wave of changes with electronic music. Its reached mainstream channels and has been saturated with a lot of similar sounds. You are so good at standing out from the rest. What is the scariest part of the industry for you right now?
Futon: Scared? I'm not scared of anything. 
EDM: Can we expect an album or an EP in the near future?
Futon: I have a couple of songs coming out with a few friends and then a single and.... then I can't tell you. That's it.
EDM: Last question, if you could be a pizza what kind would you be?
Futon: That's a tough question. Easy answer veggie pizza. Hard answer... well, smashed yams to put as a sauce, chopped up zucchini, preheat to 375 degrees add some pepper, then some pineapple. That doesn't mean I would eat that pizza but if I were a pizza that's what I would be if that makes sense.