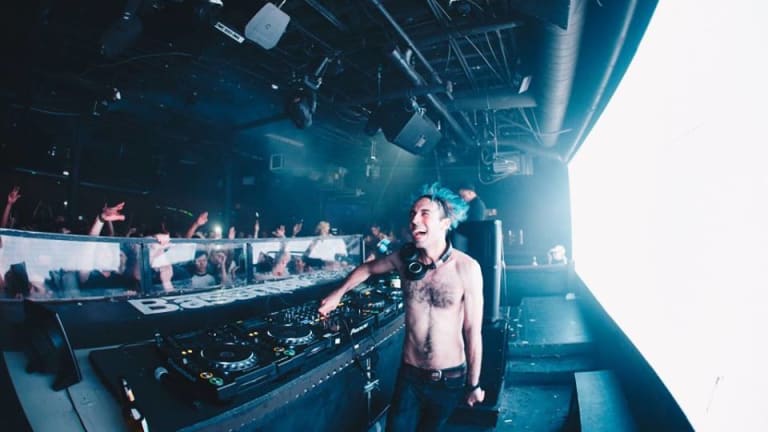 Luca Lush Talks Tour, His Mad Decent Debut, and Making "Variety-Step"
We sat down with Luca Lush to discuss plans for his upcoming tour, his creative process, and the music that inspired him to start it all.
Hailing from New York City, Luca Lush (Real name Frederick Jabronious) has found his niche in the future house realm. With a unique sound of his own design, it's easy to see why some are dubbing his style of music as "Variety-Step". 
26-year-old Jabronious recently moved to L.A. to fully immerse himself into his production. Based off his recent discography, he shows no signs of slowing down anytime soon. With a set list and quiver of tracks as wild as his signature bright blue hair, Frederick's sets are instant party starters sure to get a club moving. 
EDM.com had the chance to sit down with him and talk about his upcoming plans for the future as well as how he has defined his own style. See what he had to say below:
EDM.com:  We hear it's your first time playing here in Atlanta. How do you like it so far? 
Luca Lush:  Well actually, your boy's got family out here, but they bailed on me tonight. Chris and Michelle if you see this, I'm annoyed (laughs). But yes, it's my first time playing here and the city is pretty tight.
EDM.COM: In another interview you said that prior to getting into dance music you were actively playing in emo bands. What was it in particular that steered you into producing the genre that you make today? 
Luca Lush:  The first bit of music I started making, I was trying to emulate Flying Lotus or a bunch of other washed out, chillwave artists. Unfortunately, I was just so technically incompetent and didn't know what the hell I was doing, so it all sounded like trash. 
I started going to more shows and hanging around people that were in the moombahton scene in New York when it was popping off, so I was trying that but people weren't playing my tracks because they always had these big, melodic sections. It was inappropriate for that scene to have anything "feelsy" combined with all my other drops, so I scrapped all that and started Luca Lush with a more focused idea of having those kind of melodic and weird chords. 
I taught myself, so a lot of my chords are considered weird and my progressions are a little strange to some people. Fucking Modest Mouse, they're why my chord progressions are weird - but that makes it unique and special to your experience. 
EDM.COM:  A lot of musicians tend to hang out with a group of like-minded artists. Do you have that same type of support system? If so, who is in it and how do they influence you?
Luca Lush:  This was really important to kind of getting my ass in gear. I had this big Facebook and Twitter chat with a bunch of SoundCloud kids that I knew - there was like Young Bae, Flamingosis, Ekali, Josh Pan, Dirty Chocolate, Y2K and a bunch of other people I'm forgetting about. We would always post tracks and demos, and basically just shoot the shit, it was a nice little environment to have. I guess now maybe not as much, but I still have my friends in LA. I still play video games with Prom Night and Ekali and a few other people regularly. At the end of the day after producing, you hop on Dischord and have a bunch of friends on there, so it's kind of flow. 
I'm tight with people like Minnesota who brought me on tour two years ago, which was a great experience. I'm bringing Bijou on tour whose also on our management team. He's put out some great tracks recently and is really coming into his own, I'm super excited to have him. 
EDM.COM:  As you mentioned, you have a big tour announcement coming up this week. Want to go ahead and tell us a little bit about it? 
Luca Lush:  Yes, a Big North American tour. I think it's twenty three or twenty four cities, a lot of markets that we haven't hit, as well as a lot of places that we already have. We're gonna have some cool production for the vast majority of them, an all new visual package, everything. I can't say who all the support acts are just yet, but it's going to be a really good time. The shirt will come off at a lot of shows, I'm certain of that.
EDM.COM:  What about the pants? 
Luca Lush:  I don't know about the pants, I might need to do so and step it up a notch (laughs).
EDM.COM: You've had a pretty successful year, on top of your tour you also just had your first original release, "Another Life" on Mad Decent. We noticed you took a heavier and deeper approach to producing this song, what was it that made you want to incorporate that change? 
Luca Lush:  I'm actually really glad you noticed that, in general I was moving in a heavier direction. When I first started playing, I didn't have much of a feedback loop, once you play more shows, you start getting more feedback. At first I was just making whatever I thought was cool, which was obviously more catered to a home listening environment rather than a club experience.
 I think I played 70 shows last year and close to 80 the year before, and that really does influence the way you look at production. You start to think about how these songs are going to work in the main place they're going to be played. No hate towards people that are like "I want to make stuff for Spotify", I do that too and that's totally cool. Honestly, you just have to know where the track is going to be played, and this track was obviously going to be catered towards a crowd at a club.
EDM.COM: You've done a great job of developing your own signature sound and style, just curious what your creative process of formulating that sound was like?
Luca Lush:  Well I have my roots in Hardcore, Emo, and whatever have you. A lot of the progressions of my songs where there are repeating sections or a little bit of a tempo change is considered "not normal", and not so much mainstream EDM. I love Mars Volta, they're very technical just for the sake of being technical sometimes and I try to incorporate that. I'll also go the other way and try to structure something that's very accessible for somebody that might not be into dance music or familiar with those things. I'll try to have a bit more of a traditional pop-verse chorus structure and appeal to a larger demographic.
I love heavy metal, I like Slipknot and shit like that. Growing up, the first CD I ever bought was Linkin Park's "Meteora". When I was younger, tech house and everything going on in New York at the time was a big influence as well. I was 15 or 16 years old going to these raves, enamored by the scene and the music, sorry dad. I mean I still want to make more house at some point, It's in my blood as a New Yorker. 
EDM.COM:  So out of that creative process, what would you say might have been the most important aspect to dial in your sound? 
Luca Lush:  I would say being comfortable being eclectic, some say my sound is a lot more diverse than a lot of other artists. You have to be comfortable being uncomfortable and testing the waters of territory you're unfamiliar with. Earlier this week, someone described my style of music as "variety-step", and that's actually pretty accurate. 
Like I said before, it's really important to have that sense of community as well. It's good to have friends that are also really into what you're doing and kind of pushing you forward, that can be a huge impact. It's fine to take influence from artists, I take influence from other artists still to this day. I'll check out my friend's songs that I think are dope and try to figure it out on my own. I'll spend an hour or two and just tap out the structure, maybe reverse engineer some of the sounds, then I'll go ask them about it. I don't want to sound like a dick and be like "Yo... Can I get that patch?".
 A lot of people will ask "How do I get better?", but it's about having friends that are also doing it and actively giving you that constructive criticism. It's good to have people that aren't going to blow smoke up your ass because they want something out of you. When they're doing their own thing, they can tell you honestly what is shit and what might be good. At that point you can be like "I disagree with you here", and go your own way with it. At the end of the day, it's good to be able to get that kind of feedback in a truly honest fashion. 
FOLLOW LUCA LUSH:
Facebook: https://www.facebook.com/LucaLush/
Twitter: https://twitter.com/LUCALUSH
Instagram: https://www.instagram.com/lucalush/
SoundCloud: https://soundcloud.com/lucalush