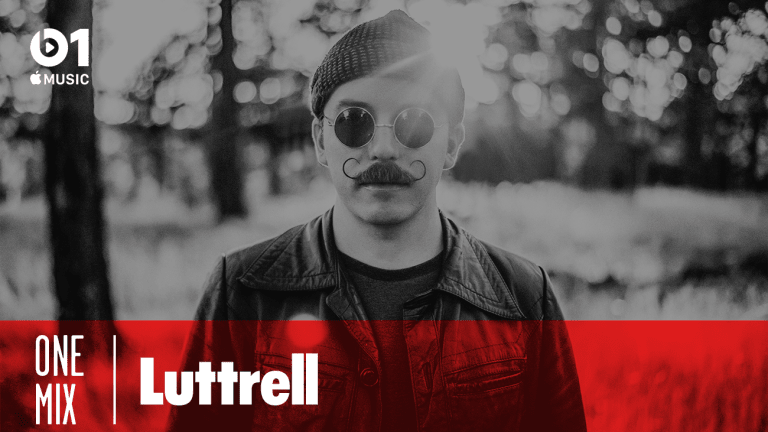 '80s Music Meets Melodic House on Beats 1 One Mix with Luttrell [INTERVIEW]
One of Anjunadeep's finest brings his emotive brand of house & techno to Beats 1 One Mix.
This week, Beats 1's weekly radio show One Mix hosts Luttrell for an 80's inspired mix. Expect music from Yello, Talking Heads, and Dusky, plus unreleased Luttrell productions, as the Anjunadeep mainstay blends his atmospheric style of house and techno with 80's tunes.
Tune in here, exclusively on Apple Music.
Air Date: Friday 1st March, 2019 - 21:00 LA / 00:00 NY / 05:00 UK
Luttrell's journey with music began at the age of 14. Inspired by The Smashing Pumpkins, Iron & Wine, Neil Young, and Sufjan Stevens, his first creations were acoustic and melodic. The transition from 80's synth pop to house & techno came in 2007 when Luttrell studied abroad in Berlin. The fantastic exposure to electronic music was a major turning point, as he mentioned in a past interview, "when I realized I could make that kind of music on my computer, I was hooked!"
Electronic music fans may recognize Luttrell from his many years as part of The M Machine, a duo formed by Luttrell and Ben Swardlick in their college days at the University of Santa Barbara. The M Machine signed with Skrillex's then-new label OWSLA in 2011, kicking off the first of many music successes. 
A slew of EPs and singles on OWSLA, festival appearances at Electric Daisy Carnival, Ultra Music Festival, and Tomorrowland, official remixes of Bruno Mars' "Locked Out Of Heaven," Passion Pit's "Take a Walk," and Empire of the Sun's "DNA," The M Machine had a good run before calling it quits on mutual terms a just a few years ago.
Luttrell was quick to form a budding relationship with Above & Beyond's Anjunadeep label, releasing 3 EPs and his debut album with them over the past 3 years. Ironic, considering at first Luttrell wasn't sure his sound would fit with the label. It was actually on the advice of his good friend, fellow musician and electronic music producer Mat Zo, that he reached out to Anjunadeep back in 2016!
Melodic, deep, dark and moody, Luttrell's sound captures various shades of house & techno. His debut EP, Need You, attests to this. His debut album, Into Clouds, sends it home.
The LP, released less than a month ago, "inspired by the empowerment and vulnerability experienced in starting anew", embodies Luttrell's transition from creating music as a duo for ten years to doing it solo. Luttrell further describes it as, "doing your best to recognise and appreciate the beauty - both in the good times and the bad. I think each song has a message, a vibe or a feeling that each and every one of us can relate to on some level. Some moments are flying high above it all, some are dreamy or whimsical, and some moments are more pensive, delicate or even vulnerable. I want listeners to make this album their own and attribute their personal experiences and feelings to the music."
The 10-track album is well worth a listen, and if you'd like to know more about Luttrell, read on for our interview with him. Luttrell revealed his go-to place for new music, reminisced about his shows in India, recounted Skrillex eating agolf ball sized wasabi backstage, and more.
EDM.com: First show experience?
Luttrell: Opened up for Benny Benassi in San Francisco in 2009 with my old band Pance Party, the precursor band to The M Machine.
First time you brought your mom to one of your shows?
My first The M Machine gig in San Francisco at 1015 Folsom.
The artist who inspired you to become a musician?
Probably The Smashing Pumpkins. Their music really inspired my interest in learning how to create music.
Go-to places for new music?
I scour the charts on Beatport. It's a good way to find really cool, off the grid tracks in different genres.
Guilty pleasure record?
"Hungry Like the Wolf" by Duran Duran.
Desert-island dance record?
"Time" by Pachanga Boys.
Dream B2B partner?
Lauer.
Favorite BPM?
123.
Piece of gear you always need on the road?
Hand sanitizer.
All-time favorite festival?
Burning Man.
How often do you get out and have fun, and where do you go?
I'm usually busy working on new music when I'm home, but sometimes I'll go out for a couple pints and some pinball with my friends in SF.
City with the most underrated dance scene?
Boston is always surprisingly awesome. They show up to party.
Industry prediction for the next year?
More melodic techno and house.
Best piece of advice for new producers?
Keep going. It takes time.
Dead or alive, who would be your dream collaborator?
David Bowie.
What is one of the unique experiences you've had backstage?
One time I watched Skrillex eat a golf ball sized wasabi and he didn't even flinch.
A unique travel experience you've had?
I once played 4 shows in 4 days across India. That was a trip!
What's your favorite throwback track?
"In My Arms" by Mylo.
What's one track that fans always lose their mind to?
My remix of Moby's "This Wild Darkness"
What was the first album you ever bought?
Dookie by Green Day.
Name one remix that you think is better than the original?
Not that I'd play it in my Luttrell sets, but Skrillex's remix of "Cinema" is pretty great.
What song would you want (god forbid) played at your funeral?
"Life On Mars" by David Bowie.
What's the perfect sunset track?
"Deep In My Soul" by 16BL.
What song do you listen to cheer yourself up?
"This Must Be The Place" by Talking Heads.
Follow Luttrell
Facebook: www.facebook.com/luttrellmusic/
Instagram: @ericluttrell
Twitter: @luttrell_music
SoundCloud: soundcloud.com/luttrellmusic