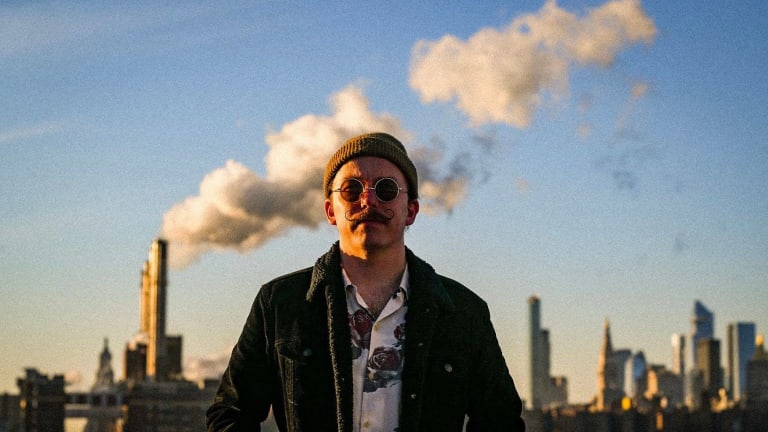 From The M Machine to Anjunadeep, Luttrell Shares His Story
The melodic house producer sheds light on going solo after being in a group act for seven years.
Sometimes you just have to let go of the reins and let life take you where it will. Worrying over the past, micro-managing the present, and overthinking about the future are easy traps to fall into - and even harder to get out of. To live in the moment, to truly be present, isn't all that simple.
Fortunately, for Eric Luttrell - known professionally as Luttrell - running with life has turned out pretty great. The San Francisco native discovered electronic music after somewhat arbitrary trips to the record store, and fell for melodic house upon a fortunate semester abroad in Berlin.
With college friends Ben Swardlick and Andy Coenen, he formed The M Machine. The indie dance group found success releasing music with OWSLA, and hitting major festivals like Electric Daisy Carnival, Ultra Music Festival, and Tomorrowland.
The M Machine called it quits after about seven years, and Luttrell had little plans of what to do next. Around that time, he was steadily making music on the side, inspired by a chance solo performance at Burning Man.
On a whim, he sent some tunes over to Anjunadeep. Though Luttrell didn't think his music was a good fit for the label at the time, he was spurred by his friend and fellow producer Mat Zo. The record label was quick to sign Luttrell's music on for his debut EP, Need You, a collection of moody, driving, melodic house tracks.
What Luttrell thought was simply a way to get his personal music heard turned into a budding relationship, as he joined the label for showcases and tours. In addition, he released his debut album Into Clouds on Anjunadeep earlier this year.
Recently, he played a closing set at Anjunadeep's show in New York's prominent Brooklyn Mirage venue. Before Luttrell took the decks, EDM.com chatted with him about the trajectory of his career, influences outside of electronic music - and of course, the secret behind the 'stache.
EDM.com: For our readers who may not be familiar with you, describe the Luttrell sound in a sentence.
Luttrell: I try to make music that is melodic, energetic and has some sort of indie-rock influence with an '80s or '90s vibe.
You released your debut album Into Clouds this year. What inspired you to put an album together?
Over the past two years, I was writing a ton of music and just figured I would compile it into an album just because I felt there was enough variety. The 10 songs didn't feel like the same thing, one after another. It seemed like the right thing to do.
I feel like albums were popular back in the early days when dance music really broke out in America. Back in the Moby and The Chemical Brothers days, even through the Justice and Boys Noize days.
Then, it started going all singles so it made more sense to do that because you just have to keep producing, getting things out, and keeping people's attention. It's hard when you put out a bunch of work and don't do anything for a year.
Now, it seems people are sort of coming back to albums. The fan base likes it because they get a clear picture of who you are as a person, where your brain is, and what you're thinking as an artist. So in that sense, I think it's really cool and valuable.
About your debut album, you mentioned you "want listeners to make this album their own and attribute their personal experiences and feelings to the music." What's the one thing you want them to take away from the album?
Learning from your experiences. Never letting yourself getting too far down a negative road, which is easy to do. Learning how to let life throw you, taking advantage of chances and opportunities when they happen, running with it, and going in a new direction. You never know what doors will open. It sounds kind of cliché but it's definitely true; people wouldn't feel that way if it wasn't.
It's basically an album about transitional periods.
You just have to accept that life is full of uncertainty, right?
Yeah. We're literally on a little rock flying through space right now, flying through a galaxy that's just traveling through the universe in a random direction and we have no idea why. So we should definitely appreciate the things that matter here in our lives, our interactions with each other, and keep going and let things happen.
Any new music in the works?
Working on a second album right now. I've got a lot of songs I'm working on. I definitely have enough music and right now I'm whittling it down, perfecting the ones I know are going to make it.
Why did The M Machine call it quits?
It's just life. It was a long time to be doing one thing, one idea. The Beatles were only together for, what, five years? Then they all went off and did their own thing. I'm not trying to compare The M Machine to The Beatles, but even with the most highly regarded band of all time, you never know, people have their own flows and lives. It's pretty rare that a band will last for 40 years.
It wasn't like we sat down together and were like "we need to stop doing The M Machine!" More just like, "okay here's the landscape of what we're looking at, we're all capable of writing our own music, so why not try some new stuff?"
We haven't officially called it quits. We're all three working on our own things. Andy works for Google now and just had a baby but he's also writing music. Swardy's doing great, his music is getting a lot of plays, beautiful stuff. There's a chance we'll make more music together, put it out, and do a limited show run, which would be really cool. But, even if not, we made some really sweet music together.
Has being a part of The M Machine influenced your solo sound?
Definitely. The way The M Machine worked was one of us would write the beginning of a song. So there are songs where you can tell it's my production that started it, the kind of music that's very Luttrell-y, like "A King Alone". Melodically and production-wise very much in the same vein of what I do now. So the orchestral stuff we did as The M Machine, I bring that into Luttrell sometimes. I'm just a sucker for strings and chords that make you feel good.
How has it been going at it solo after being in a group act for so long?
It's honestly not that different. The main difference is traveling. It is fun to be traveling with your friends. Recently, though, I've been traveling with my girlfriend, and she's got to come to some really cool adventures with me. Anytime you're not traveling alone is great. But, even traveling alone is kind of nice because you get to spend some time by yourself, think about what's going on in your life, things that you can do better. It's definitely worthwhile.
How did you get into melodic house and techno?
When I was in high school, back in the early 2000s, I just started hearing trance songs. Big chords, all dramatic and pretty, and I was like "Holy crap, what is this music?" So I would go to the record store, find old used CDs of trance music compilations and hope that I would get something cool. Because I had no idea, didn't know any artists or anything, I'd find Trance 1998 and be like "oh sweet, let's see what it is!" Sometimes I'd find something I really loved and be super into it.
Then, I fell off and didn't really listen to electronic music until later in the 2000s when I was in college, studying abroad in Berlin. Obviously, being in Berlin, there's tons of electronic music everywhere so I just got hyper-exposed to everything. At the same time, I had gotten a laptop that allowed me to create music like that, or at least try to! So I started making music on my laptop in 2007 and it started snowballing from there.
Burning Man 2015 was a big turning point for you. What about your experience there impacted you?
Initially, The M Machine was booked, but then Swardy couldn't go because his sister was getting married. So I went by myself, and Swardy was like "just do whatever you want, it's Burning Man, play whatever you feel like." I played a bunch of melodic house, techno-y things, and a couple of songs I was working on at the time that were definitely on the Luttrell side, and I just got super stoked on it.
It was a pretty small show, not anything crazy, but I was like okay, I really like playing this music, the crowd seemed happy, everything was good, this feels like it could at least be a new direction I could take parallel to The M Machine. I wasn't done doing The M Machine, but it was a different world that I wasn't aware of or exposed to that I'd like to explore.
How did you get connected with the Anjunadeep record label?
Through Mat Zo.
He put out The M Machine album Glare in 2017. We were at his house in L.A. doing the final edits, little changes on the album, also just hanging out showing each other things we were working on the side. I showed him "Need You," "Stormwatcher" and a couple of other songs, and he was like "dude, have you sent these around to anybody?" and told me I should send them to Anjunadeep because they'd probably be into it. He sent it to them and they were onboard for an EP.
Honestly, I didn't know what I was getting into. I didn't think that was going to be the next chapter of my life and career. I just thought, "Oh sweet, now I'll have more music out that's just my personal stuff, that's awesome." But the further I got working with them, putting music out with them, getting invited to do shows, opening tours - it was great. I loved playing for the Anjunadeep crowd, I was super happy and it just kind of kept going.
You've often mentioned that you draw a lot of influences outside of electronic music for your tracks. What kind of non-electronic stuff inspires you?
New Order, Depeche Mode, bands like that. '90s grunge rock type stuff like Nirvana and Smashing Pumpkins. All super melodic and catchy, which I really like. Orchestral music too, especially movie music.
What's your favorite movie score?
There's an Aaron Copland movie score from this '40s movie called Our Town. It's frickin' gorgeous.
You once said you "definitely want to do a darker techno thing, like a heavier kind of project." Will we see that anytime soon?
I have lots of ideas of what I want to do. I'd like to do that. I'd like to be in an indie band. Or just do acoustic singer/songwriter stuff too, because that's my background, that's how I started music in the first place. My mom's a really good guitarist and singer/songwriter; she taught me a lot of things when I was a kid, so I'd love to do that. Something sort of like Neil Young or Iron & Wine, some really chill acoustic stuff.
So, maybe someday!
How about doing a live show?
Maybe. It's not something I'm striving for. Maybe someday. I really like DJing. It's more of a vibe. With The M Machine we did live shows a lot. It's fun for sure but sometimes can feel like you're a little stuck because you can't change it. You have a plan, you know what you're going to do, and if you stray from that you're going to fuck it up.
With DJing, it's a lot more freeform.
I definitely see both sides. I've done both sides, and they both have value. Just right now, I've been way more interested in DJing.
What's the secret behind the 'stache?
It's beeswax. There's a moustache wax company called Firehouse Moustache Wax in Mississippi. Some dude and his wife that make moustache wax with different colors, different tints and stiffness. I use their most strong hold and it's called Whacky Tacky. So if anyone has a moustache that they want to curl up and have it stay for weeks on end, it's good stuff!
This interview has been condensed for clarity.
Follow Luttrell
Facebook: facebook.com/luttrellmusic
Instagram: instagram.com/ericluttrell
Twitter: twitter.com/luttrell_music
SoundCloud: soundcloud.com/luttrellmusic