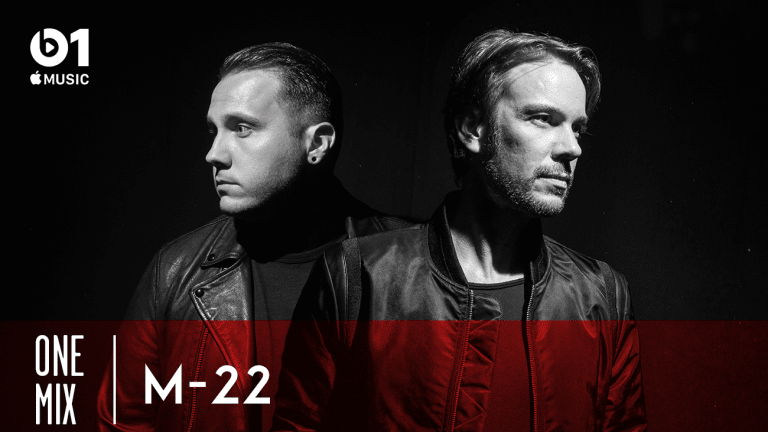 An Hour of House Music from British-German Duo M-22 on Beats 1 One Mix [Interview]
The mix will feature M-22's remixes for Tiësto, Major Lazer and Clean Bandit, plus a slew of hit singles.
Under the moniker M-22, Matt James and Frank Sanders have been rising through the ranks of electronic music with a string of infectious remixes and singles.
The British-German duo has a knack for breezy house music colored with soulful vocals. Two of their hit singles titled "First Time" and "Good To Be Loved" stand as testament. The former sold over 200,000 sales worldwide and landed on the UK Top 20 Charts; the latter was Pete Tong's Essential New Tune back when it was released. 
Add official remixes for the likes of Avicii, Rudimental and Marshmello, and you have a duo that's inching closer and closer to the limelight.
M-22 has a catchy sound - essentially, a melodic house music concoction that invites for you to groove. Warm piano riffs breathe life into their music. Buzzing basslines add vibrant energy. 
Get a taste of the up-and-comers as they make their debut on Beats 1's weekly radio show One Mix, exclusively on Apple Music. Expect 60 minutes of fresh house music, including stirring singles as well as their remixes for Tiësto, Major Lazer and Clean Bandit.
Air Date: Friday 12th October 2018 - 21:00 LA / 00:00 NY / 05:00 UK
Tune in here.
M-22 also shared insights on their guilty pleasure record, favorite throwback track, musical inspirations, and more. Read what they had to say to us below.
EDM.com: Your first show experience?
M-22: World Club Dome in Germany as M-22
EDM.com: The first time you brought your mom to one of your shows?
M-22: We haven't yet, but we will both bring our mums along soon.
EDM.com: Go-to places for new music?
M-22: The clubs.
EDM.com: Guilty pleasure record?
M-22: George Michael - "Careless Whisper."
EDM.com: Desert-island dance record?
Matt: Roger Sanchez - "Another Chance."
Frank: Hollis P. Monroe - "I'm Lonely."
EDM.com: Dream B2B partner?
M-22: Hmmm tough one, Calvin Harris.
EDM.com: Favorite BPM?
M-22: 124.
EDM.com: Piece of gear you always need on the road?
M-22: Our MacBooks.
EDM.com: All-time favorite festival?
M-22: Tomorrowland.
EDM.com: The biggest misconception about dance music?
M-22: That's it's the easiest thing to create
EDM.com: Industry prediction for the next year?
M-22: An M-22 Album.
EDM.com: Best piece of advice for new producers?
M-22: Make music 24/7 and try to think out of the box.
EDM.com: Dead or alive, who would be your dream collaborator?
Matt: Michael Jackson.
Frank: Madonna.
EDM.com: A unique travel experience you've had?
M-22: Probably this Uber drive in L.A. where the driver picked us up at the airport and kept singing in the car for almost an hour to show us his vocal skills. He didn't make it to one of our singles; he was good though.
EDM.com: What's your favourite throwback track?
M-22: Our first-ever single, "Good To Be Loved."
EDM.com: What's one track that fans always lose their mind to?
M-22: Faithless – "Insomnia"
EDM.com: Name one remix that you think is better than the original?
M-22: Todd Terry's remix of Everything but the Girl - "Missing."
EDM.com: What song would you want (god forbid) played at your funeral?
M-22: Funktown America - "Celebrate Good Times."
EDM.com: What's the perfect sunset track?
Matt: Dario G - "Sunchyme."
Frank: Jean Jacques Smoothie - "2 People."
Follow M-22:
Facebook: https://www.facebook.com/m22officialmusic
Twitter: https://twitter.com/m22official
Instagram: https://www.instagram.com/m22official
SoundCloud: https://soundcloud.com/m-22official