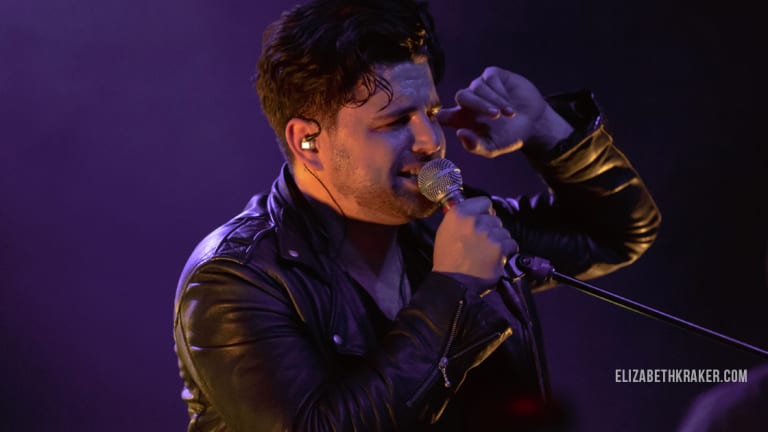 Alex Seaver Breathes New Life Into Mako [INTERVIEW]
Now as a solo act, Alex Seaver has big plans for Mako's new sound.
On one of the last stops of his Breathe Tour, we caught up with Alex Seaver of Mako and got the inside story about his early beginnings in music, the inspiration for Mako's new sound and the advantages of having a live band on tour.
EDM.com: As a kid, did you always want to pursue a career in music? 
Mako: I started playing the trumpet in seventh grade, so I didn't know anything about music until then. I wanted to be a baseball player and then I discovered the trumpet and the french horn. Then I'd say around mid high school I knew music was the only thing I wanted to do.
You play the trumpet, french horn and for Mako you do the vocals and the keyboard…
Yeah, for Mako I do everything. So I produce all the tracks back home, compose everything and then write the songs. And then for here at the show I'm pretty much singing, little bit of keyboard and a little bit of synths. 
So is there an instrument you always wanted to learn or do you have a favorite?
You know my favorite is the cello and I never learned it. I really love that instrument. I think that one day I'd like to just start picking it up. I'd be terrible at it because it's so hard to play a string instrument if you're not used to it, but that would be my choice. 
I did a documentary on a college's orchestra and followed them around for a month. I felt bad for the ones with the big string instruments...
Like the double bass players. I have friends that do that stuff and when they fly with it, they actually have to buy a second ticket for their instrument because they don't want to ship it because it's too valuable. So then they have a seat next to them that's their cello or their bass right there. It's crazy.
You went to Juilliard right here in New York, studied classical music and got to go to ASCAP's scholarship workshop for scoring music to film and television in LA. After doing all that were you looking to do a career in film?
I moved out to LA to do film scoring. I really wanted and I still want to write music for film and television. It's kind of a long-term goal of mine and that's what brought me to LA, which is where I ended up meeting Logan, who introduced me to electronic music. So I had no plans for electronic music, it just kind of happened out of nowhere. Next thing I knew I quit the french horn, stopped writing as much music and then I've just been doing electronic music. Now I'm starting to circle back a little. 
What was that defining moment then when you decided that you wanted to work with Logan, form Mako and make this kind of music?
Have you ever been out to EDC? It's freaking cool, I mean when you see, especially from my perspective where I had never heard of any of it before and I had just been playing in concert halls to old people, when you see electronic music it is such a spectacle for the kids there. Musically, the lights, the whole thing is unbelievably intoxicating. We didn't know that moment, because we had just met, that this is what we're going to be doing, but I was hooked really badly right then. And then over the course of the next year, it started to become official. 
So what's the story behind the name "Mako?"
The name actually comes from Logan. He played a video game growing up called Final Fantasy and in one of the games, I think it's Final Fantasy III, it's the name of this magical source of light in the game. And his last name is light and he wanted to use something sort of from childhood and I wasn't thinking oh this is going to have repercussions for the rest of my life, just fine Mako sounds good. Then it just ended up being the name. 
Does anyone ever pronounce it wrong?
Nobody knows how to say it because it's either Ma-ko for most people or Mac-o, but generally people don't guess May-ko right off the bat. Yeah Mac-o, Ma-ko and May-ko, that's what I get. And when I go to different countries, it actually is a word that means different things. So in the Dominican Republic apparently it's like some gross frog or something. In Japan it's a woman's name, so everyone's like what the hell, why are you calling yourself Mako? It's kind of funny.
Whatever people say I'm down with. It's not a big deal, they can call it whatever they want.
But if you Google it, you get some weird mermaid cartoon thing too. There's mako mermaids, a famous Japanese actor named Mako and there's a shark of course like the mako shark. We've got some competition.
So like you said, Logan was doing the sets and you made the music. Out of all the Mako tracks, what's the one that really resonates with you and why?
I'd say if I had to pick one it would probably be the song that we end our sets with here called "Our Story." It kind of charts the beginning of the project when we were doing electronic music and sort of falling in love with all that progressive house style stuff. And then the version that we play is the final of our album, so it really exemplifies all the things that I want to do with the project kind of moving into this really beautiful lush cinematic style electronic meets band sort of a thing. And the vocals especially mean a lot to me because it was one of the first songs that I ever sang. It was the first song I think I ever published with me singing, so it really began a new journey for me. I was becoming a singer a little bit too, so it kind of has everything all in one. 
Now you're a solo act, how did that come about?
Logan was actually in law school for the last three years of Mako and he's a super smart dude. He passed at NYU Law, passed the bar, got an amazing job offer right off the bat and him and I knew he wasn't going to be doing music for the rest of his career. 
He doesn't play any instruments or write music, so for us it was always something fun to do together until the moment when Logan's career took off. And so he's just been doing so well for the last year and around the same time I was already moving the project a little bit away from DJing and into this sort of band thing. Logan was there with me when we were transitioning it and he was super encouraging. 
The nice thing is that I have a band with me on stage so I'm not alone. It would have sucked to just be doing the project all by myself because it could be pretty lonely to travel and do all that stuff. But yeah, it functions very similarly to how it always did because I always just made all the music in LA while he lived in New York. So I'm still just making all the music in LA by myself the way I always was, so thankfully it's not too big a shift. The only bummer is that I don't have Logan with me at the shows, which is so much fun.
For this tour, you have that live band that you mentioned and you had that for the Hourglass Tour, do you prefer that over DJing?
I do actually. For me, it's such a big shift in my relationship with performance. I never really loved it that much. I like being in the crowd for DJ shows. I mean I still love going to festivals and I love seeing DJs perform, but something about DJing is that you're not really playing all of your own music. You're mainly just pressing play on a master track and you're mixing the whole set, so there's a lot of creative involvement, but it's not the same as actually singing your songs and performing them with a band to your audience and seeing them sing the songs back. It's just an electrifying energy that I never really got when I was DJing. It just really works better for me and what I want out of the performance. 
So far on this tour when you're playing with the live band, what's a song that you love playing together that gets the energy up with everyone?
We've got this one called "Devil May Cry" that's sort of near the back of our album, it's not necessarily one of our better-known ones, but it's a really heavy angry song and it's really fun to play. We have a great light setup for it too. It's probably one of the ones that, and "Way Back Home" are two songs that I just really love playing with this sort of environment. Some of the songs are so electronic that it was a trick to figure out how to set them properly for this band, but some of them just really fly. Like "Way Back Home" is so cinematic and we have a violinist on stage too. Then with "Devil May Cry" these guys can sort of just like turn into a metal band for a little bit. 
So who do you have on the crew for this band?
Tyler, he's my guitarist. He was with me last tour for the Hourglass Tour. And we have a new drummer named Keith and a violin player named Gabe. So it's the four of us on stage. 
Kind of reminds me of Yellowcard with the violinist. That's pretty cool.
Yeah people freak out when they see Gabe, especially because my crowd is mostly electronic music fans. They're not used to seeing a classical instrument on stage and he quickly becomes a fan favorite at all the shows. It's fun to watch. 
You've gotten into indie music lately and you can hear some indie rock elements in your new single, "Breathe," what or who are your biggest influences when it comes to creating this new and fresh sound for Mako?
It's very similar to what you said. I've been turning to a lot of indie rock for a couple of different reasons. For me, I love music that has an emotional component, like an element of beauty to it. Electronic music used to be really packing it for me and then over the years it kind of shifted into other things. So I started to turn towards indie rock as a format that is just so inherently beautiful, especially a lot of the Icelandic bands. I started with a Sigur Rós show that I saw last year and they just made me cry. It was so beautiful. And then I started branching out from there. There are some really cool electronic-ish artists that do the indie thing like EDEN and this guy who's also coming out to Irving Plaza next month. I love his work, he does really cool stuff. There's just a lot of cool bands that I was introduced to years later than everyone else. Like M83 is a band that I listen to a lot. Just anything that has sort of a cinematic twist on live instruments with electronics is kind of right up my alley these days or at least when I'm not thinking and just listening to music for fun. That's usually the sort of stuff I put on. 
So is that what you're kind of going for then?
At this point what I'm trying to go for is a mish-mash of everything that I do and have done, so there's going to be a lot of electronic and orchestral sounds. There's going to be a lot of songwriting with my own vocals in it. And probably with some indie rock influence too. I love it to be something that's somewhat unique to just my own life and experiences if I can. That's sort of the goal. 
In the whole creation process of "Breathe" what was the most fun part you had in making it?
The thing with "Breathe" that was kind of fun was that I really wanted to make a pop record that was contemporary and mixed very contemporarily but contained almost exclusively organic elements. So the guitars I just recorded them in my studio. All the percussion is generally live. There's a kick and clap sample that's not, but all the hand percussion I recorded live. There's a brass trio in there, organs, pianos and then just a lot of vocals with processed vocal effects. So the goal was to make a really organic ensemble and turn it into a record that still felt like a pop record. I was really happy with how it turned out. It took so long to get it just right, but when it finally clicked it felt really nice. 
So how was it working with Illenium and Kill The Noise on "Don't Give Up On Me?"
Kill The Noise, those guys are the best. I've idolized Kill The Noise for years and Illenium is a guy who I've fallen in love with for the last couple of years, especially this past year. He's really grown so much and they're such nice people. 
I've actually never met them in person believe it or not. We just kind of made the collab over the internet. Illenium hit me up and said, "Hey man I'd love to work together." So I sent him a couple of songs I had just been sketching up and he picked the one that we went with. Then a couple of months later I don't hear from him and he just goes, "Hey is it cool if Kill The Noise jumps on it?" And I'm like woah. 
For me, I've never flirted with dubstep ever with Mako, but I love those guys and I love seeing him and everybody reveres Kill The Noise's productions and everything. So it's a cool track because you can really chop off each section. You can hear the Illenium moment, the Kill The Noise moment and the Mako moment. I'm all for collaborating even if it's just really far genres that you wouldn't normally expect to join on a tune.
Are there any new tracks or anything we could expect from you soon?
Absolutely, we'll play a couple tonight. I think the next one on the docket for us is actually a song I wrote for a video game last year called League of Legends and I made a special Mako version of it. It's called "Legends Never Die." I think we're going to release it in a couple of weeks, so that's the next thing coming up.
Well, Mako and his live band definitely brought the energy that night and put on such an amazing show that was packed full of emotion. And he's right, nothing beats hearing live instruments. 
Special thanks to Alex for taking the time to chat with me! It was a pleasure learning more about Mako and we can't wait to see what you'll have in store for us next!
Follow Mako: