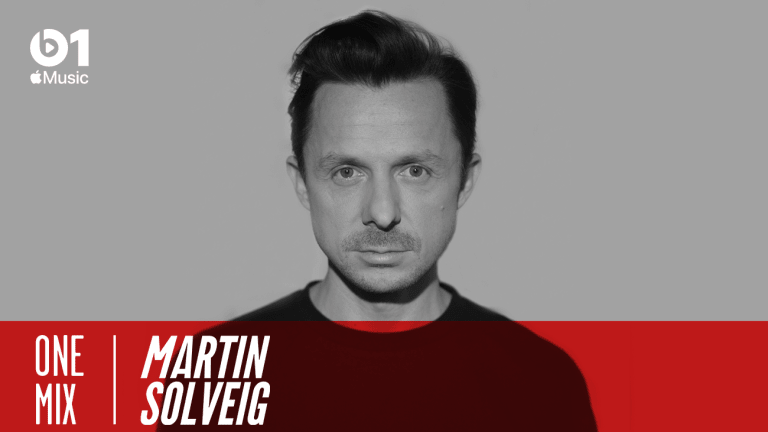 Say "Hello" To Martin Solveig On Beats 1 One Mix [INTERVIEW]
Between summer residencies at Ibiza and releases with popular artists like Madonna, Solveig toes the line between electronic and pop.
Remember back in 2010 when Martin Solveig's "Hello" took over the world? And not just the EDM world. The catchy, electric summer anthem caught global attention, blasting through department stores, sporting stadiums, and the ears of mainstream audiences.
The pop-electronic song is signature Solveig. Between summer residencies at electronic hot spot Ibiza and releases with popular artists like Madonna, Solveig tends to toe the line between electronic and pop.
Take a listen to Beats 1's weekly radio show One Mix this weekend to hear for yourself. Solveig is set for a high energy mix with tracks from Mark Ronson, Fisher, and Camelphat, plus his own collaborations with Jax Jones and David Guetta.
Tune in here, exclusively on Apple Music.
Air Date/Time: Friday, 30th August 2019 - 22:00 LA / 01:00 NY / 06:00 UK
Learn more about Solveig as he shared plenty with us ahead of his One Mix.
EDM.com: First show experience?
Martin Solveig: "Le Palace, Paris."
First time you brought your mom to one of your shows?
"I was about ten years old, I was a soloist at Sainte Croix Neuilly's Boys Choir."
The artist who inspired you to become a musician? 
"There are so many, very difficult to name only one, well, let's say Prince."
Go-to places for new music?
"Wandering the internet."
Guilty pleasure record?
"There's no such thing, as long as there's pleasure it's fine with me."
Desert-island dance record?
"'Dreamer' by Four Tet."
Dream B2B partner?
"Laurent Garnier."
Favorite BPM?
"Music is about energy and mood, any BPM can bring that."
Piece of gear you always need on the road?
"Sunglasses."
All-time favorite festival?
"Coachella."
Biggest misconception about dance music?
"I see so many negative comments about how some samples were found or used that I'd say people think electronic music is easily done."
How often do you get out and have fun, and where do you go?
"Not as much as I used to but in general having fun is more about people rather than places."
Industry prediction for the next year?
"I don't know when and how but I feel the end of the DJ era is near, new formats are going to emerge one way or the other."
Best piece of advice for new producers?
"Please yourself."
Dead or alive, who would be your dream collaborator?
"Right now, Four Tet."
What's your favorite throwback track?
"'Music Sounds Better With You' by Stardust."
What's one track that fans always lose their mind to?
"'Your Mind' by Adam Bayer."
What was the first album you ever bought?
"Prince's Lovesexy."
What song would you want (god forbid) played at your funeral?
"'Lovelee Dae' by Blaze."
What's the perfect sunset track?
"'The Sun Can't Compare' by Larry Heard and Mr. White."
What song do you listen to cheer yourself up?
"'Caffeine' by Lolo Zouai."
FOLLOW MARTIN SOLVEIG:
Facebook: facebook.com/MartinSolveig
Instagram: @martinsolveig
Twitter: @martinsolveig
SoundCloud: soundcloud.com/martinsolveig