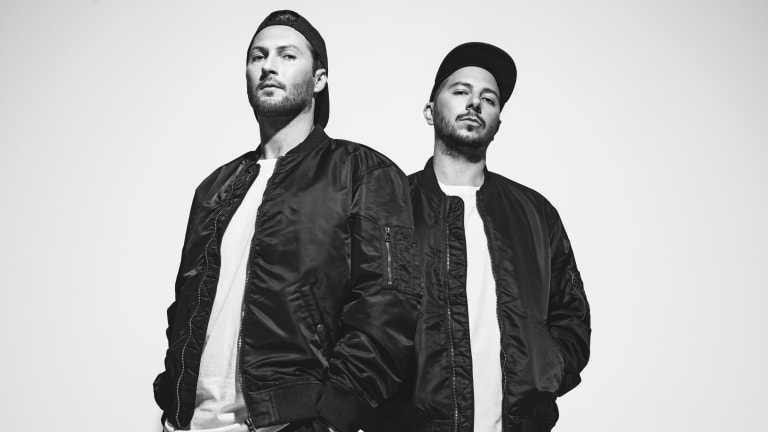 Matisse & Sadko Discuss New EP with Tiësto & Set
Russian electronic music duo Matisse & Sadko talks their collaboration with Tiësto and their brand new live set.
Matisse & Sadko have pulverized through the electronic music industry with powerful tracks and even better sets. The Russian electronic music duo recently revamped their set for an even more immersive live experience for fans. They also had the opportunity to work with electronic music legend Tiësto on his new I Like It Loud EP. 
Tell us a little bit about yourselves. How did Matisse & Sadko come about?
We're two brothers from a small town near St. Petersburg. Since childhood we've been into music though we don't have any music education. We're both self-taught which is typical for many producers nowadays. :) First we worked as DJs and producers separately, but then we decided to join forces and transformed into Matisse & Sadko. Our mom is happy about it most of all. ;)  
You've recently designed a brand new set. Would you mind telling us a little bit about the set's design? 
We always try to start our set with a special intro necessarily followed by our own track which characterizes our brand style. We try to form the set the way it would be like an emotional adventure filled with our favorite tracks. Indeed, we prepare for each set in advance sorting an approximate playlist, but we always correct it while playing. Every venue has its own peculiarities and, of course, improvisation is the thing you can't do without.

Where did you draw your inspiration from when crafting the set? On the flip side, where do you draw inspiration from when producing music?
The main inspiration for us is our favorite artists' performances. It's such an exalted feeling to see the crowd's mind-blowing reaction; those moments when you have goosebumps and people feel happiness listening to music. This is magic which makes you feel in a different way and motivates you to create new tracks.

What're a few things that fans wouldn't know about that go into set design?
DJ set is like a track if we speak about the structure. Each set must have intro, breakdown, culmination, and outro. It's very important to have each track at its place in the set. Only with this firm structure a regular DJ set turns into an atmospheric music adventure.
What was your favorite part about designing your set? What was your least favorite part?
We love making mashups and special edits of original tracks which we can't play for some reasons. We like to combine the uncombinable. Sometimes it's the same as making a completely new track because it can take much time. But in this case you've got your own version of your favorite song.
The least favorite moment is when we transfer WAV files to a pen drive. From time to time it takes way too long, you know.
What can fans expect to see in this all new set?
They can be sure we'll be playing our new IDs for the first time. We like to test our new demos on the dance floor so that we can fix some things afterwards and make the track better.  
What is the most memorable moment in your career and why?
The opportunity to work on your music in the best studios in the world. When we started making music in the flat where all our family lived, we couldn't even imagine we would be that lucky to sit in the legendary studios - those ones where famous musicians and singers like Dr. Dre and Sting recorded their hits. We're just lost for words to describe the atmosphere in such places. Trust us. It makes you work really hard and fruitfully.  
Who, in the industry, is absolutely killing it right now?
There are many new amazing artists who are all the rage and we like them. But Eric Prydz still stands out, in our opinion. Despite all modern music tendencies, he's still faithful to his unique style and his concerts are always sold out. Surely, we are his dedicated fans! =)
What was it like working with Tiësto? What did you learn from him?
It was great honor to work with the person who has been one of the main EDM icons for us. [Tiësto] is a very positive guy both life and work-wise, so the working process was pleasant. We're grateful to him for adding his signature energy into our track and also for giving us some secret production tips. =)  
Who are a few of your biggest inspirations at the moment?
Since our childhood we've always been inspired by big festivals. At first we watched how dance music superstars like Carl Cox and Tiësto presented new music at overcrowded festivals. We watched the reaction of people, analyzed the tracks which appealed to us, and sat down at the computer to make something similar. After a while we had the chance to share our music with people, and it's amazing!  
Follow Matisse & Sadko: SoundCloud | Spotify | Facebook | Twitter