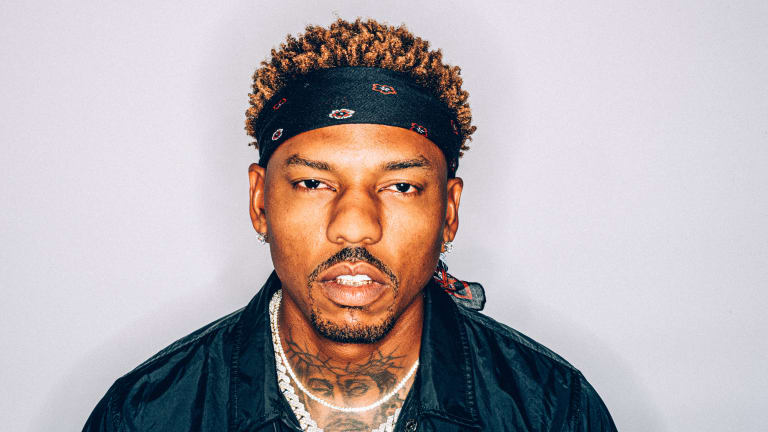 "Silence Equals Violence": Mayne of BLVK JVCK on Protests, Equality, and the Crushing Pain of a Knee to the Neck [Interview]
"Having that knee on my neck for no more than 20 seconds was the most excruciating pain I've ever felt."
In solidarity with the Black Lives Matter movement and all those fighting tirelessly for racial justice following the death of George Floyd, the music industry participated in a sweeping blackout on Tuesday, June 2nd, 2020. As part of its efforts to foster change, the industry at large halted day-to-day operations and used the day to reflect and stand with those who are fighting for a better future.
However, the end of the 24-hour blackout should, by no means, signal the end of the conversation surrounding racism and police brutality in our country. In fact, "Blackout Tuesday" has come and gone, but the battle against racial inequality in our country is far from over.
With the hopes of using our platform as a vehicle to foster change, we spoke with Mayne of renowned bass music act BLVK JCVK. We chatted with Mayne about the harrowing times we're living in, how he plans on using his music to inspire change, and the expressive imagery in his new music video, which depicts a powerful reenactment of the tragic George Floyd incident.
EDM.com: Thanks for taking the time to chat with us, Mayne. I really appreciate it considering everything going on.
Mayne: No problem, fam. Thank you for this opportunity to speak out.
EDM.com: You recently dropped your new video for "WHVT," which moonlights as a much-needed amplification of the calls for racial justice. Can you expand on the message behind the video's intro? It's very powerful.
Mayne: Well, being a black man first, then a son, brother, uncle, husband, and artist, there's no way I would sit back and not use my platform and my art to express the frustration and anger we all feel right now! So in the intro, you see me on the ground, reenacting the George Floyd tragedy and basically talking to all the people who expect a different reaction than what we're witnessing right now. I don't believe in destroying our own neighborhoods but I understand that sometimes you just gotta smash some shit to be seen and heard! So what the fuck you expect us to do when we keep seeing the same shit happen over and over with no consequences?
EDM.com: What exactly were you feeling while reenacting that callous incident?
Mayne: One word, brother. Pain. Besides the fact of being subdued and feeling helpless and ignored, pain!
EDM.com: The mental aspects are one thing, but the pain is another. How bad was the physical pain of being restrained like that? Could you feel how truly suffocated George Floyd must have been?

Mayne: Having that knee on my neck for no more than 20 seconds was the most excruciating pain I've ever felt. I can only imagine what Mr. Floyd felt having the full force of hate, anger, and fear coming down on him through that officer's knee for almost 9 minutes. It really gave somewhat of a perspective on what he was going through.
EDM.com: In times like this, music is an incredibly powerful tool to use as a vehicle for necessary discourse and as a means of continuing the conversation surrounding racism. As a prominent Black artist in the electronic music world, how can you harness the topics at hand and manifest them in your music to inspire change?

Mayne: My music is a reflection of my feelings at that time, so whatever's on my heart heavy at the time, it's going to come out through my music. And I have a feeling we're going to be on an emotional roller coaster ride for a minute.
EDM.com: How will these current events affect your creative process? Will you approach songwriting or production differently? How so?

Mayne: Well, again, my creative relies on my emotions, so depending on how this plays out, if we the people get justice or no justice, my music will depend on those emotions. One thing for sure—we ain't never gonna stop.
EDM.com: "Blackout Tuesday" was, in mind, only Act One of a larger initiative here to shed light on racism and police brutality. What changes can you foresee in our scene as a direct result of the George Floyd incident and ensuing protests?

Mayne: We wish to see more light shed on the importance of voting. Voting for your local officials that control your community.
If we can stress the importance of voting to these kids that have the power to make serious change in their own communities, we would see all the change we need. Choose the right district attorneys, police chiefs, et cetera. These are elective positions that play a very important rule in upholding the law in our communities.
EDM.com: In our mission to use our platform to foster change, what advice can you give our readers in terms of doing their part to align with your message?

Mayne: It's simple. Do not remain silent or worry about being "politically correct." Silence equals violence.
FOLLOW BLVK JVCK:
Facebook: facebook.com/BLVKJVCK
Twitter: twitter.com/blvkjvck
Instagram: instagram.com/blvkjvck
SoundCloud: soundcloud.com/blvkjvck
Editor's Note: Support racial justice and equality by donating to the organizations below, who are fighting for racial equality.
Donate to the NAACP Legal Defense Fund here.
Donate to the George Floyd Memorial Fund here.
Donate to Campaign Zero here.
Donate to the Minnesota Freedom Fund here.
Donate to the Peoples City Council Freedom Fund here.
Donate to Black Lives Matter here.