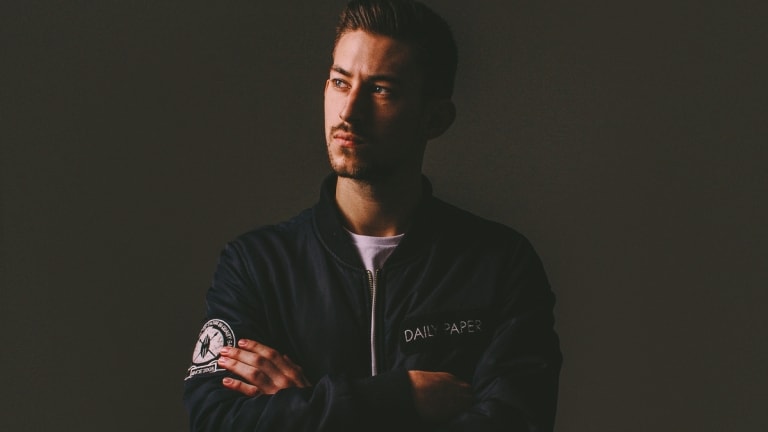 Meet Joe Ford, Rising Star of the UK Drum and Bass Scene [Interview]
If you wonder the future of drum and bass is gonna sound, you're at the right place.
For a couple of years now, Joe Ford is one of the most interesting names in the drum and bass scene. His unique and original style, hi-tech production and a blend of many different styles quickly gained attention.
As a logical next step, earlier this year he released his debut LP Colours in Sound for Friction's legendary label Shogun Audio. The record showed his full potential and diversity and made us craving for more, hitting a million streams on Spotify alone. We caught up with Joe to discuss his career, the record, and plans for the future.
EDM.com: You come from Harrogate, a relatively small town in the North of England. How was it to grow up there, and how did you get into drum and bass scene?

Joe: It's a pretty beautiful place, proper quiet and calm. I had a perfect childhood there, but it's a little small to stay forever. There was a complete lack of dance music scenes there, as far as I knew there were only a handful of people into electronic music in a serious way, and amongst the people I knew, producing and DJing just wasn't a thing. I found dubstep through some mates at school (shouts to Will Harris and Andy Mirzai). And found d'n'b through that when I moved to Huddersfield Uni at 18.
So, Harrogate didn't have a big scene. Do you think the absence of bigger names, and the town's "signature sound" helped you develop such a unique style?
Yeah, you're right, there isn't anything like that there. I once played a show for the bar staff and the doorman at one of our local venues…  I hadn't looked at it like that actually, but that's a great point. I think having stumbled into the electronic stuff at 16-17, I was drawing from outside influences more, which may have helped me carve out more of a signature sound.
I'm in love with your music, and especially Colours In Sound. Tell me more about the record - how long did you work on it, and where did you found the inspiration in such a unique and powerful sound?
It took about two years from start to finish. Although, some tunes were old ideas that I re-purposed and some were done in the last month. Inspiration comes from a few places, the broad strokes come from me listening to other people's music and thinking about what I'm enjoying the most musically/sonically and incorporating it. Also, I look at visual art to get inspiration for moods/soundscapes.
Colours In Sound is your biggest release so far and it's out via Friction's Shogun Audio. How did you get in touch with him, and how is it to be part of the Shogun family?
Amazingly, he reached out to me. It was a bizarre moment being contacted by the head of your favorite label by text, whilst you're sat in Wetherspoons. I think he had found my music through a fairly long chain: I sent my music to Asa (a Bristol based artist that was a huge help during my early years in my career, big up man.) Asa sent it through to Koan Sound, who were mates with Friction's MC Max Linguistics, who passed it to Ed.
The diversity of the music on the record is possibly the best visible in two special collaborations - "Made of Glass" and "Adrenaline." How do you choose people to work with?
It's a combination of a few things. Often, it's friends that you're sharing music with - I've been super lucky to have become friends with some of the artists that I looked up to most. Koven have been a group I've wanted to collab with forever, so I was very proud to have a tune with them on the album. Same goes for the Memtrix collab, Oscar and I have been close mates for years but couldn't ever finish a tune for various reasons, but we found the time and got one together.
"Adrenaline" is done with rap metal band Hacktivist , which was a bit of surprise. How did you get the idea of doing it, and how was it to work on it?
Metal music has been probably the biggest inspiration for me musically, so It made total sense to me to have a metal band on the album. I'm extremely grateful they were up for it. Big up fellas!
"Made of Glass" is my favorite track on the album, and it's done with Koven. Apart from the top-notch production, the song also offers beautiful and powerful lyrics. How important is the lyrical part of your music to you, obviously on the tracks that have vocals?
Vocals are an interesting one, it's the thing you have the least control over as a producer.  You can manipulate them and mix them well, but unlike the other elements in the tune which you can swap out or improve, vocals need to be delivered perfectly. This was one of those cases, Katie is a ridiculously good singer and lyricist, I think the first draft was an instant yes for me. Finding a combo of good melody and meaningful lyrics is really hard, but this one was a no-brainer.
So, from a few months distance, how happy are you with the feedback on the album? How did your fans react, especially at the shows?
It's the best reaction to a body of work that I've ever had. Playing the tunes out at shows and them connecting is the most satisfying experience. I just passed a million plays on the album on Spotify alone which was a huge milestone for me, I'm so grateful for the reaction it's had.
A few weeks ago you had a chance to open the massive Let It Roll festival in the Czech Republic alongside The Prototypes, Muzzy and Mefjus. Can you tell me more about the experience?
Being included in the opening ceremony for Let It Roll is a career milestone for sure. Seeing back the video of everyone losing it with those amazing visuals and stage production, whilst bearing in mind how I started this crazy journey is a weird thought.
One last for today - what can we expect from you in the following months?
Sooo, the tune I made for the Let It Roll opening ceremony is out on the 7th of September, and I just finished a new bit for Shogun that you might be seeing really soon. There are two remixes coming out really soon - I'm sat on a bunch of tunes waiting for the right time to put them out. And I've got a busy DJing schedule for the end of the year. It's all going off!
FOLLOW JOE FORD:
Facebook: https://www.facebook.com/Joefordmusic/
Twitter: https://twitter.com/Joefordmusic/
Soundcloud: https://soundcloud.com/forddnb/