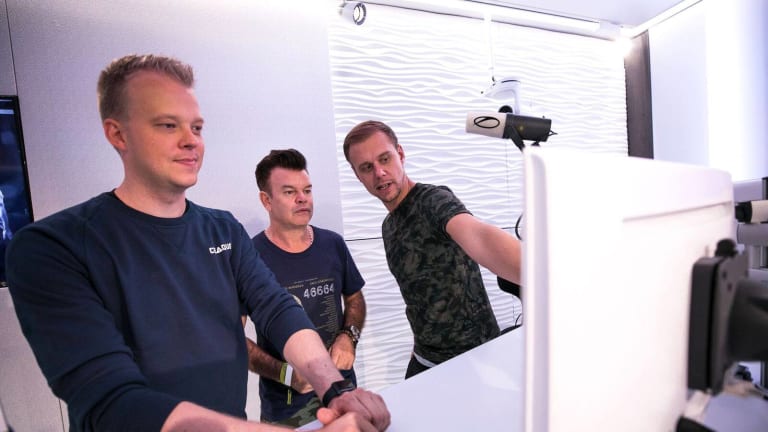 Meet Ruben de Ronde, One of the Biggest Influencers in Trance [Interview]
The ASOT co-host shares everything you want to know about the radio show and his growing share in it.
From the A State of Trance (ASOT) 300 celebrations onwards, fans of the event brand gradually got to know the second face behind Armin van Buuren's massively popular radio show. But ever since ASOT has been broadcasted from its own radio studio, nobody can get around the important role that Ruben de Ronde is playing in trance music. 
After they recorded one of the episodes, Ruben sat down with EDM.com to offer insight into how he produces ASOT radio, his cooperation with van Buuren, and how he is sharing his knowledge and experience with the trance community at large. 
EDM.com: How does someone become the ASOT co-host?
Ruben de Ronde: I started at Armada Music as an A&R manager in 2007. Back then, Armada was still a small label with just around eight people working at the office. Therefore I had to sign tunes, write newsletters, upload tracks to Beatport, and all the other stuff that is now being done by 20 different people.
When Armada grew, Armin and [Armada Co-Founder and CEO] Maykel Piron thought of using me more specifically for signing tunes and managing artist careers. For example, I signed the very first track W&W made together. It is amazing to see how they grew and gained success all over the world. Because this work was closely related to selecting tunes for Armin's radio show (I also became involved with that).
In 2011 we eventually decided to fully focus on producing the radio show, besides running my own progressive trance label, Statement! Recordings. Producing ASOT basically comes down to filling in the two hours with a select number of tracks, inviting guests, and figuring out which subjects to talk about. It used to be a thing on the side that took me two or three hours a week. But it eventually became the main thing I am doing inside this Armada building. Because we receive a lot of promos and world exclusives from artists and labels, it takes way more time these days.
The huge impact of ASOT
Having your track featured in ASOT can give it a huge boost. The broadcasting radio stations will take it to 84 countries with 40 million estimated listeners each week. But receiving hundreds of promos each and every week means hours of preparations as well. Something Armin van Buuren himself gets involved with when the final cut has to be made.
Ruben de Ronde: "In the selection process, we usually start with the labels and artists we regularly play in the show already. Followed by the Armada releases, predominantly from Armin's labels Armind, A State of Trance [the label], and Who's Afraid Of 138 [WAO138]. Often the show is already filled for more than one hour after that.
Therefore, I need to be extremely selective in going through the other promos. Fortunately, you can hear within a few seconds whether a track suits the radio show. From there we end up with around 50 tunes, of which we can only play 30 in our two-hour radio show.
Whether a tune eventually makes it to the actual radio show is often based on the personal taste of Armin or myself. From the list of 50, we both select 20 personal favorites. By combining these, we eventually end up with the final tracklist. Sometimes we disagree on whether we should play a specific track or not, but usually we are on the same page. That is probably why we work so well together.
ASOT's beloved live format
Since ASOT started broadcasting in audio and video from their own studio, both the radio show and the career of its co-host were taken to a next level. Trance fans are able to watch their beloved radio show being made and can even drop by to present their special 'service for dreamers' track. But also, Ruben's DJ gigs are getting bigger.
Ruben de Ronde: It is crazy how the live format increased the impact of ASOT even more. Through the video stream and by having fans in the studio, we managed to give the radio show a face. Besides that, in many countries we are programmed on the most popular radio stations, who also have a TV channel nowadays. So the number of TV stations that broadcast ASOT is growing as well. Everything just gets bigger and bigger.
It obviously also benefits me personally. My face is always in front of that camera. The gigs are getting bigger and it happens more often that people recognize me at festivals. Even at local grocery stores actually. It is something that never happened before we started the live format.
How to connect with your fans
So now we know you can tune into ASOT to find out both Armin van Buuren and Ruben de Ronde's musical taste. But the latter artist also found an additional way of sharing it: through streaming. He broadcasts his own DJ and producer activities on Twitch, a streaming platform originally designed for gamers. Through his Twitch channel, the Dutchman manages to connect with his fans in a way not done by many other DJs. 
Ruben de Ronde: I think I am one of the few DJs active on Twitch, besides deadmau5 of course. By doing so, I can show people how I make my own music, how I approach my DJ sets, and how my own radio show The Sound Of Holland is made. 
People can not only see what I am doing on my screen, but they can also communicate with me and each other through the chat or my own Discord server [a free chat app originally designed for gamers].
It generates great opportunities for me, but also for them. For example, some of my followers who met each other through my stream are now going to parties together. 
Another awesome thing we did is incorporating voice clips of some of my followers saying "Pogchamp" in my upcoming track. Pogchamp is a meme that is turned into an emoticon that can be used in Twitch chat. I played the track in my Tomorrowland set this year, and a few of the recorded people were actually in the crowd. So they were literally hearing their own voice through the Tomorrowland speakers. I think this is what it's like to be an artist in the future. 
Besides being a steady producer and DJ for many years, more people realize Ruben de Ronde's role at ASOT makes him one of the biggest influencers in the trance world. His streaming activities are therefore a unique chance to get insight into his producing activities. It might even provide emerging producers with the right tips and tricks to have their next production featured in the ASOT radio show. Who knows, it might end up as next year's ASOT Tune Of The Year.
Follow Ruben de Ronde: 
Facebook: https://www.facebook.com/rubenderonde/ 
Twitter: https://twitter.com/rubenderonde
Instagram: https://www.instagram.com/rubenderonde/?hl=nl 
Soundcloud: https://soundcloud.com/rubenderonde 
Twitch: https://www.twitch.tv/rubenderonde