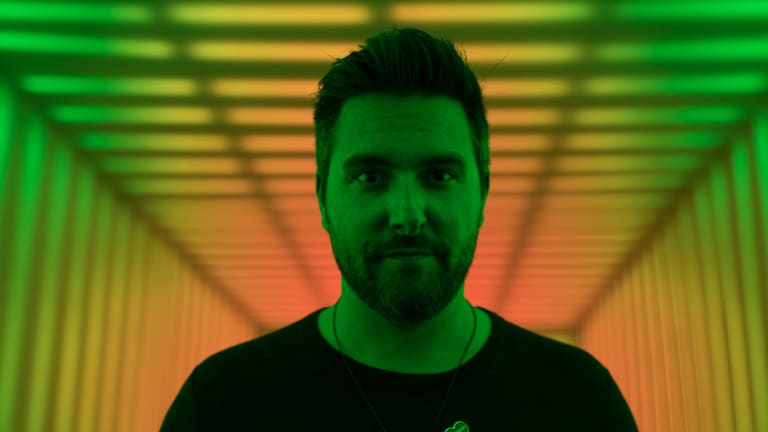 In Conversation With The Man Behind Panorama's Phenomenal 'The LAB' and Much More [Interview]
Designed and Curated by META, The LAB is an integral part of Panorama Music Festivals DNA. We sat down and spoke to the man behind the magic, Justin Bolognino.
 Founder/CEO of META: The Art of Being There, Justin Bolognino is a man of many talents who has dawned a number of hats through his journey to where he is today. First and foremost, a musician at heart, he has worked in numerous different aspects of the entertainment space. 
From RESFEST to his own company Learned Evolution which spearheaded Brooklyn Bowl from its very beginning, and the journey to another self-owned company, The META Agency - Bolognino has done some groundbreaking, ahead of his times work from pretty much his early times and carries on doing so till date with META: The Art of Being There.  
An industry visionary, the last 15 years have seen Bolognino scale newer heights. Bolognino has been responsible in making Brooklyn Bowl a celebrated institution, redefined the SXSW experience through #FEED, produced multiple documentaries, led marketing campaigns, and created interactive art and live music for the sake of creation through his first company, Learned Evolution. His latest role as designer and curator of The LAB at Panorama, and Director of The Antarctic dome show at Coachella, "FLATLAND: A Romance of Many Dimensions", has played an essential part in the evolution of the festival experience. 
We had a chance to sit down and speak to the eclectic JB at Panorama this year and here's what we found out about his fascinating story and what he sees as the future of live music experiences. 
EDM.com - First of all, let us start by congratulating you on another fabulous job with The LAB at Panorama 2018! Tell us a little more about the new setting and the theme for the year, Fractal Nature.
Justin Bolognino - Why thank you!! There were three main paths that lead to the Fractal Nature theme. The first was from FLATLAND, there is a scene during MINDLAND called "Nature Becomes Fractal". The second comes from our new location onsite up on the hill and in the trees, and the third being HP's desire to focus more on sustainability this year.
The idea philosophically is meant to represent the holographic nature of reality. Where ever you are, you are everywhere. From the Kybalion, we have the idea of "As Above, So Below"—there is no difference between the micro and the micro, only one's perspective and consciousness filtering this reality. Fractal Nature is an ode to the interconnected, both invisible and manifest, a truth that separation itself is a great illusion. 
Let's take it back a little and start from the beginning of JB's story. We know you have a history in the music industry yourself, tell us about how the transition from your days in music to where you are today came around. And also the role music had to play in it.
First and foremost, I am a musician. Playing more and harder than ever, despite not doing so publicly. Music is at the heart of everything we do. I love that Goethe quote, "Music is liquid architecture, architecture is frozen music". I like to think that what we do is Living Music … the big differential is that what we do is in real time—like jazz—but also participatory, so none of our artworks unless humans are inside it and interacting with it.
I got my start interning for Berkfest Music Festival in 1999, getting an inside look at what was to become a prototypical and ahead of its time festival. My first huge break in my career came with RESFEST. I PA'ed a video shoot with one of the founders, John Turk, who would go on to be my mentor for all things production related. After this, I went on to take my company, Learned Evolution, full time. In 2007, I was the first guy hired alongside the incredible interior designer, Tristam Steinberg, for what would become Brooklyn Bowl. I oversaw the creation of the brand, marketing strategy using social media, which in its time was revolutionary, and it worked. 
Brooklyn Bowl was a hit beyond our wildest imagination, and culminating with #FEED powered by Twitter, where we commissioned 16 interactive artists to make art where the content was social media itself. And in 2009, The META Agency was born. This came from working with Audio-visual DJs Eclectic Method. I recognized at the time that there was a newly emerging type of artists who were simultaneously the coolest yet most taken advantage of artists out there, creative technologists, or what we called "Experience Directors" or "xDirectors" for short. In its first official year as a real company in 2011, TMA made as much money as LE did in its sixth year.
The industry was ready for the ahead of your time work you were creating, and nothing says that better than a takeover by a giant like SFX! Tell us briefly about how this worked out and also what aspects of it didn't, leading to you taking full ownership of your company after.
I'd built these two very unique and very specialized businesses in Learned Evolution and the META Agency, and not in a million years was I even thinking about being acquired, or really what that even meant. But it happened that these two businesses fit perfectly into the Jenga tower that was SFX. We had the design chops and the experience chops to be SFX's in-house experiential marketing outfit. The plan they sold me on was revolutionary—and honestly could have been a wild success if it was managed differently. Alas, after only 13 months I just couldn't do the "owned" thing and I got out with both companies, and back to my laptop in my bedroom in Brooklyn in 2015. From here I once again started all over and created META: The Art of Being There, which at the time was LE stacked on top of the META agency.
We've heard of AR and VR, but you have us intrigued with a newer aspect you call UR (UnReality). Tell us a little more about that.
UR is the new brand we're building. I can't say too much about it just yet, but UR is a Connected Experience Playground. It's a place where we're able to catalyze the creative technology community by giving them the tools they need to thrive in the experience economy.
The name speaks to our never-ending quest for Self-Realization — you can't augment, virtualize, and mix "reality" without first Knowledge of Self. So, "You Are" being the most self-aware of mantras, we are building UnReality.
If you want to learn more when we actually reveal this thing, please sign up: unreality.is
Over the span of your career, you've worked not only with some stellar companies like Spotify, Twitter, and Google, but also had some amazing artist collaborations with legends like Tiesto, Skrillex and Porter Robinson. Tell us how some of these came about.
Tiesto – we go way, way back to creating live visuals for him, maybe back in 2010 or so, in the early days of TMA. Recently we created a new live visual/show design strategy for him that sadly didn't pan out.
The Skrillex project was just epic—his manager Tim Smith called me looking for "the coolest thing at Complexcon", so I rang up the incredible Beau Burrows, aka "Future Wife" who came up with the interactive "Baburu" ("bubble" in Japanese") which was a giant inflatable sphere with six projectors on the inside. The visuals had many independent layers that interacted with Sonny's layers of stems tied to these visuals. The more you press into the sphere, the more layers of interaction that would explore around you. We brought this piece to the LAB last year as Boolean Planet.

With Porter, that came through his management. We brought on Invisible Light Network (now called PRISM) to do a pixel-by-pixel 8-bit animation of his entire 80-minute show. Porter was very active in this collaboration and came to us with a very clear vision for 8-bit anime. The results were phenomenal on that show that really elevated him.
Today more than ever, music festivals are stepping their game up and becoming more about an overall experience. People like you have been spearheading the movement in that space, where do you see us heading?
We need more stories, more themes, more theatrics that pull everything together. I think you're going to see that a lot more. Similar to what Tomorrowland does, except without the cheese wiz of their aesthetic. Technology will become more and more invisible and integrated directly into the experience. It will feel more seamless, less based around your phone and more about using physical interfaces to interact with the audience.
Not even just festivals, the music space in general. How essential do you think it is becoming for artists nowadays to inculcate art and tech into their performances to stay relevant and keep that wow factor for the audiences coming?
At the end of the day, I live and die by the Grateful Dead school of art, business, and marketing. Our culture today is a giant mess of quick hits, marketing ploys, say-and-do anything for attention media blitzes and the like. We've forgotten the importance of craft. Of the power of music theory and harmonic structure to create landscapes and tell stories. I believe in the long game—build a fanbase over time by creating an experience that can only exist as "being there"—and give away the tapes for free. Create a sense of mystery, that the ONLY way to feel the magic is to be there with thousands of other revelers.
Gaming the system for more streaming plays is not the right strategy to make a giant mark on the industry and on culture. Having a perspective, a voice, and constantly evolving, constantly striving for more, for better, for higher. Speak with the art, not with words, or tweets.
Focus on the music, and only the music, in a live setting—and the rest will fall into place. 
From Panorama to Coachella, what festival is META headed to next?
We're in talks to do some cool stuff at Kaboo in San Diego. We'll likely be returning to the DR again this fall, and we're already starting to think about how to one-up ourselves at Coachella and Panorama next year.
What's the next big thing you're working on? What's had you most excited about in the near future?
UR. I'm going to put at least 70% of my time into developing this monster ... Wish I could say more but we'll have to do another interview then! :)
We're only taking on large-scale works where we have a say from the very beginning, like the LAB. We aren't going to be in the business of putting out agency fires.