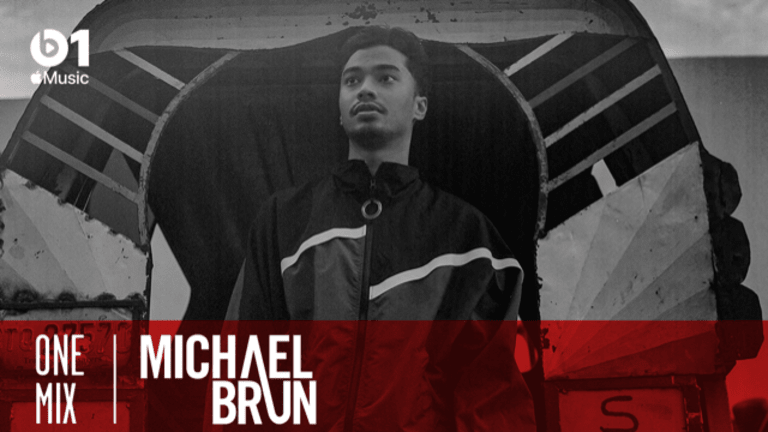 Haitian Music Flag Bearer Michael Brun On Beats 1 One Mix [Interview]
Music is about more than making hits for Michael Brun.
Electronic music doesn't have a lot of artists spreading culture through music. Michael Brun breaks the norm, however.
The Haitian DJ/producer champions the varied, spirited, and highly underappreciated sound of Haiti. Tune into Beats 1's weekly radio show One Mix to hear what he's all about.
Tune in here, exclusively on Apple Music.
Air Date: Friday, 6th September 2019 - 21:00 LA / 00:00 NY / 05:00 UK
Growing up in Port-au-Prince, Brun was raised by musically passionate parents. His father was a keyboard player in a band while his mother recreationally played the piano. Dad often took Brun to the studio with him, and mom forced him into lessons for violin, piano, and guitar.
Funded by anonymously donated scholarships, Brun went to college in the U.S on a full ride for a pre-med track. More than anything, Brun felt a deep desire to better Haiti in whatever capacity possible. Becoming a doctor, he thought, was the best way to give back to the people of Haiti. 
Outside of classes, Brun was making electronic music. His stuff was popular on blogs like Hype Machine.
Then, in his sophomore year when he was only 19, Brun caught Dirty South's attention. The popular Serbian DJ quickly took Brun under his wing. They collaborated on the progressive house song "Rift," Roganović brought him on stage at Ultra Music Festival to perform it, and then he signed Brun onto his label Phazing Records.
Suddenly, music yearned to be more than a hobby, and Brun couldn't help but chase it. His debut EP peaked at number 2 on Beatport. Official remixes for Alicia Keys, Calvin Harris, and Armin van Buuren soon followed. In 2014, he became the first Haitian to ever perform at Ultra Music Festival. Not to mention, he played Coachella that same year.
Brun didn't forget his devotion to Haiti. After establishing his name in the electronic music world, he used it to promote Haitian music, launching an independent music label Kid Coconut, working with local musicians and art organizations like The Audio Institute. In North America, he embarked on the Bayo (which means "to give" in Haitian Creole) tour inspired by Haitian street parties, and of course, brought Haitian acts along for the ride.
Most recently, Brun released his debut album Lokal. From the romantic zouk to the parade-like rara, the LP touched on the various dance-influenced styles of Haitian music. All with a modern, pop-sensible twist that's signature Brun.
The future looks bright for Brun, and we can't wait to see where the road takes him next. Ahead of his One Mix, we caught up with Brun to chat about all things music. Read on for EDM.com's conversation with Michael Brun.
EDM.com: First show experience?
Michael Brun: Kings Of Leon concert.
First time you brought your mom to one of your shows?
Ultra Music Festival 2014.
The artist who inspired you to become a musician?
Pharrell.
Go-to places for new music?
Whatever I hear while walking through the street in Brooklyn.
Guilty pleasure record?
"Never Too Much" by Luther Vandross.
Desert-island dance record?
"Digital Love" by Daft Punk.
Dream B2B partner?
Larry Heard.
Favorite BPM?
126.
Piece of gear you always need on the road?
Phone.
All-time favorite festival?
Coachella.
Biggest misconception about dance music?
It is created all around the world. From the U.K. and Germany to Haiti and China.
How often do you get out and have fun, and where do you go?
I try to go to a show a month just for fun if I can.
City with the most underrated dance scene?
South Africa.
Industry prediction for the next year?
World music will be the new pop music.
Best piece of advice for new producers?
Create what you truly love.
Dead or alive, who would be your dream collaborator?
Pharrell.
What is one of the unique experiences you've had backstage?
Two different people brought me custom hand-painted jackets in one night.
A unique travel experience you've had?
I was one of two people on a 200 seater flight from Chile to Miami.
What's your favorite throwback track?
"Show Me Love" by Robin S.
What's one track that fans always lose their mind to?
At my shows, my track "Bayo" always gets an amazing reaction.
What was the first album you ever bought?
Wolfgang Amadeus Phoenix by Phoenix.
Name one remix that you think is better than the original?
Axwell and Dirty South's remix of "Sweet Disposition" by Temper Trap.
What song would you want (god forbid) played at your funeral?
"Old Town Road" by Lil Nas X.
What's the perfect sunset track?
"Want You In My Soul" by Lovebirds.
What song do you listen to cheer yourself up?
"Mais Que Nada" by Sergio Mendes.
Follow Michael Brun
Facebook: facebook.com/officialmichaelbrun
Instagram: instagram.com/michaelbrun
Twitter: twitter.com/MichaelBrun
SoundCloud: soundcloud.com/michaelbrun