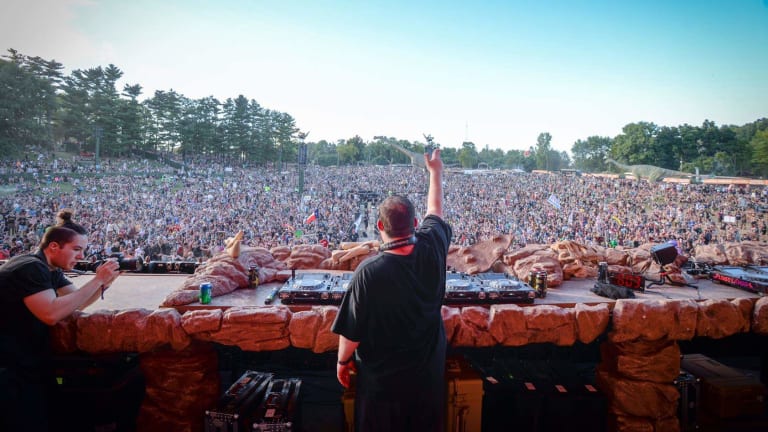 Midnight Tyrannosaurus Talks Halloween and His Akronym Collab, "Shrapnel" [Interview]
Get spooky with Midnight Tyrannosaurus!
Halloween is growing near and many artists have began to release the dark and sinister tracks they've saved for the spooky season. Midnight Tyrannosaurus is no exception.
Hot off of his legendary performance at Lost Lands, Midnight T delivers a brand new heater from of the latest Never Say Die Black Label XL mix (curated by the man himself).
Titled "Shrapnel," this insane dubstep romp exemplifies the sheer terror and chaos of a slasher film. Midnight T's crushing bass and signature use of pop-culture samples combined with Akronym's energetic sound help make this track an absolutely wild ride.
We had the chance to speak with Midnight Tyrannosaurus and ask him about his new mix as well as the approaching holiday. Read what he had to say below:
EDM.com: Was there anything specific that you were searching for while choosing the songs to include in XL5?

Midnight Tyrannosaurus: I wanted to find tunes that not only made me tingly inside, but also fit the dark vibe I was going for.

If you could score any horror movie/video game/tv show, which would you choose?
Dark Souls/Bloodborne without a doubt. The unsettling, eerie tonality of that game is so unbelievably up my alley. I recently released an EP titled The Underworld in June that I think really captures that side of my style, and that's definitely my favorite way to make music.

If you had to choose one of your tracks to be used as the soundtrack for a haunted house, which one would you choose?
Haha honestly, I have a tune I released on P0gman's label I.Am.Audio a couple years ago called "Haunted Houses" that I always pictured people running around in a corn maze to. That or "The Chosen" which was a Silent Hill-inspired tune.

Who's your all-time favorite horror movie villain/monster?
I'm not the biggest horror movie buff out there but I will say the witch in the game Left 4 Dead will forever be the creepiest enemy/monster in a game ever. That dissonant sobbing is like engraved in my memory.
Follow Midnight Tyrannosaurus:
Facebook: https://www.facebook.com/MidnightTyrannosaurus/
Twitter: https://twitter.com/Midnightasaurus
Instagram: https://www.instagram.com/midnight_tyrannosaurus/
SoundCloud: https://soundcloud.com/midnightasaurus