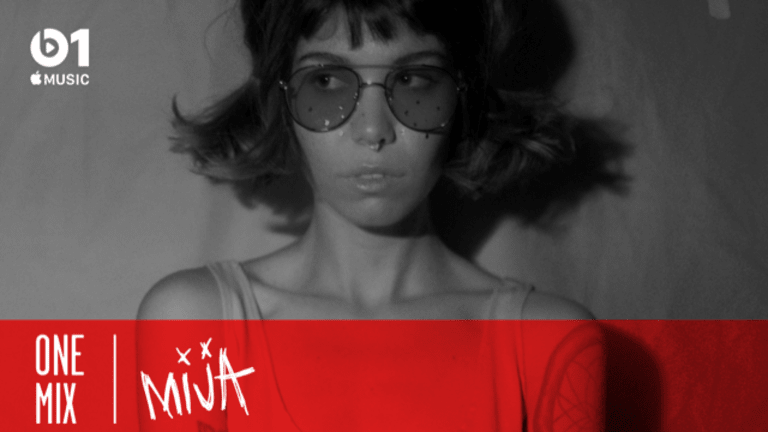 Beats 1 One Mix Celebrates International Women's Day with Mija [INTERVIEW]
Mija presents 60 minutes of all-female music, including tunes from Grimes, Billie Eilish, and Björk.
In celebration of International Women's Day, Beats 1's weekly radio show One Mix hosts Mija for a 60-minute mix this weekend. Expect an all-female selection from the Phoenix-born artist, with tunes from Grimes, Billie Eilish, Björk and Mija herself.
Tune in here, exclusively on Apple Music.
Air Date: Friday 8th March 2019 - 21:00 LA / 00:00 NY / 05:00 UK
Music struck Mija (real name Amber Giles) early. As a child, she'd sing often, joining the Phoenix Girls Chorus at the age of seven. Things weren't always easy though. An out-of-place kid in a wealthy school, her teenage school years were rough.
Giles was voted "Most Likely to End Up on the Streets," and found refuge in illegal warehouse parties. By the age of 17, distributing flyers and hosting events around town, she became a promoter in the local Arizona rave scene.
As a "runner," Giles would drive DJs from airports to hotels in her 2001 Honda Accord. That's when she met Skrillex for the first time. "I drove him to get sushi, took him to Hot Topic to get [ear] gauges, and sewed his pants because he had a giant hole in the crotch," she recounted in a past interview.
Back then, Giles would make $10,000 a night promoting parties. Sometimes, however, she'd lose as much investing in others' events. The seesawing lifestyle didn't sit well with her, and she eventually decided to make a living behind the decks.
Again, things didn't come easy. Giles DJed at hotels, restaurants, and weddings, all while running her own deep house nights on weekends.
In 2014, everything changed when she played at Bonnaroo. As fate would have it, Skrillex stumbled upon her 6:00 AM set and got on stage for an impromptu B2B, blasting deep house atop an art car at the side stage of the festival. A video of their set blew up online, and Mija went from unknown artist to reveled-over star overnight.
Not long after, Giles moved to L.A., developing a close working relationship with Skrillex's OWSLA record label. Popular tracks like "Crank It" with Ghastly and Lil Jon as well as "Better" with Vindata followed. Giles didn't sign exclusively to OWSLA though, self-releasing songs like "Talk" and "Secrets" later on.
Rather than stick to a specific genre, Gile outputs fluid and varied styles of music. A trip through her discography will lead you through future bass, trap, pop, happy hardcore, drum 'n' bass, house, and nu-disco.
Recently, however, Giles has gravitated towards a more centered sound, swapping high-energy EDM for moody, melancholic electronic music. Her EPs How To Measure The Distance Between Lovers, released in 2017, and Just Enough, released in 2018, chart the transition. Both include emotive, introspective songs, making it all the more personal with Giles vocals embedded within.
When she's not making music, Giles is organizing "genreless" shows and working on her own fashion line.
Her Fk a Genre shows bring artists like A-Trak, Kill The Noise, and Anna Lunoe under one roof to, in her own words, "hang out with artists that inspire me, and provide a unique gig experience for them to not take anything to seriously and just have fun. I also wanted to bring together listeners of all different sub-genres, to dance together under one roof. Just to showcase how even though our personal tastes/opinions may differ (drastically), we all love this for the same reasons. We're all humans, and we're not actually that different."
Inspired by a fusion of goth, punk, and EDM, her Made By Mija brand stocks custom heelys, sweatshirts, sports bras, pins, shirts, and more. It makes sense considering Giles studied fashion merchandising in college - before she dropped out to pursue music, that is!
Ahead of her One Mix, Giles shared her go-to places for new music, musical inspirations, dream B2B partner, and more with us. Dive deeper into the creative mind of Mija below.
EDM.com: First show experience?
Mija: Technically, I think my mom snuck me into a Ramones concert when I was two years old. But the first one I remember was either Michelle Branch or Avril Lavigne. I can't remember which one came first.
First time you brought your mom to one of your shows?
She brought me to all of my first shows, but one that especially stands out was Flogging Molly. She tried to get me to crowd surf - 12-year-old Amber wasn't having it, haha.
The artist who inspired you to become a musician?
Probably Regina Spektor, Fiona Apple, or Alanis Morissette.
Go-to places for new music?
Mixtapes. I listen to a lot of mixtapes from people I dig to see what they've been inspired by. Then, if I find a new artist that I like I will dig through their mixtapes, and so on. It's kind of a black hole, but it's fun. I also enjoy doing playlist swaps with friends.
Guilty pleasure record?
I'm not guilty, but I love Ariana Grande's "thank u, next." It's so damn catchy and clever. Good vibes.
Desert-island dance record?
"Journey Inwards" by LTJ Bukem.
Dream B2B partner?
David Bowie.
Favorite BPM?
I don't have one.
Piece of gear you always need on the road?
Currently, it's my Korg SV-1 stage vintage piano.
All-time favorite festival?
In the states, FORM in Arcosanti, Arizona. Internationally, Rhythm and Vine in New Zealand.
Biggest misconception about dance music?
That you're supposed to watch the DJ push buttons instead of dance and hang out with your friends.
How often do you get out and have fun, and where do you go?
I get out sometimes, haha. I will go out to support a friend if they have a show. Or, I like to travel for fun. Recently I went on a backpacking trip to Pategonia with my boyfriend.
City with the most underrated dance scene?
Busan in South Korea. Definitely.
Industry prediction for the next year?
All the producers will get bored of DJing and start doing live performances because they feel limited and want a more substantial way to express their music. Oh wait!
Best piece of advice for new producers?
Just do it! Over and over again. You're only as good as the amount of time and work you put into it. There is a large grey area when learning to produce where the sounds you're making won't level up to your taste. It's annoyingly frustrating, but just keep working and eventually that grey area will start to diminish. Also, ask yourself why you are doing it. And stay humble.
Dead or alive, who would be your dream collaborator?
Nicolas Jaar.
What is one of the unique experiences you've had backstage?
Hulk Hogan kicked me offstage one time. Not like personally, but it was a thing.
A unique travel experience you've had?
I once chartered a jet from Phoenix to San Bernardino for a quick college gig. We brought Taco Bell and bagged wine onto the jet and made a short tour documentary of our trip. It's called "Southern Love" on YouTube. Highly recommend.
What's your favorite throwback track?
"It Wasn't Me" by Shaggy.
What's one track that fans always lose their mind to?
Usually, it has less to do with the track itself, and more to do with how I got there; how it was mixed. But, I will say that "Raingurl" by Yaeji was a banger and went off every single time. Pro tip: if you can get the girls dancing, you can get everyone dancing.
What was the first album you ever bought?
B*Witched or Aqua.
Name one remix that you think is better than the original?
Ryan Forever's remix of my song "Dead Flowers & Cigarettes." We haven't released it yet but like, wow ok. Well played Ryan.
What song would you want (god forbid) played at your funeral?
"A Day in the Life" by The Beatles.
What's the perfect sunset track?
Tycho's 2014 Burning Man sunrise mixtape. Sunrise, sunset, same difference to be honest.
What song do you listen to cheer yourself up?
"Don't Worry Be Happy" by Bobby McFarrin.
Follow Mija
Facebook: facebook.com/djmija
Twitter: @hi_mija
Instagram: @hi_mija
SoundCloud: soundcloud.com/hi_mija