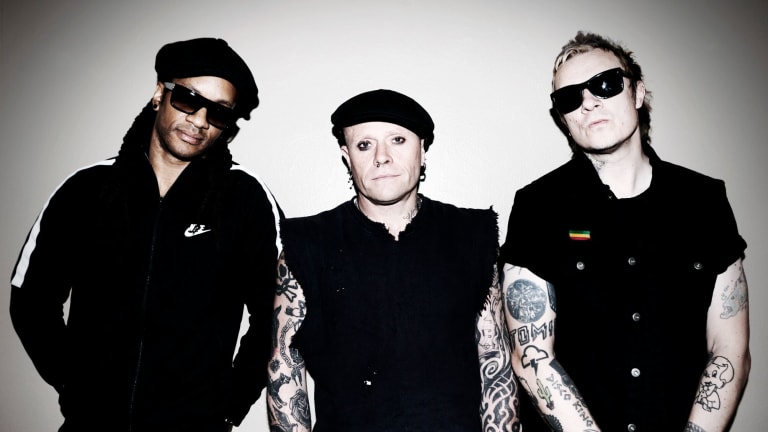 The Prodigy, Pendulum & others team up for Mental Health Compilation
In what can only be described as a truly wonderful act, Ben Verse from Pendulum recently co-ordinated a project in aid of Mental Health. Featuring the likes of The Prodigy, Sub Focus & more, it is the very first in series of drum & bass compilations, to raise awareness for Mental Health & Wellbeing, in honor of the brand new Getahead Festival.
Ben Verse, a former member of Pendulum, said: "to fuse the legends with the new school and create a unique compilation of upfront drum & bass tracks, whilst shining a light and making a statement in the fight against mental illness."
During an interview, I caught up with Ben to discuss his inspiration for the project, and to talk about the Getahead festival.
EDM.com: So this compilation is for an amazing cause. What was the inspiration for starting such a wonderful project?
Ben Verse: I came off the road with Pendulum having toured as an MC for 22 years, and 12 years with Pendulum. I was in a transitional period where I stepped out of the Drum & Bass scene looking for something to get my teeth stuck into. I approached AEI who runs UKF, Drum & Bass Arena etc for some work & experience. Being on the road for so long, I wanted to do something in music. I wasn't sure what - But I knew that they were such a great company.
Having spent a few weeks with them, I gravitated to this project called Getahead festival. It's a 24-hour festival/ organization that aims to prevent the point in which you become mentally ill. So they do yoga, and mental health tricks to help you live better & healthier in this underground music industry. 
I asked if they were doing an album to promote it, and they replied that it was hard to pull off & get big names etc. I just thought that I know a lot of people in the industry. And so I said to leave it with me. So for the past 4 weeks, I've been in people's studios. We've got 18 tracks from the likes of Chase & Status to The Prodigy. 
Wow, that's awesome.
My brother in law was recently sectioned. I've also had a few friends that I've lost along the way due to mental illness. And so I thought that this is a great thing to be doing!
Definitely. 
Flume, Kaytranada, The Chemical Brothers, More to Play Goldenvoice's New San Francisco Festival, Portola
The two-day festival will also feature sets from James Blake, Arca, Peggy Gou, M.I.A, Four Tet, PinkPantheress, DJ Shadow, and more.
I've focused on making this the biggest compilation that it could possibly be. That's what I've done.
How did you select the artists to be on the album?
One of the first people I got on board was Prodigy as I've known them for years. I reached out to Liam and told him about this helpline for musicians that we're trying to raise money for. 24 hours a day, if you're having a bad time, just ring the number and there's someone you can talk to. It struck a chord with him instantly as he said for me to stop talking. He was in. Once I got them on board, it blasted the doors open. That's how I did it. I thought of the biggest names that I could possibly imagine and then worked down the list. It was done in such a short time-frame so it's been pretty stressful!
I can imagine. Can we expect any similar projects in the future?
At the moment, mental health is very topical. So what we're keen to do is continue the motion going forward. We're gonna take the framework and in the next 6 months switch genres to House music. So we'll reguarly switch to a new genre and keep the flame burning.
It keeps people talking about it as it's not a problem that'll go away. Once we do house music, we can do Grime, EDM etc. It's something that needs to be talked about constantly. 
100%. As you said, it affects everyone in some form or another. it's not going away. So what are some of the most important lessons you've learned during your time in the music industry?
If you get down & feel like you're alone, you're not. There's a lot of people who experience similar things. You have to talk about it & be open. As soon as you let people know that you're not alright, that's the first stage.
I just think that we're a community. And so if we come together, we can cause an immense wave. We can make a huge difference. When we do a project like this, everyone is in on it. 
At festivals, people are worried about who's above who in the lineup. But with this, people forget stuff like that and unite over this great cause.
MIndstate is available to stream + download on most major platforms. Or you can purchase it here.