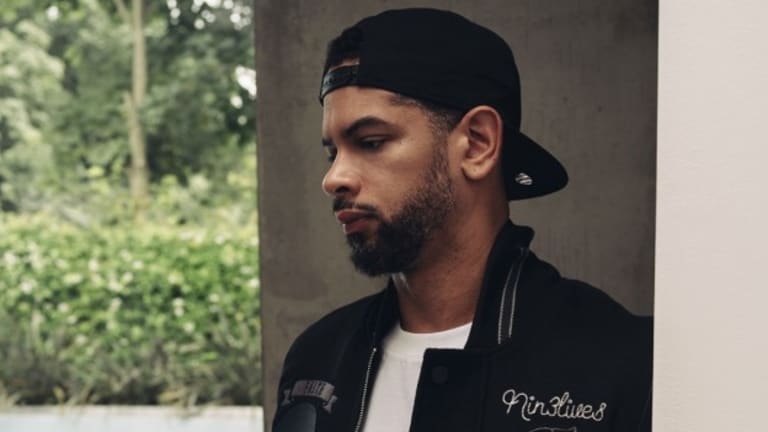 Hot Off of '17' We Talk With MK About Making Music For Yourself [INTERVIEW]
We caught up with MK before playing in front a packed out crowd in his native Detroit.
By today's standards, MK didn't have the typical route to DJ success. Although today the words 'DJ' and 'producer' are thrown around almost interchangeably, that hasn't always been the case.
Growing up in the Midwest, Marc Kinchen's exposure to Depeche Mode's infusion of futuristic synthesizers with melancholy pop music set MK off towards a career in music. The sounds coming out of his native Detroit permeated the young producer's creative will, while studio tips from techno pioneer Kevin Saunderson gave MK a privileged, and unlikely entry into dance music. By 1991, MK's third single "Burning" had already earned him a spot on the Top 10 US Dance Chart as a fresh-faced 19-year-old.
Moving to New York and later LA, MK kept his focus in the studio which gave him opportunities to work with some of the music industry's A-listers, including Jay-Z, Will Smith, Beyoncé, and Rihanna. As the music landscape continued to change, so did MK. In the early half of the decade, MK turned his focus away from producing singles for other artists to work on dance floor friendly remixes. Getting behind the decks as a DJ gave MK the opportunity to finally feel the energy coming from the crowd, creating a sharp juxtaposition to the sterile studio environment. His chart-topping 2012 remix of Storm Queen's "Look Right Through Me" only helped to cement MK's new found career path as a DJ, which has allowed him to develop an on-stage connection with hundreds of thousands of fans across the globe.
In 2017, MK dropped his monster single "17" which serves as a new milestone in the artist's storied career – the first time an MK original has cracked UK Top 10 Singles chart.
Before playing before a packed-out hometown crowd in Detroit, we caught up with MK to discuss his feelings for his hometown, his love of 80s music, and why he's only focused on making music for himself.
EDM.com: Being in Detroit you're in front of a hometown crowd and get to see friends and family. Especially now being in the "Renaissance Detroit" how does it feel coming back and comparing new memories with old memories?
It makes me happy that Detroit is coming up the way it is. The last time I lived here was 1990, so it's been a while since I've lived here; though I have family so I'm back a lot. It makes me happy to see that it's doing so well now.
Your track "17" is currently burning up the UK Top 10 Singles Charts… when you were in the studio did you have a feeling it was going to be big?
No, I never make tracks to get chart position. This may sound weird or boring but I just try to make the best track that I can make. Making "17" just felt like something I would play out in my sets, it felt like something that would get a good reaction when I played it out.
When I make my music I base it on when I play it. I don't want to have to feel like I have to play this because it's my record, I want to make a song that I actually want to play. 
One thing that I've also noticed is that you use a lot of female vocalists. Is there anything about the female voice as an instrument that brings something different to the table?
Emotion. It's not so much that I look for a female vocalist but I look for really good vocals that bring emotion out of listener. It just so happens a lot of them are females. The remix that I did for Storm Queen had a guy singing, and he had really strong vocals and a lot of emotion.
I was also checking out the Area 10 playlist on Spotify and I noticed Duran Duran, The Smiths, and Depeche Mode on there. How did those bands influence you early on when you were making music, or even just personally?
In the 80s, that's when music started to take over my life, when I started learning how to produce. And the type of music that I was into was alternative music. All the production was different, from Depeche Mode to The Smiths they sound totally different. The Smiths are a band with real instruments while Depeche Mode used synthesizers. But I liked both of those and how the song would fit together. So that was really instrumental developing me being a producer.
I think the 80s out of any decade of music was the most diverse because you had synthesizers. For the first time you were hearing sounds you had never heard before in music. 
Talking about Area 10 and what's coming up, what have you been working on outside of "17"?
Lately it's been a lot of remixes. I just did another one with Rihanna, Justin Bieber I just did. I did some for Solardo and Tchami as well.
I try to do more stuff for myself but I'm on the road so much. I'm home in little spurts like 2-3 days at a time, so it's usually just enough time to finish whatever remix came in. Then go back on the road. So I don't have a lot of time to sit back and be super creative. I go in the studio, and get out.
I know you've spent a lot of time in New York and LA, and I'm sure people always talk to you about Detroit. But there's a lot of "musical baggage" that comes with Detroit, do you ever have to come to terms with double-consciousness? Like MK today versus Marc Kinchen?
Sometimes… With the older fans because they were in the 90s for that part, but I kind of just go with the flow. I try not rack my brain up.
Are there any songs that you've listened to where you're just like, "Damn, I wish I wrote that track"?
There's a lot. Of course there's of Michael Jackson songs I wish I wrote. A lot of Prince songs, a lot of Depeche Mode songs. There's not one in general, but there's a lot of them. They're all from the 80s though. I don't listen to much music besides that.
The 80s really were so forward thinking… you had post-punk, industrial started coming up. It was so innovative…
Everything is more structured now. Back in the 80s you had songs that were written all over the place. Now it's verse, chorus, verse, chorus, bridge, chorus.
And everything is written for fans, labels, artists and social media. You can't really be an original artist anymore…
When I was producing just for other artists that was exactly what we did. Your job was to write a song and try to get Beyoncé to accept the song. So you're writing a song that you think Beyonce would sing, and every producer in the world is doing this. And then you send it to the label, send it to manager, and try to get it on the album.
Everyone is doing it, it's not so much about an artist having their own opinion any more. This guy wrote this song for you, that guy wrote that song for you, so it doesn't become special anymore.
Now that you've a few seasons on the road as a DJ, what do you like most about DJing?
I like meeting different fans and seeing how happy they get when they see you is a perk that you can't pay for.
Follow MK:
Facebook: facebook.com/officialMKTwitter: twitter.com/marckinchenInstagram: instagram.com/marckinchenSoundcloud: soundcloud.com/marckinchen