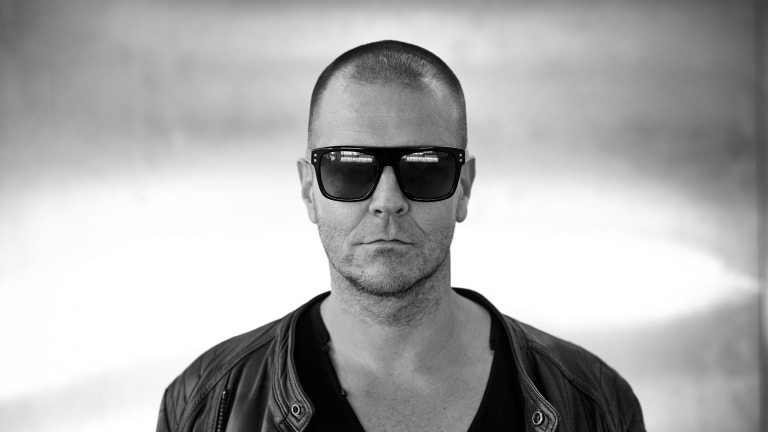 Dance Music Veteran MOGUAI Embraces the New Digital Age of Music [Interview]
MOGUAI mixed vinyl back in the day, but he's just as excited about the future of deejaying and music.
A veteran of dance music, André Tegeler, better known as MOGUAI, has been in the world of electronic music since the early '90s. From his underground club days and early records like "U Know Y" to playing about 120 shows a year on some of the biggest stages worldwide and producing festival hits like "Mammoth" and "Hold On," Tegeler has seen it all. 
After his show on Spinnin' Records' yacht in New York City, EDM.com had the opportunity to catch up with the renowned DJ and find out how he's adapted to the ever changing world of music production and DJing.
EDM.com: Initially you studied law and then you got into DJing. What really attracted you to electronic music? What was it like listening to it for the first time?
MOGUAI: Back in the day I was very into skate punk and psychobilly, so I always went to venues where they played strange music. Then there was a club in Düsseldorf in Germany. They played punk rock music, but one day they started playing techno, very hard techno. I thought, "Wow this is cool, this sounds different. It sounds fresh and new." And I always wanted to play in a band, but I never did, so I thought, "Why don't I start deejaying."
At that time I didn't have many gigs so I thought, "Okay if it really doesn't end up becoming a job, what do you do then? Why not study music law or something?" I studied it for a long time and then there was a day when I had to make a decision. I had my first chart hit in Germany and my lawyer said, "Hey stop studying law, go on the unserious way as a musician," and so I did.
When you were learning how to DJ and produce, what's the most distinct memory you have when you were experimenting with these new sounds and trying to make electronic music?
First of all, it was pretty tough for me to really mix records because when you play vinyl it's totally different from nowadays mixing with the CDJs and using DJ software. It's handmade, so you really have to concentrate and have to be focused on mixing. I remember very well it took me too long, feeling-wise, to really learn it properly. It's like learning how to walk and after I mixed my first records, I couldn't stop. Every day I made a new mixtape and gave it to different promoters in Germany. I learned a lot in that time.
Then was it hard for you to transfer over to the more digital side of playing music?
Very hard, because I loved playing vinyl. I love feeling them, smelling them, and playing them. Then I had a CD or USB and it was pretty strange because I missed that feeling of putting out a record and reading what's on it. Now that I've done it a few times, I don't miss it at all. Sure I still love to play vinyl, but I see more of the pros of this digital world and it's fun playing CDJs, but also playing live.
I did a lot of live shows with deadmau5 for my second album on mau5trap. I think I played 40 shows with him, always playing before him. He said, "Okay when you want to come on tour with me, you have to play your album. You have to perform it live." 
So I said, "What? Live? what does that mean?" I've never done that before, and from there it was a pretty tough cut for me with getting rid of vinyl and then jumping straight into this digital world. It's great now, I'm happy and I'm curious where this ends because it's getting faster and faster and the software is getting better and better. 
Nowadays you really have to set yourself apart to stay relevant to the new generation of EDM fans. Do you think there's more pressure to create a unique and more worthwhile experience for your crowd now than back then? Have you faced any challenges with the new generation of EDM fans?
I totally agree that the scene changed one hundred percent when you compare it to the last 10 or 20 years. People have a different approach when they go to a party. It's like an adventure world sometimes when I see this huge festival compared to a techno party or electro party. But from my perspective, it didn't change too much because when people come to my shows they love hearing my records, but they also love the style I play.
I keep on going with that because it's about emotions and it's about taking people by the hand and giving them a great time and telling them a nice music story. I know other guys couldn't survive without huge LED walls and effects, but for me the music comes first. For sure, it's nice to have special effects and so on, but for me personally, the story and the music is more important. 
When you do have to do some of these extravagant shows, how do you come up with the setlist and plan that with the special effects? 
Believe it or not, I do it in a flow. Nothing is planned. I really do play a show like I did back in the days when I played in underground clubs. I go to the club an hour in advance to see what's going on there; same with the festivals. I know for sure that when I play big stages, say 50,000-person stages, I play a different show than an underground venue for 500 people. The set is more full on and I'm more focused on playing tracks that are more entertaining, but I do it without any playlists. I know some records I want to play, but I could play it at any time during the set.
I think there's only a handful of people out there that do it like this, especially when we talk about the main stages. Some people have a playlist and they know exactly what they're going to play like, "Okay after this record I'll play this and after this record I'll do this." I think it doesn't work.
Shows are like a conversation. It's like you sending me questions in advance and I answer them before on my own and then we have this talk. I swear to god the whole conversation would not be as good as it is now because it's about your feelings in the conversation. 
Talking about the feelings you get when you listen to your music, one of your latest tracks, "Don't Stop," really gives off a fun nostalgic air with its old school hip-hop vibe. What was your favorite part in making that track and working with Moe Mitchell?
When I started with my label, Punx, in the beginning of 2000, the only records I brought out were records with a guitar, breaks and a hip-hop vocal in it like "U Know Y" or "Freaks." I felt like, "Wow I haven't done this style in ages," so I wanted to do this song. 
I heard an old Mos Def track on YouTube and I made a request to the publisher and they said, "For sure, you could use it, but you can't take the original vocals." 
Then it was pretty tough to get in contact with the original singer and writer or whatever, so I thought, "Wow, okay, this will never happen."
I told the whole story to a good friend of mine, Loco Dice. He's very well known in the techno scene and I met him in Düsseldorf because we lived almost in the same area. I told him "I have this track, but it needs this Mos Def attitude." 
He said, "I know a guy from Hanover from Germany. He's American, but he has the same voice and you could write him and he'll respond." And then I did it and I got this vocal from Moe a few days later and now we brought out this record and I'm very happy with it. I'm going to continue working with him because I really love his voice. We had some writing sessions in my hometown studio and recorded some new stuff. 
Out of all your records, what's one that really resonates with you?
I think it's "U Know Y" because it was my breakthrough into the international market. Also, after it was released on my label, it came out as a Sugababes collaboration. I produced a single with them and it was a worldwide release for us. And it was pretty unique and different at that time because it combined breaks and house. Most people who know me know this track for sure. Some people say, "Okay you did 'Mammoth' with Dimitri Vegas & Like Mike and then you did 'Hold On' with Cheat Codes." Those are much bigger, but this song was before the internet. 
So what's next for Moguai? Are you going to have any new releases soon - or maybe an album since you haven't put one out since 2012?
I would love to do another album, but not this year. I think maybe next year this could happen. I have a lot of new single releases, so the next one will be out on Heldeep Records, it's called "Everybody's Gotta Learn Sometime." Then I did a remix for Winona Oak, she's with Atlantic Records. I have another track, it's coming out on Big Beat Records around Amsterdam Dance Event, so we decided to release it at that time. Then another one on Spinnin' Records. Maybe there's room to release my track with Mark Knight, which will be on Toolroom or we do it next year. I also have a Steve Aoki collaboration for this manga movie on Netflix. 
Listen to MOGUAI's brand new track "Everybody's Gotta Learn Sometime" here:
Follow Moguai:
Website: moguai.com
Facebook: facebook.com/djmoguai
Twitter: twitter.com/moguai
Instagram: instagram.com/moguai
Soundcloud: soundcloud.com/djmoguai