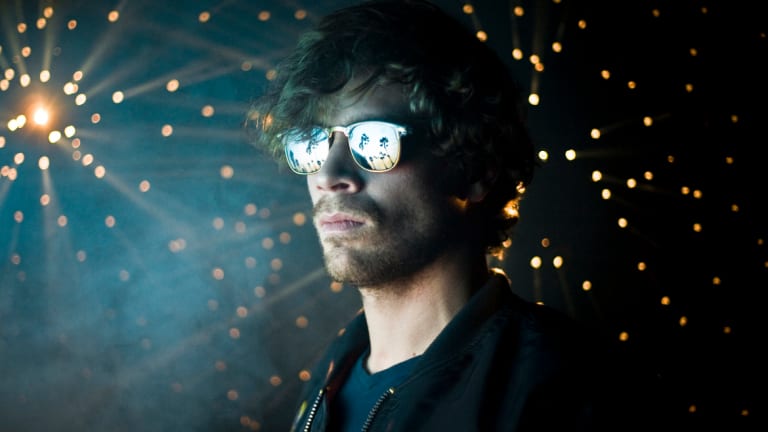 MOON BOOTS SHOWS VERSATILITY AND CONFIDENCE WITH LATEST EFFORT 'FIRST LANDING' [INTERVIEW]
INTERVIEW: Moon Boots on Touring, New Music, and Musical Experimentation
Pete Dougherty, better known as Moon Boots, is no stranger to the dance floor.

His keen ear for rhythmic grooves extends out side of the booth, allowing Pete to get a firm grasp on the energy and and mood that makes a party effervescent. And while his uplifting house beats have been known to move a crowd, his latest 10-track LP First Landing finds Moon Boots diving into new creative territory, effortlessly flexing his production prowess.
The leading track "Fortune Teller" offers slowed down percussion to Moon Boots typical mids, featuring the vocals of King Kona gives this sultry RnB track a smooth introduction to the album. Not one to stray far from a strong vocal, Moon Boots dives into his melodic strengths with "Keep the Faith" featuring Nic Hanson, while tracks like "Utopia" and "Tear My Love" give Moon Boots fans the sassy dance floor anthems we know and love.
But Moon Boots isn't satisfied with maintaining the status quo on First Landing, the title-track is a more minimal dance floor number perfect for transitioning through those late night hours, while "The Life Aquatic" is a dreamy tune that diverts from the "boots and cats" for a surreal sound that is vaguely reminiscent of video game classic, Zelda. Closing off with "Red Sky" clues in the listener to the sunrise potential of the song with its light beats and ethereal melodies, wrapping up the LP with skillful intention and curation that mimics the ebb and flow of party that goes from dusk til dawn.
We caught up with Pete to discuss the new album and gain some perspective on the creative process, his relationship with Anjuna Deep, and why he's learning to trust his instincts.
EDM.com: Your new album First Landing is a departure from your tried and true house productions. What made you want to explore new beats and even new BPMs on this album?
Moon Boots: It's funny cuz most of my early tracks are either mid-tempo or what I would consider the lowest boundary in the range of "house tempo." As I got the opportunity to play to bigger crowds later at night, it's probably inevitable that my music became faster and more club-oriented. I wasn't just a bar DJ in Chicago anymore. But when it came time to do this album, I knew I had an opportunity to throw every style and tempo into the blender. I have a short attention span and listening to 10 unmixed tracks in a row at the same tempo just wouldn't work for me as a listener or as a producer. That said, there still is some house on this album!
"I've seen many times how fickle this business is, so I just try to never get complacent. I treat each release like it's the one I want to be remembered by."
This new album is being released through fan-favorite label Anjunadeep, how did your relationship with them begin?
I first got introduced to the label in 2013 by my friends Lane 8 and Lancelot. I was a fan of their releases along with those by Dusky and Meramek and Jody Wisternoff and the whole roster. Anjunadeep dug my mixes and releases on French Express and after playing a few of their parties things just started to click. I contributed "Red Sky" to their 2015 end-of-year compilation and it also got released as a single. Since then it's been off to the races!
"In general, I'm still learning how to trust my instincts. You need to trust yourself and not need external validation for following your own ideas."
You're not one to shy away from using vocals in your tracks – how do you decide on a vocalist? And what comes first... an idea for a beat or the vocals?
I generally like vocalists with some training, but not so much that they're unable to develop their own style. They should have a good rhythmic feel, an instinct for hooks and be able to sing with real passion. As for deciding whether to work together, there just has to be a mutual vibe and mutual desire to make some music. And I'll always bring an instrumental to them and see how they feel about it. The feeling from the music triggers the lyrics and when the vibe is right they reinforce each other and you have something much greater.
First Landing definitely exemplifies your growth and maturity as an artist and producer – what have been some of the biggest lessons (artistic or otherwise) that you're learned in the last few years?
I've seen many times how fickle this business is, so I just try to never get complacent. I treat each release like it's the one I want to be remembered by.
In general, I'm still learning how to trust my instincts. You need to trust yourself and not need external validation for following your own ideas. At the same time, when my girlfriend has a good idea or my manager has a good idea, I can't be afraid to put my ego aside and go with that too. It's a team effort, I'm a solo artist but music never happens in a vacuum.
This record is incredibly diverse sonically and really shows off your versatility as a producer. What have been some of your creative inspirations that have influenced you while producing this album?

Thank you. There's bits of hip hop, R&B, classical and everything else hidden in there. I made a playlist of them here. In general I tried to weave each track with some of the tunes that influenced it.
The 10-track LP has been in the works for a while, previously releasing several tracks off of the album like "Tear My Heart" and "The Life Aquatic" - do you have any favorite songs from the album or interesting insight into their development?
Each song on this album has been my favorite at some point. I don't want to tell you my favorite today because it will be a different answer tomorrow.
Here's a bit on the way "Keep The Faith" came together, to give an example. My studio neighbor, Will McNair, introduced me to a young singer, Nic Hansen, he'd started working with. We made the whole track happen in my little 90 sq ft room in Brooklyn. Also Charlie Rauh came in and laid down some beautiful guitar. I've put vocals I've gotten over Skype onto piles of soft synths and I can say from experience that this approach was much more satisfying.
As is with most DJs and producers, you know how to have a good time on the road. How do you balance work and play when you're touring?
Generally when I'm on the road I want to focus on what I'm getting paid to do — DJ. I'll go through my library and go digging and shopping to find the best music I can. I've tried producing on the road and I can occasionally get an idea down but that's about it.

As for work/party balance, I'm still figuring that out. I've done more than my share of stumbling around afterparties and everything else. I'd be the last one to judge anyone else's behavior but I'm trying to chill out a bit.
Aside from dropping a hot-fire record, what other big plans does Moon Boots have for 2017?
I've already started introducing live piano to my DJ sets but I want to do a full-on live show. More details on that soon!
Photo credit: tracygrahamcracker.com