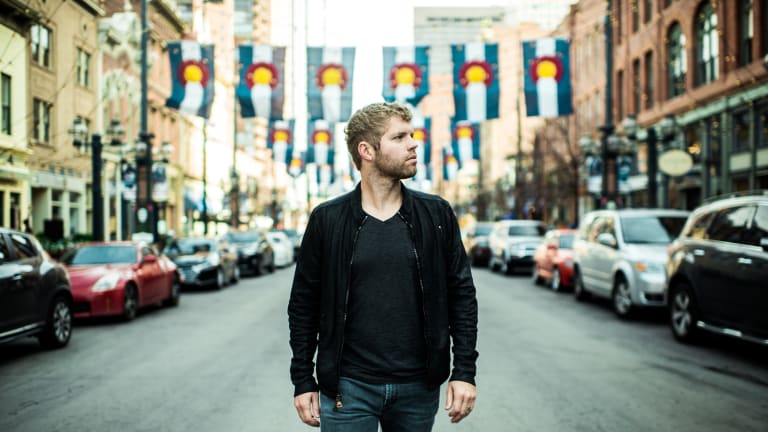 Morgan Page is Building a Library of Knowledge for Producers [Interview]
He also discussed his latest remixes for Alessia Cara, Clean Bandit, and more.
Morgan Page is deeply interested in the granular science of music production. The multi-genre producer's insatiable curiosity for the technical aspects of music creation has undoubtedly served him well in his career, not only earning him a multitude of memorable releases within dance music, but also furthering his image in a mainstream capacity.
Recently, the "Gone My Way" producer has been on a momentous tear earning remix opportunities for Clean Bandit, Ava Max, Alesia Cara, and more. Fundamentally, Page has never been one to stay complacent in his sound. Instead, he's found inspiration in absorbing new technical knowledge within the world of digital music creation. Page was inspired to aggregate and document his knowledge, and now shares his findings publicly on MP Quick Tips (mpquicktips.com). 
We spoke to Morgan Page about his new music and the evolution of MP Quick Tips at the National Hotel in Miami ahead of his Armada Invites performance. 
EDM: Earlier this month you released your new single, "Gone My Way." What was your inspiration for the track?
Morgan Page: It's funny, my co-producer PEX L said, "I'm working on starting something," and he doesn't speak a lot of English but he sent me this vocal sample out of nowhere and it inspired all these chords and styles. A little bit of dance music, future house, wobble, and its progressive house - so I merged all of these elements into one sound. The breakdown is a little more progressive, the drop is electro. I'm just trying new stuff and trying to mesh new genres in different ways.
Similarly, you've had a couple very big remixes as of late, one for Ava Max, and one for Clean Bandit. Do you have any other big remixes coming up that you could tell us about?
The most recent was for Alessia Cara. It's almost in the Alan Walker vein of really massive breakdowns with a vocal and an arpeggio. It's almost like an EDM ballad. The original is a ballad, it's like a waltz in 3/4 time and I was trying to figure out why it wasn't looping properly so I turned it into this really cool, emotional progressive house triplet track.
You've remixed so many different tracks across all different types of genres. What songs lend themselves best to being remixed in your opinion?
It's always about a strong, distinctive vocal and I'll always re-voice the chords around that. I'll recompile the chord voicing and try to figure out how to lift some new emotion out of it. If it's something I'm going to remix, I have to feel confident that I can take it some place new add my stamp on it, but still serve the original. I usually will delete everything except for the original stem vocal and keep one other instrument in there. With the Clean Bandit remix, I left some of the original elements in there. You can be selective picking and choosing what you want to keep, but the vocal is really what drives everything. It'd be very hard to remix an instrumental track, I know some guys do it, but it's tough for me personally.
You've also launched your own site, MP Quick Tips (mpquicktips.com), was hoping you could tell us a little more about the goals for the site and what made you want to start this endeavor.
At first it started from a selfish reason of wanting to compile all this knowledge as to what was working in the studio so I wouldn't forget it. I started with that, and then a friend of mine who is doing artist relations for Pioneer DJ said "You're so knowledgeable about this side of music production, why don't you share it with the world?" and suggested I do bite-sized tips. It got me thinking, since I tweet tips from my official account, maybe I could make a dedicated account where I have this information summed up in 140 characters, and now you have more characters to work with on Twitter, but that led to a deeper-diving blog. There are almost 800 quick tips now so I've done it for six years, and it's been this drip-by-drip process of building this knowledge base.
What's the most important MP Quick Tip you've put together to date?
I think the "Rule of 3" is a big one, and one I still struggle with too. It's one thing to come up with the tips and another to keep them in practice, it still takes work. The tips are kind of like the grease that moves the wheels but you still have to do the hard work. The "Rule of 3" is about how your brain can only really hear three distinct phrases at once. You can rotate it like an FM dial and switch from one lead to another, but things have to take turns in order for them to all hit and be effective. Otherwise, sounds start to mask each other. If I have a lead vocal, chord, and arpeggio, that's a lot going on already. If I want to bring in another element something will have to be switched out. The legendary mixer Jack Joseph Puig taught me about that concept. I think it's really interesting that your brain can only juggle so much information at once.
What's been your qualitative process for deciding what tips to include?
I keep a Google Sheets shortcut on my phone and add a cell every time I have a new idea. I'll expand those ideas into blog posts which you can find on mpquicktips.com. We're actually going to be having a physical product of quick tips coming soon with this company called OWC. It's a little early but we're going to have physical cards with the tips and illustrations that will be included in the packaging. For example, if someone buys a thunderbolt drive from OWC they'll get a starter pack of the tips. To have something tactile and offline I think is really nice. You can earmark them and select 3-4 cards you want to focus on in the studio that day. Ideally, you should have your phone outside the studio. It's funny because I'll work with singers who bring the lyrics into the studio on their phone and, in a perfect world, you want to have those distractions outside the studio. They can be great; it's just about knowing how to manage your time. The most productive days for me are when I just leave my phone on another floor, so that's one tip, too.
What's up next for you?
Lots of new singles. Things have been going great with Armada and they've done a great job. They're the biggest independent dance label in the world, and have just been killing it for me so I think really catering to that core Morgan Page fan while still crossing into new markets is what I'd like to do. Now is the time where I want to make that new version of progressive house or big room where it's satisfying and not just all aggressive. It still has energy but has the feels, too. I think that's something that's missing a little bit from festivals where it's all bass or all trance, or whatever. I like exploring new ranges and territories.
FOLLOW MORGAN PAGE
Facebook: facebook.com/morganpage
Instagram: instagram.com/morganpage
Twitter: twitter.com/morganpage
SoundCloud: soundcloud.com/MorganPage