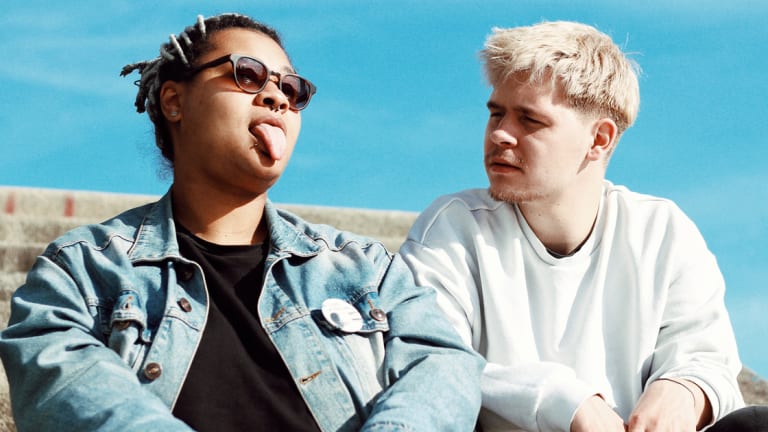 From Playing in Indie-rock Bands to DJing, MÖWE Know How to Have Fun
MÖWE talk about the process behind their music and their new deep/tropical house release "One Love."
As a project that started out of boredom, MÖWE has taken the deep/tropical house EDM world by storm and they don't plan on stopping anytime soon! We were lucky enough to catch up with Mel and Clemens of the Viennese DJ duo about their journey as DJs and their newest releases and remixes.
EDM.com: January 10th, 2013 is a very specific date for the birth of MÖWE. How'd that day unfold and what led you guys to playing and creating electronic dance music?
MÖWE: It was a cold winter day like any other and Clemens came by my flat with his mac. He had half a track and asked if I would like to finish it with him, so I said yes. We finished it and then just put it on Soundcloud and posted it to all of our friends not telling them that we made the track and that it was some new hot newcomer act we just discovered. It took just one night and the next day our news feeds were full of our track and a huge YouTube channel ended up uploading it. And everything from that point on is history.
Before MÖWE, you guys both played together in the indie-rock band Mary Lost Her Pathos, how different is it being in the EDM scene now as compared to your days in the indie-rock scene?
It's kind of different because every scene has its own dynamic and also playing in a band and being a DJ are two very different things. We loved the indie days because they seemed so careless and easy. We were younger and chasing our dreams of becoming rock stars. That's a different dynamic we had there. When we started MÖWE we didn't think that we would become the next big thing, we just wanted to do different music and explore a new scene. And we did and everything went really fast and we had and continue to have a blast. We have gotten to know so many different people, but the EDM scene is very superficial compared to the indie scene which is more grounded.
Would you guys ever consider going back to playing in indie-rock bands?
Yes, why not? We kind of miss having a band and everything that comes with it. To be honest we thought a lot about it, but the thought of going back to the rehearsal room didn't feel that pleasant. 
Out of all the EDM genres why did you guys pick deep house/tropical house? Do you have any inspirations from that genre?
We don't think we picked the genre, it was more the genre picked us. We weren't really into electronic dance music because we only knew it from techno parties and such. Techno always kind of bored us since there were no melodies and vocals, so we took our imagination of what an electronic track sounded for us and mixed it up with some nice melodies and vocals and voila. Later on people called it deep house and then tropical.
In German möwe means seagull, was there a reason in choosing the name or do you guys just like seagulls, or maybe both? 
No, there was no specific reason why we named ourselves MÖWE. It was just the first thing that came to our minds when we finished the production of our first track, "Blauer Tag."
So how'd MÖWE finally get off the ground and become what it is today?
It all started with our first track ever, "Blauer Tag," and that was also the moment when MÖWE started to get off the ground. Everything else was just us growing and slowly but steadily shaping into what we are and what we stand for today.
Your newest track, "One Love," was just released on November 10th and we're pretty curious, what was the process like in making this new MÖWE track? Any fun stories you'd like to share?
The process was really simple. We got the top line from our management and immediately we said we have to do this track since the top line is so good and also really stands for something that is most important in times like these: LOVE. For us, the best way to remind people of that was to do what we do best and make an awesome anthem out of it.
Both of you often sing on your tracks, how do you go about picking who gets to sing for a specific song?
Yes, sometimes we sing on our tracks ourselves. We just both try out for the track and then decide which one is more suitable or we just both sing it together.
A lot of your songs have remixes from other established DJs like De Hofnar, Robin Schulz and John Dahlbäck, what's it like hearing a different take on your own music?
It's always a little bit weird to listen to your track; it's kind of like listening to an entirely new track because the remixer changed the key, etc. It's also very refreshing to hear what the track could have sounded like.
You've also just recently released remixes for your previous track, "Skyline," do you have a favorite remix out of those?
Haha! We love them all and we really appreciate all the good work that all of our remixers put into making these remixes.
If you could have any DJ remix any of your songs, new or old, who would you pick and why?
We think we would love to have a remix from DJ Snake because we love his style and he never disappoints on the dance floor.
So what's next for MÖWE? Are you guys doing any performances or maybe releasing a new EP sometime soon?
We have four or five shows left for this year and we will also have another release coming up for you and much more in the new year. So just stay tuned, there's a lot happening right now.
Special thanks to MÖWE for chatting with me! We're definitely looking forward to hearing your next release!
Follow MÖWE: