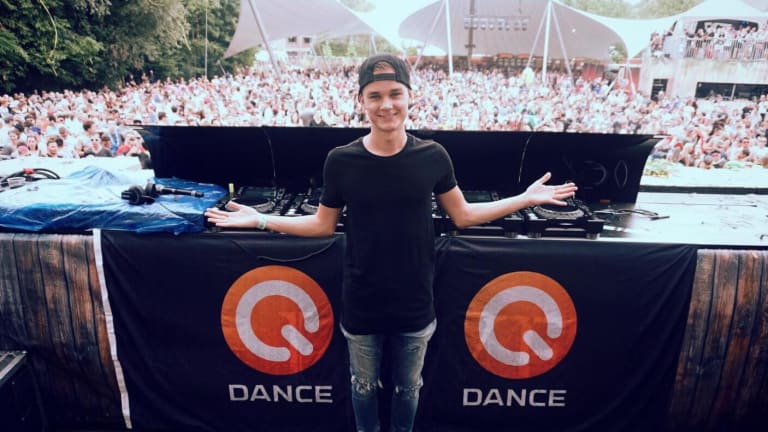 Enter The Musical World Of Adrenalize
Scandinavian born Hardstyle producer Adrenalize has a new song and music video coming out on Scantraxx Recordz, and it's one you don't want to miss.
Adrenalize is no stranger to the Hardstyle world. Since the age of 10, Malthe Mehlskov, aka Adrenalize, has been working hard not only to contribute to the Hard Music world, but to revolutionize it as well. His passion for the music has caught the attention of Hardstyle fans worldwide, with Malthe playing shows all over the planet. He was one of the first Hardstyle acts to play EDC, and he regularly tours through Australia, South America & Europe.
Since the beginning, Malthe has had a knack for making tracks that sound good on big sound systems, but also tell a story and are, first and foremost, songs with a lot of deep emotion. His tracks regularly get played by the biggest DJs in Hardstyle at festivals worldwide, and the fanbase behind Adrenalize grows stronger with each track and performance.
Malthe recently released a new track and music video on Scantraxx called "Get Up". "Get Up" is quite unique for the Hardstyle genre - the melody and lead are unconventional. Hardstyle is traditionally known for massive leads that fill up the spectrum of sound. Malthe decided to take a different approach with a more atmospheric melody through which the song tells the story behind it. 
The video for "Get Up" features moments of Malthe's career over the years, as well as footage of him performing and traveling with his colleagues, who have become his close friends over the years. It gives the viewer a personal glimpse into the life of a touring DJ in the Hardstyle scene. 
What captivates Malthe's audience is his approach to writing melodies. His catchy and creative outlook on music caught the attention of Scantraxx, which is his current label, and eventually the attention of Willem Rebergen, aka Headhunterz. Malthe broke through the Hardstyle scene quickly, and soon became a household name in the genre.
Malthe is known for putting out quality release after quality release.  Most recently, his collaboration with Da Tweekaz and Code Black, a bootleg of Eiffel 65's "Blue", became an anthem at Hardstyle parties all over the world in the summer of 2017. 
We spoke to Malthe about "Get Up" as well as his story as an artist and his plans for the rest of the year.
EDM.com: Hi Malthe, nice to speak to you! First off, how would you describe your music to someone who has never heard your music before? 
Adrenalize: Hey guys, thanks for the interview. Yeah, sure. You could say my music is euphoric and uplifting. The emotion you can get from these songs is very powerful. When it comes to writing, I don't take a standard approach to melodies and chord progressions. You can hear in my style that it's very Scandinavian in a certain way. I always focus 100% on the melody - it's the most important part of any song to me. 
EDM.com: Could you tell us about your new track, "Get Up"?
Adrenalize: Of course. The track is actually quite old - I started the song one year ago. I had this idea for maybe 3 years now that I wanted to have a vocal play as the main melody, so I've been trying that for quite a while. So, finally with "Get Up" I finally found the idea & sound I was looking for - it was perfect!
Once I had that melody and sound down, the track was really easy to finish, but I had a lot of problems with the project file and was switching PC's at the time. It took a year to finish it. A lot of things happened over that year, and the song ended up fitting  nicely. 
EDM.com: What is your personal relationship to the song?
The song is actually really personal to me, because at the time I was working on the song, I was going through some pretty hard personal things. I really think that the lyrics reflect exactly what I was going through. It was an accident that it worked out like that, the singer/songwriter wrote it without knowing what I was going through, and sent it to me. It was just a coincidence that it worked out like that. I liked ADN's vocal the best out of all the vocalists I auditioned for the track, and it worked out.
EDM.com: "Get Up" was your most recent track, but we know you're a busy guy. What can we expect next from you? 
Adrenalize: In a month or so, my new song with Tim van de Stadt, aka Atmozfears, is coming. We've already been playing it for a whole year. So far, we've been waiting on releasing it because we wanted to do something cool. So, we have a music video coming soon, with both me and Tim! Lots of people may have already heard it online, since Tim played it in his set at Defqon.1 last year.
I have another track coming with Wasted Penguinz as well, which I think we'll be releasing around Defqon.1 this year. Then, I also have another collaboration coming, but with whom is a secret for now. ;)
EDM.com: Tell us your personal story as an artist. How did you come to be a Hardstyle DJ who tours around the world?
Adrenalize: The story starts with my older brother. We came across some videos on the internet of people producing music, and started producing together. It turned into a contest between each other to see who would make the best song after we came home from school. We were doing a Hardstyle duo at the time - it wasn't the best music, haha. 
We continued to produce music together for a while. Eventually, he got out of it and I stayed on. I had a lot of music and put it out on YouTube for free. Scantraxx, my current record label, found it and then they contacted me. They wanted to sign me, and then I had a couple releases.
Then, Headhunterz came into the picture. He liked my music and supported it heavily. After a while, he invited me to play his show, Q-dance presents: Headhunterz at the Ziggo dome. It all went up from there!
EDM.com: Was it always Hardstyle for you? Did you listen to it a lot before you started to produce it?
Adrenalize: Yeah, it was always Hardstyle from the start. I was a big Hardstyle fan, even shuffling and all that kind of stuff! 
EDM.com: Where can we see you play this summer? 
Adrenalize: I have a very busy schedule ahead, so you can see me at a lot of different festivals. I'm most excited to play EDC Vegas this year -  I haven't played in the US for a few years now, so it will be very special for me to return. This will be my 4th time performing there. I will also be performing at Tomorrowland, Defqon.1, Electric Love Festival, Intents Festival and many other festivals this summer. There's also an Australian tour coming up, and more gigs in Chile and Mexico as well. 
EDM.com: Awesome, thank you so much Malthe! We love the new track and video, and wish you a successful and busy festival season. 
Adrenalize: Thank you guys, appreciate the interview! Hope to see you at one of my upcoming gigs. 
Follow Adrenalize on his socials: 
https://www.facebook.com/AdrenalizeDJ/
https://soundcloud.com/adrenalizedj
https://www.instagram.com/adrenalizedj