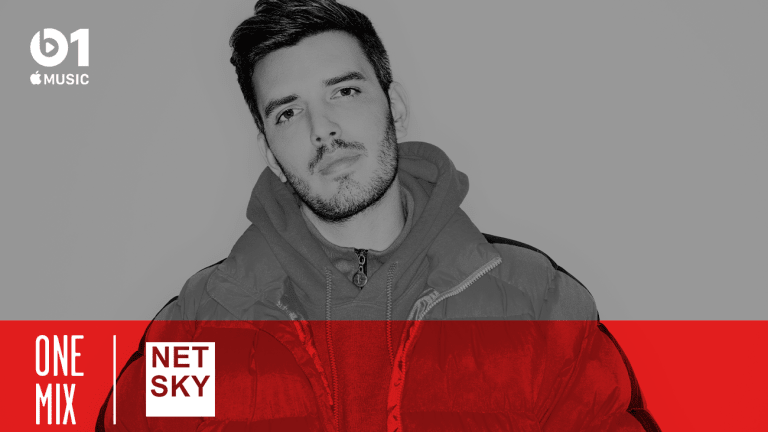 Liquid Drum 'n' Bass Producer Netsky On Beats 1 One Mix [INTERVIEW]
With the release of his new, breezy Abbot Kinney EP, Netsky advised producers to never listen to anybody and "set every song that doesn't sound unique to the side."
Belgian drum 'n' bass artist Netsky returns to Beats 1's weekly radio show One Mix this weekend. As the producer continues to develop his sound beyond the confines of drum 'n' bass, expect tunes from Zedd, Boys Noize, Deorro, Louis The Child, and San Holo, plus some exclusive Netsky mashups.
Tune in here exclusively on Apple Music.
Air Date: Friday 14th December 2018 - 21:00 LA / 00:00 NY / 05:00 UK
Netsky (real name Boris Daenen) picked up music production software when he was around 12 years old, at first just messing around with samples and loops. He began making house and electro influenced music before veering into drum 'n' bass.
After signing with Hospital Records in 2009, a label well recognized for supporting the best drum 'n' bass out of the UK, Daenen's debut album garnered much acclaim. He has since released two more albums, aptly named 2 and 3. Along with successful singles and high-profile remixes for artists like Swedish House Mafia, Madeon, and Jack Ü, Daenen has even supported the Belgian Olympic team in the 2016 Summer Olympics, playing parties for them while they competed in Rio.
Daenen's sound mixes the unrelenting tempo and energy of drum 'n' bass with varied instrumental layers and emotive vocals. Uplifting and sometimes somber melodies dance with heavy, breakneck beats on his productions. He hasn't allowed himself to be labeled a one-genre artist, either.
In recent years, Daenen has explored sounds outside of drum 'n' bass, venturing into pop, future bass, and whatever else sparks his creativity. Ever more so this year with releases like the breezy summer tune "Tequila Limonada" with A.CHAL and dancefloor anthem "Ice Cold" with David Guetta.
Just today, Daenen dropped a 5 track EP titled Abbot Kinney, heavily influenced by Los Angeles and his time in the studio there. It's a pop-centered collection of tracks with features from Toulouse, Stragte, KYLE & Jozzy. The breezy EP signals to fans, again, that Daenan may have his roots and passion for drum 'n' bass but he won't let that stop him from exploring new sounds.
Before his upcoming One Mix, Daenan affirmed this stance with some savvy advice for up-and-coming producers. He also mentioned his obsession with aviation, learning how to fly, and the undeniably crowd-pleasing power of Skrillex tracks. Read on to see what he had to say.
EDM.com: First show experience? 
Nestky: Playing in front of 20 people in my hometown Edegem in Belgium.
First time you brought your mom to one of your shows? 
My first live show in Brussels 7 years ago.
The artist who inspired you to become a musician? 
My drum teacher, my dad, and everyone in his record collection.
Go-to places for new music? 
Los Angeles, Amsterdam and London.
Guilty pleasure record?
"Kiss The Bride" by Elton John.
Desert-island dance record?
"Human After All" by Daft Punk.
Dream B2B partner?
Kaytranada.
Favorite BPM?
85.
Piece of gear you always need on the road? 
My laptop and noise cancellation headphones.
All-time favorite festival? 
Rhythm and Vines in New Zealand.
Biggest misconception about dance music? 
Some people think DJs make the music live on stage.
How often do you get out and have fun, and where do you go? 
I take blocks of time off. I love having people over at my apartment and going to nice wine bars.
City with the most underrated dance scene? 
I used to say Antwerp but now Amsterdam is really booming.
Industry prediction for the next year?
Techno and tech house is going to explode in America.
Best piece of advice for new producers?
Don't listen to anybody. Set every song that doesn't sound unique to the side and don't get stuck with the same song if you don't believe in it after waking up the day after you started it.
Dead or alive, who would be your dream collaborator?
Prince.
What is one of the unique experiences you've had backstage?
Getting gifts from fans from other continents. Especially Asian fans like to bring local gifts. I love that.
A unique travel experience you've had?
Since we have a deal with Brussels Airlines I get invited into the cockpit a lot. I'm obsessed with Aviation and am learning how to fly myself so those days are gold for me.
What's your favorite throwback track?
"My Red Hot Car" by Squarepusher.
What's one track that fans always lose their mind to?
Any Skrillex song from over five years ago... and any new Skrillex song too to be honest.
What was the first album you ever bought?
An album by a local band from Belgium called Novastar.
Name one remix that you think is better than the original?
DJ Snake's remix of "You Know You Like It" by AlunaGeorge.
What song would you want (god forbid) played at your funeral?
"Three Little Birds" by Bob Marley.
What's the perfect sunset track?
"Want You In My Soul" by Lovebirds.
What song do you listen to cheer yourself up?
"Money Don't Matter 2 Night" by Prince.
Follow Netsky:
Facebook: facebook.com/netskymusic
Instagram: @netskyofficial
Twitter: @netskymusic
SounCloud: soundcloud.com/netsky