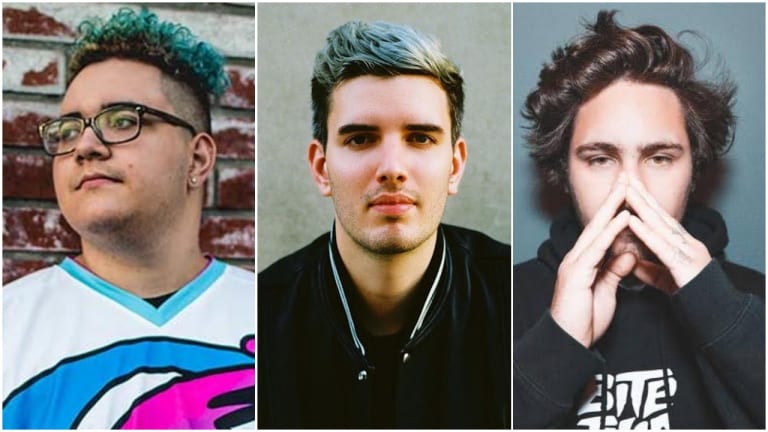 A Pre-B2B2B Chat with Netsky, Jauz and Slushii at Airbeat One [Interview]
We caught up with the three artists at Airbeat One in Germany to talk B2B2Bing, collaborations and more.
It's not often that fans get to experience three artists going B2B2B for an entire set, yet bass heads at Airbeat One were lucky enough to experience Netsky, Jauz and Slushii play together. 
The festival, which revamps to a new travel theme each year, is located in North Germany, and this year was headlined by the likes of Armin van Buuren, Martin Garrix, DJ Snake and The Chainsmokers. Though more bass-heavy acts such as Malaa, Wiwek, SLANDER and more were billed at smaller stages, Netsky, Jauz and Slushii's performance marked one of the heaviest and most versatile performances on the massive, Taj Mahal-like Mainstage.
All three artists have huge things happening for them right now. Jauz just released his huge compilation album, Slushii is gearing up for the release of his anticipated DREAM II album later this year with two new singles and Netsky just released his single "Snitch" with Aloe Blacc, in addition to teaming up with stars Bazzi and Lil Wayne on the catchy "I Don't Even Know You Anymore."
Right before their performance on the Mainstage of Airbeat One, EDM.com got the chance to interview the three household names. As you'll see, they took the opportunity to interview each other - and hilarity ensued. 
EDM.com: You guys just are about to perform at the Mainstage of Airbeat One in Germany. Jauz, I know you played the festival last year, but it's the first time for you two guys. What's the vibe you're getting so far; what do you think separates this festival and makes it unique?
Jauz: The way I kind of explained it to them since I was here last year, is that it's almost like this is Europe's version of Electric Forest, or like EDC, where the stages are over the top and really crazy. It's also kind of in the middle of a forest, and it definitely feels different than a lot of festivals in Europe. There are a lot of festivals here and they all kind of start to feel the same, and every now and then you come to a festival like this and it really just feels so unique.
Netsky: This is the biggest EDM main stage I've seen in Europe. Maybe it's even bigger like the Tomorrowland one, or maybe it looks bigger cause it's a little bit wider.
Jauz: It's definitely massive. I mean, it looks like the real size of the Taj Mahal. I've never been (laughs) so I probably wouldn't know.
Is it the first time you guys will be performing B2B2B?
Jauz: No, it's actually the fifth time. We've done South West Four, New Horizons Festival and more.
How are you planning to mix your respective styles into a cohesive set? Were there any difficulties in approaching a B2B2B like this?
Netsky: We basically all met up at an airport hotel room, and we've already done this a couple of times, so we know that we all like the genres that the others play. The last times we played like this it went really fast and we walked away with an amazing feeling, especially the last couple of shows. So we knew what's going on, and personally I've been looking forward to this. Julian hasn't been looking forward to this!
Slushii: I've been dreading it (all laugh). Well, honestly, I think it's awesome because we each have our own individual styles, and they kind of meet in the middle and find ways to become kind of like an EDM rollercoaster ride, where you start somewhere, everyone has his time to shine, and it's a very unique mixture of genres.
Netsky: While he's saying that we all get our time to shine, he's got blue hair so we need to do an extra effort to shine onstage, which is really annoying. 
Jauz: Well, that's why I'm wearing a yellow tee shirt. I would say last year the hardest thing was the first festival we did. It was a 90-minute set, and that's a lot of time to fill with music. It was really hard for us to find 90 minutes of music that worked for the three of us. Then we got comfortable with that, and now the hardest thing this year is that we only have 60 minutes. So we've been trying to fit kind of like 20 minutes of each's kind of music, and it's difficult cause we each have so many songs that we want to play, and forget everyone else's music, just our songs; it's tough.
Netsky: But the cool thing is that we don't just play three sets. This is music that we all stand behind as well.
Slushii: It's basically just three friends partying onstage and playing music; it doesn't feel like a very engineered B2B, we're just partying and having fun. For me at first it was super scary, but now it just feels like a high school reunion.
Slushii, you just recently announced your follow-up to DREAM. Is there anything more you can you tell us about the album, or when it is coming out?
Slushii: It's coming out in November and-
Jauz: It sucks!
Slushii: It's horrible. It's got 16 songs, it's basically a more electronic version of DREAM I. DREAM I was very kind of very bare-bones, lo-fi hip-hop, minimal electronic, but now I'm playing guitar in every song, playing all the instruments and really trying to explore newer, deeper electronic sounds.
Netsky: This is why I love this interview, 'cause he hasn't told me all of that.
Slushii: Oh really? I'll send it to you!
Netsky: Thanks!
Netsky, you recently released "I Don't Even Know You Anymore," a collaboration with Bazzi and Lil Wayne. Talk to us about how that song came to life.
Netsky: It's cool to work on both spectrums of music, not just electronic music - and I'm gonna be honest, with songs like these it's hard to like hit the feature you really want. This was definitely such a case, I'm sure it has happened to all of us before. I think it's just really important to keep trying; I made that song a year and a half ago, and we kept pushing until we found the right feature, and it happened in the end. It's really important to be persistent. If you have that dream and you want to release a song with the right feature, it's worth the wait.
Jauz. "Baby Shark" remix. Tell us the story from when you first tweeted about the single and it getting more than 20k retweets to when it became an official remix.
Jauz: I knew that was coming (all laugh). Basically, I knew this was gonna happen one way or the other because every single day it would be one of my friends, or someone I know from music, or someone I work with, all like "when are you gonna do a a 'Baby Shark' remix?" I really didn't want to do it in all honesty, but I was sick of people asking me so I put up that tweet, and I really thought 20k retweets was a lot. I didn't think it was going to happen, and then within like one to two hours and it got. After that my management got with Pinkfong, and then it got serious. 
That's why it took me so long to do the remix, because normally when I do a remix, it either happens right away or it doesn't work at all. With something like "Baby Shark," though, I can't just have it not work; I made a promise so I had to make it happen. I also knew that it had to be a song that sounded like me, but also be something a five-year-old could listen to and understand. So, I had to find that middle ground where I thought that I had made it cool and dancey, while also keeping the original, lighthearted, childish vibe. It figured itself out I guess, and waiting as long as I did and then getting to premiere it at Coachella was perfect. 
Netsky: Did you ever expect kids to dance to your remix the way they did with the original? I've seen so many videos of kids vibing to it!
Jauz: I mean, that was my goal. It was tough and that's why it took so long. I wanted to be able to play it at a show and not feel stupid, but I want a parent to play it for their kids and the kid not be confused, but dancing to it. Because if I made it some crazy "Rock The Party" type thing little kids would not get it.
Netsky: So you basically managed to do this; kind of capturing the original for kids and kind of getting the kids at Coachella to dance to it, all while making it modern as well. That's respect. 
Follow Netsky:
Facebook: facebook.com/netskymusic
Instagram: instagram.com/netskyofficial
Twitter: twitter.com/netskymusic
SoundCloud: soundcloud.com/netsky
Follow Jauz: 
Facebook: facebook.com/JauzOfficial
Instagram: instagram.com/jauzofficial
Twitter: twitter.com/Jauzofficial
SoundCloud: soundcloud.com/jauzofficial
Follow Slushii: 
Facebook: facebook.com/SlushiiMusic
Instagram: instagram.com/slushiimusic
Twitter: twitter.com/SlushiiMusic
SoundCloud: soundcloud.com/slushiimusic