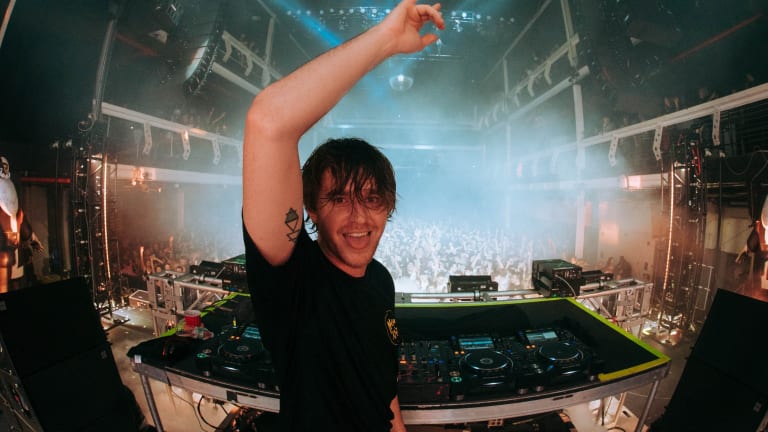 NGHTMRE on Bridging EDM & Hip-Hop, Touring as an Introvert, and Launching a Music Label [Interview]
With A$AP Ferg and Tory Lanez collaborations on the way, NGHTMRE aspires for producer prowess in both EDM and hip-hop.
Back in 2015, NGHTMRE (real name Tyler Marenyi) got his first taste of music success when Skrillex played "Street" during his headlining set at Ultra Music Festival. Diplo was quick to sign the trap anthem to his Mad Decent label, and Marenyi has gone onwards and upwards ever since.
Hit remixes and collaborations with prominent artists like Flosstradamus, Dillon Francis, Zeds Dead, and Flux Pavilion established Marenyi's presence in the world of bass music. Residencies at hotspots like Hakkasan Las Vegas Nightclub and billings at renowned festivals like Ultra, Electric Daisy Carnival, and Lollapalooza fostered his fan base, driven by Marenyi's unique take on dubstep, trap and future bass. Catchy melodies, distinct sound design, and clean, powerful productions mark Marenyi's style, one that seems to resonate well with bass music fans.
As Marenyi wrapped up his headlining NGHTMRE Before Xmas tour in New York last weekend, we caught up with the L.A. producer at Terminal 5 to reflect on his history with music and what's to come next. Marenyi candidly shared his desires to bridge the gap between hip-hop and EDM, his upcoming collaborations with A$AP Ferg and Tory Lanez, launching his own food-travel series, touring as an introvert, and more.

EDM.com: The NGHTMRE Before Xmas tour is wrapping up this weekend! How has it been?
NGHTMRE: It's been amazing. Every time we do a bus tour with such a big crew, in the beginning its good, but slowly it gets better and better because the LD, the VJ, the laser guy, and the production crew get more and more in the groove. Plus, the biggest and best shows are at the end of the tour.
Is there any significance behind the name "NGHTMRE Before Xmas?" Are you a big Jack Skellington fan? 
A little bit! It's one of those things that's a little too obvious. We didn't want it to be a movie-themed show, but when you think about NGHTMRE you might think about The Nightmare Before Christmas, so it made sense. We were talking about doing a tour in winter and I just thought we have to do this. I tried not to make it too Christmas themed, a little bit more of a nightmare vibe than Christmas. I don't do a lot of Christmas music but we have eerie production, low fogs, and things like that which give it a "nightmare" feel.
You worked closely with your team on the aesthetics for the tour, what exactly are you going for?
I wanted it to be sort of minimal where there is not a lot of light on me during the show, just a cool silhouette image. A lot of times DJs will have a light focus on them and you can see them the whole time. This should more feel like a dream where everything is almost two-dimensional and a lot of bold, solid colors rather than just crazy colors. 
Why two nights in New York?
We did one show here at Terminal 5 last year, so we knew wanted to do an extra night for the fans who wouldn't be able to attend since it sold out pretty fast. We couldn't schedule Terminal 5 two nights in a row so we're doing Brooklyn Steel tomorrow.
You've had a lot of great collaborations over the past few years. Most recently you put out "Like That" with Big Gigantic. It turned out great, but when you guys were working on it, was it hard to blend your bass-heavy style with Big G's electro-funk sound?
A little bit. I originally had the idea for the song with this old jazz sample. It just sounded like something that would be a cool Big G song; I knew it needed some horns! I made all the drums and sent it to Dom [of Big Gigantic] and he was down. We got in the studio together, and I think something about both our sounds is that they just come naturally to us when we're working on music. So I was like, "okay I'm going to make a cool drop and you make some cool horns." That's just what we do best and it came together.
Before the Big Gigantic collab, you released "Save Yourself" with The Chainsmokers. A lot heavier than their established pop sound. Fan bases often don't take too kindly to sudden jumps in style - was it easy to get The Chainsmokers to go heavier on this one right off the bat?
Yeah, totally. I'm sure you know The Chainsmokers' music, but if you've seen their sets, they're not chill. It's bangers and dubstep!

I met them a long time ago through one of the guys on their day-to-day team that I knew. We had talked about trying to write something that was a banger, just super fun. Then they had "Roses," "Don't Let Me Down," and "Closer," radio hit after radio hit. They got busy; I was busy on tour too. Finally, when we got a chance to work on it, I wrote the melody, Drew [Taggart] loved it and wrote a vocal for it in literally a day, and we worked on the drop together.
You just put out the "Save Yourself" VIP, which is a super heavy track. Over time, both your productions and your sets have been veering more towards harder, heavier dubstep as opposed to your trap origins. So, are you more of a dubstep guy or a trap guy?
It feels like the taste of the industry. My taste too, a little bit, has gone more into the sound design stuff. I love trap too, still, but it feels like literally everything just gets faster and higher energy. House music was popping at 128 BPM, then 140 BPM dubstep, now 150 trap. At this rate drum and bass will be big soon.

I think of myself as making bass music – trap, dubstep and, bass house. "Need You" with Dillon Francis was moombahton, "Embrace" with Carmada was 90 BPM, and I also do drum and bass songs. Really, I try to do a little bit of everything. From my live shows, my sound feels pretty heavy - you'll hear a lot of dubstep tonight - but that's what I always seem to get the best reaction from. I try to put a lot of my own tracks that people have to come to hear then mix in cool new drops from imprints like Never Say Die.
You have a song in the works with A$AP Ferg. How did you link up with Ferg? 
Through his DJ, TJ Mizell. Before Ferg's sets, TJ would warm up the crowd and said he played my remix of "Dum Dee Dum" by Keys N Krates, and other tracks of mine, which is how we linked up. One time we were in L.A. and he reached out to my team so we got in a session. TJ was learning how to produce so I sat down with him just showing some Ableton tricks and stuff. I told him Ferg's the man and I'd love to work on something for him - even if it was just writing music for Ferg, doesn't need to be my own song. TJ hooked it up!
You've been teasing the Ferg collab since 2017. When will it see the light of day?
Next month!

I finished my Mad Decent deal, we had a couple EPs, about 10 songs total together. After that, I've just been going around sorting out a one album label type deal to figure out where to put out my music next. That's kind of what we were waiting on.

The music video is done too. We did it in New York not too long ago. That was super fun, Ferg was on set all day. His team said that does not happen, Ferg will roll up for a couple hours, do his thing and he's out. But he was there all day like, "oh let's get a shot like this," so it was cool to have him really stoked about it. A lot of times hip-hop artists will get paid for a track, go in, do a verse and they're out. They're not worried about promoting the song or anything, so the fact that he was that into it was really sick.

I also did a track with Tory Lanez a couple months ago.
A lot of hip-hop collabs!
See that's what I'm trying to do. For the Ferg song, we're going to have a hip-hop version with no drop and there's the version that I play in my sets which will be a VIP.

With Spotify, we service the hip-hop version to the hip-hop playlists, because a lot of curators won't put EDM songs in hip-hop playlists even if its hip-hop in the beginning. Also, The FADER and other hip-hop blogs don't want to post about EDM so we're trying to bridge that gap a little bit by having a banger version and a hip-hop version of a track – which is what we did with the Tory Lanez collab too. I love the hip-hop version, and I'm working on the VIP but it's not ready yet.
Let's take it back. You went to ICON Collective for music production though you had many years of experience prior to that doing music on your own. What inspired that decision? Was it more to fine-tune your production skills or for ICON's great networking opportunities
Kind of both. I felt like I was great at writing music but not at producing or engineering. My music was cool, but it didn't sound good. You could play my song then a Skrillex song next and it would be way louder, crazier and better. I just needed an extra level of mixing and mastering skills. Plus, the networking was sort of the most important thing there. I got my first job in the music industry doing engineering because of ICON. Then, I met my manager through another job opportunity that I was going to be hired for, but they ended up signing me as an artist instead!
You jumped into ICON right after graduating from college with a finance degree. A huge jump. Was that a tough decision? 
I did finance because I wanted to do business school and I was good at math; besides, it's important to understand money management.

I knew I loved music but I didn't decide to do ICON till the last few months before I left school. I went to my parents and told them I feel really passionate about music and that the ICON program is only nine months long. I had the money saved up, my brother had just moved to L.A., and he had an extra room in his house - $700 for rent, which is absurdly cheap in L.A. So, I had a place to live, the school was ready, everything was in place. I knew I had to go do this for a year. If in a year I didn't have any progress then I would come back and figure things out.
But, within a year, I at least got a job in music. I wasn't killing it or making money but I was doing ok so I just stayed it out. Then, a year after that, I finally started getting traction!
In the past, you've said that you want to eventually move beyond constantly touring and focus more on producing, sort of like Diplo, even beyond the NGHTMRE brand and bass music. Since you've thought about it, what exactly is the end goal with music for you? 
I don't know if it'll be beyond the NGHTMRE project, but for sure, that's also why I'm trying to do more hip-hop stuff. It gets you in that world, you start to have a reputation, like "this beat's fire, this guy crushed it, let's go get some more beats from him." When I moved to L.A. I told myself I'm going to be the sickest fucking producer, not the sickest DJ. I wanted to DJ and play my own shows but I wanted to be producer of the year and have hits so that's always been my long-term goal.

Touring is amazing because I can tour, make money and spend it on getting a sick verse from some hip-hop artist, or make it my song rather than produce and it be their song. Because that's kind of how it works too. Originally when I went to PnB Rock and Wiz Khalifa, I was going to pay them for a verse and it would be my song featuring them. But, we did the song and PnB Rock was like "yo I want this on my mixtape, we'll just buy the beat from you instead." In the music industry, obviously, you get paid for your time, energy and skills, so a lot of these hip-hop collabs aren't cheap or free. Doing the shows allows me to fund the music desires I have and helps me get into the hip-hop world.
So, moving onto hip-hop from EDM eventually?
I feel like a lot of EDM fans love hip-hop and so do I, so it seems natural for me to go down that way. I don't want to be like Calvin Harris and make straight pop music – love him, super talented dude – but I'd rather be the Calvin Harris of hip-hop: have hits but be in both worlds.

It's nice because I can be the bridge between those worlds. Everyone I talk to in hip-hop wants to get in on EDM, even though you wouldn't imagine it. Those guys see videos of shows and love it. At the start of the year, I helped DJ Mustard make a whole new set for Nocturnal Wonderland because he's been trying to play more EDM shows. Mustard has so many hits but producers like him just don't have the connection with the fans and the brand; I told him you just have to find an agent that books EDM gigs. We have worked on stuff together, too. I can't imagine that it'll ever come out, but I made this whole beat for Quavo!
Also, you've previously mentioned that you're an introvert. Sure you're used to it now, but initially as an introvert, was it tough to get up on stage in front of thousands of people, constantly travel and tour?
It was terrible! In the beginning, I had hundred people shows which are worse. If you're playing a 10,000 person show you don't feel as nervous as being in front of 200 people right in front of you staring at you. So the early shows were definitely more stressful and I felt more introverted.

I was just worried about being on the mic and saying something dumb or not making sense. It took a little while for me to get over it but I finally did! It was the SLANDER boys who helped me out of it. Derek [Andersen] said something like, "Know that everyone who is at the show is there to see you and anything you say on the mic is going to be ok. Even if you say something stupid or fuck up you can just pass it off. And if you tell them to put their hands up you don't need to worry about them not responding."

Also, I think being introverted is about the way you recharge. When I recharge I need to be myself, not around a ton of people because I'm around people every day. 
Your social bios all say "beats and bad dreams." What's the meaning behind that? 
That was literally the first day I made my NGHTMRE social accounts. I didn't know what to put in my bio and that was the first thing that came to mind and I haven't changed it. 
Also, you've previously called the little purple orb emoji the "NGHTMRE emoji." What's the deal with that?
Another branding tool because NGHTMRE has this crystal ball mysteriousness. When I was first posting things I would put that in every post like a logo. Actually, we ended up making a crystal ball logo with an N in it as the NGHTMRE logo.
Jumping to your new label: Gud Vibrations with Slander went from a song to a radio show to parties and tours and now a label. Was the trajectory planned?
We had always wanted to do a label but we were waiting for the right time and music that we could support. Once the Wavedash guys came along, they were trying to put out music with OWSLA but there were a lot of label slowdowns. So we told them we want to start a new label and we like their music. We're really supportive of them, super close with their manager and team. They had a whole album done so we just thought we should put it out together. 
What type of music are you looking for on the label? 
The label gives us a chance to show people music that is incredible but that they might not have heard. Mainly looking for tracks that we'd play in our live sets. Like all these Wavedash songs are huge festival songs with massive guys like DJ Snake playing them. We definitely will expand later on. Going to have Habstrakt do some releases and eventually sign some artists. But the main thing, for now, is Wavedash plus NGHTMRE and Slander stuff.
To wrap up, what were your highlights of 2018? 
Playing at Red Rocks Amphitheatre was amazing, such a beautiful place. Also, I went to South America and did Lollapalooza, such a crazy new experience. The culture and food were awesome, and the crowds were insane, and I've never seen so much energy in my whole life. Before heading there I thought, "I'm going to Chile, is anyone even going to know who NGHTMRE is? Do people in Chile listen to bass music?" Then, I went down there and it was one of the craziest shows I've ever played, the kids were ready for any type of music. Plus it's an all-ages event with no alcohol so everyone is on a natural high - which is awesome.

Tokyo was also a highlight. I did a TV show there with my brother, shot the Pell music video and played EDC Japan, all in three days. Excited for the TV show!
You're working on a TV show?
Just a project my media guy James Winterhalter, my brother and I are doing. It's a food-travel, experience of the road type show called "Sampled." I obviously have a very unique perspective traveling around the world: most people do it for fun and I do it for work, in most places for 20 hours a day – a show, one meal and that's it! Once every month or two I get two days off in places like Tokyo or Chile so we actually get to explore.

Wherever I am we find a co-host, like my friend Kanta, a fashion designer in Tokyo, who took us around to his favorite sushi place where he grew up eating sushi, then a nice cocktail bar. So we just sample things from the city and I make a little beat for it sampling the sounds of the city. Hopefully that'll come together next year.
Follow NGHTMRE:
Facebook: facebook.com/nghtmre
Twitter: @NGHTMRE
Instagram: @nghtmre
SoundCloud: soundcloud.com/nghtmre