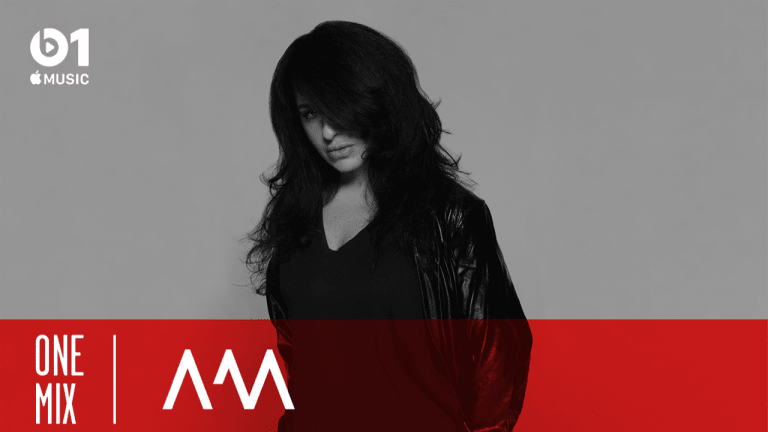 "Queen of Techno" Nicole Moudaber on Beats 1 One Mix [INTERVIEW]
A symbol of dance music strength in the face of political oppression, a global flag-bearer of house and techno, and a heartfelt philanthropist - there's a reason why Moudaber got the "queen of techno" title.
Whether you recognize her by her hard-hitting music, her unfettered mane of hair, or her raspy voice, if you're fond of dance music, you've heard of Nicole Moudaber. The often graced "queen of techno" is a worldwide phenomenon in the realm of dance music, lauded for her incendiary brand of techno, ranging from the dark and deep to the groovy and tribal.
From the world's biggest stages at Coachella Music and Arts Festival and EDC Las Vegas to the hottest clubs like Space and DC10 in Ibiza, Moudaber knows how to work a crowd. Get a taste of what she brings to the decks as she stars on Beats 1's weekly radio show One Mix this weekend. Expect an hour of atmospheric house and techno, with tunes from Hybrasil, Artbat, Tibo Dabo, and Malandra JR.
Tune in here, exclusively on Apple Music.
Air Date: Friday 17th May, 2019 - 21:00 LA / 00:00 NY / 05:00 UK
Moudaber's first foray into dance music was back home in Lebanon. At a conservative time in the late '90s, with Syrian occupation and years of war destroying Beirut's dance music community, Moudaber took it upon herself to kickstart the dance music revolution. Her Trashy Renaissance parties, hosted between a derelict mosque and church, drew attendees from all walks of life.
Promoting dance music parties in Beirut came to a crashing halt for the wide-eyed Moudaber when she got arrested by the Syrian police under press propaganda that she was spreading homosexuality and perversion in the city, though.
Escaping the oppressive Syrian regime, Moudaber took to London, promoting monthly nights at Turnmills for six years. She took up DJing along the way, and things really took off in 2009, when the legendary Carl Cox told DJ Mag that she was the most underrated DJ in the scene.
Cox proceeded to invite her to open for him at a small London venue in 2010. And not long after, for his shows across the world. Moudaber's sound began to gain a worldwide audience, and her go-getter spirit continued to propel her ahead.
She launched her own label Mood Records, which has grown to be a prolific platform for rising techno producers. Her MoodRAW warehouse parties take to cities all over the world, while her MoodZONE festival takeovers have decked the likes of EDC and BPM festival. Along with her busy touring schedule, often times playing 10 hours a night, Moudaber also hosts a renowned weekly radio show, aptly named In the MOOD, which reaches over 80 stations in 50 countries, attracting the ears of over 20 million weekly worldwide listeners.
When she's not behind the decks, Moudaber is behind the wheel, fueling her passion for speed by often renting Ferraris and Lamborghinis on the road, while an Aston Martin V8 Vantage waits for her at home. Not to mention, she has a professional driving license, renting race tracks for whole days, learning the ropes from FIA GT champion Matteo Bobbi.
But, most importantly, Moudaber uses her platform, influence, and wealth for social good. She's an active supporter of the Lower Eastside Girls Club, which helps at-risk girls in New York with music programs, and just last year, she launched her own charity Eleven. With it, Moudaber aspires to raise awareness of the horrific act of female genital mutilation, which 200 million women over the world suffer through, raise money to support survivors and help prevent it from happening in the first place.
A symbol of dance music's strength in the face of political oppression, global flag-bearer of house and techno, and heartfelt philanthropist, there's a reason why Moudaber got the "queen of techno" title.
Learn more about her musical affinities, as ahead of her One Mix, Moudaber shared insights like her dream collaborator, favorite throwback track and guilty pleasure record with us.
EDM.com: First time you brought your mom to one of your shows?
Nicole Moudaber: Warmup set with Danny Tenaglia in Beirut, 2011.
The artist who inspired you to become a musician?
There are so many. If we're talking icons - women like Madonna or Björk - strong women who did things their way with no compromise.
Go-to places for new music?
Same place as always - the dance floor!
Guilty pleasure record?
"Halo" by Beyonce.
Desert-island dance record?
"Pull Up To The Bumper" by Grace Jones.
Dream B2B partner?
These days I do triple back to backs and I've got to say I have my dream partners, Dubfire and Paco Osuna.
Favorite BPM?
122-130 and anything in between, depends on my MOOD.
Piece of gear you always need on the road?
My radio microphone! I have my own weekly FM radio show which I record on the road, and this is one thing I cannot ever forget!
All-time favorite festival?
Coachella.
Biggest misconception about dance music?
Drugs.
How often do you get out and have fun, and where do you go?
It's rare for me to have a weekend off but I did go down to Egg in London a few weeks back. This venue is run by Laurence Malice who, let me be clear, is a true clubland icon. Laurence's original club was Trade, the original London after-hours techno club almost 30 years ago, and I spent years on the dance floor. Egg is one of those clubs that doesn't bother with press, or mix albums. The people who go there know what's up!
City with the most underrated dance scene?
Beirut. I don't think people realize how vibrant this city is!
Industry prediction for the next year?
Daytime parties will continue to thrive. The after party these days happens after midnight.
Best piece of advice for new producers?
I say this all the time but it's true: only dead fish go with the flow!
Dead or alive, who would be your dream collaborator?
Madonna! She is the queen, a true powerful female icon. I've always loved her and totally into her new Madame X persona. It's been years she's commissioned a decent underground remix - Madonna, I am waiting! Seriously.
What is one of the unique experiences you've had backstage?
I bumped into Paris Hilton in Miami leaving Ultra Music Festival. She saw me and ran towards me bowing. We ended up sharing a ride back and had a blast. I love this girl so much.
A unique travel experience you've had?
The last few years have been so busy with traveling. Some weekends I hit three continents. But I did take time out in Bali recently for an extended digital detox and reset.
What's your favorite throwback track?
"Hold That Sucker Down" by OT Quartet.
What's one track that fans always lose their mind to?
The collaboration I did with Skin [of Skunk Anansie] a few years back, "Someone Like You."
What was the first album you ever bought?
Too many to mention, Led Zeppelin probably.
Name one remix that you think is better than the original.
My remix of "Give Me Luv" by Alcatraz.
What song would you want (god forbid) played at your funeral?
"Bohemian Rhapsody" by Queen.
What's the perfect sunset track?
Listen to my Reflections mixes on my In the MOOD radio show to find out! It depends if the sun is setting in Bali, Ibiza or somewhere else.
What song do you listen to cheer yourself up?
"Love & Happiness (Yemaya Y Ochùn)" by River Ocean.
Follow Nicole Moudaber
Facebook: facebook.com/officialnicolemoudaber
Instagram: @nicolemoudaber
Twitter: @NicoleMoudaber
SoundCloud: soundcloud.com/nicolemoudaber