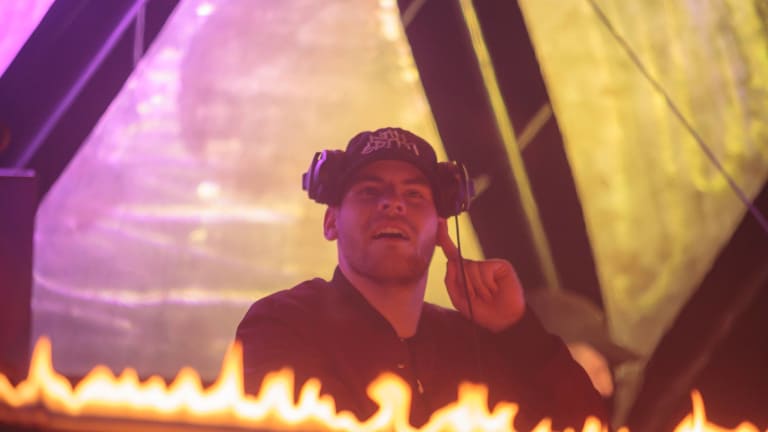 We Got Down to the Nitti Gritti of EDM with the Man Himself [Interview]
We caught up with Nitti Gritti before his Halloween warehouse gig in New York City.
In a short period of time, Nitti Gritti has made a name for himself and found success. The Miami native's rise to the top has been steady as he captivates listeners with chart-topping originals and remixes alike.  
Nitti Gritti's music spans a vast spectrum of genres. He's delivered remixes for the likes of Cardi B, Bazzi, NGHTMRE and Slander, Krewella and more. On the flip side, he has also co-produced pop-infused hits like "Move to Miami" for Enrique Iglesias and Pitbull in addition to his bass-heavy bangers. 
In the short couple of years, the multi-dimensional producer has taken the dance music scene by storm with multiple chart-topping originals through Tiësto's Musical Freedom, Tchami's Confession and his latest EP via Diplo's Mad Decent.
Nitti Gritti is set to join Dillon Francis and Valentino Khan for a spooky Halloween weekend extravaganza at a secret Warehouse in Brooklyn on Friday, October 26th. While tickets are almost sold out for the event, the location is only going to be revealed to ticket holders - making the event pretty exclusive. Additional details can be found here.
We got to chat with Nitti Gritti a couple of days before his performance and discussed not only new music and shows but much more. From his  inspirations to other what era he would have liked to live in, read on to know it all.
EDM.com - We're sure you've been asked this before, but how did your artist name Nitti Gritti come along?
Nitti Gritti: Paige From Bonnie x Clyde actually came up with it! I wanted something that means getting to the heart of my brand and I want that to be about the music. Not partying, girls, or money. It's all about the music for me. 
You've never limited yourself to a particular genre and displayed your versatility as a producer time and again. From co-producing pop chart-toppers for Enrique Iglesias to your own rock-infused EP Judge Me, what according to you is the signature Nitti Gritti sound?
I don't even know what my signature sound is and I guess that's my signature. A lot of people can say, "Oh, I know a Pharrell song when I hear one," but I love being able to fake people out to be completely honest. I love giving Nitti Gritti common themes - such as trap, future bass, house, and dubstep - but I always want to be able to surprise you.
You're an awfully talented artist and have displayed your raw musical talents on past EPs as well. From producing to writing and even singing, how did your journey into the world of electronic music start?
Well, thank you (laughs). I started playing drums in the fourth grade and from then joined bands and taught myself guitar and some keyboard and some here and there. But it until I heard house music and then dubstep which initially got me into producing. 
What started with a debut performance at Wynwood Fear Factory back in 2016 has now seen you grow exponentially as an artist in a short span of just about two years. Who would you say have been your biggest influences musically through this period?
I would say my biggest influences are bands like Taking Back Sunday, Brand New, Senses Fail, Slipknot, Coldplay, Death Cab For Cutie, Bon Iver, and then artists like Skrillex, Diplo, Flume and even Childish Gambino, Eminem, Drake, and Travis Scott. I honestly love Frank Sinatra, and most forms of Jazz music as well. 
You just dropped a new EP on Mad Decent called Drive. Tell us a little more about it and the four tracks that make up the EP.
I made the tracks on that EP about six months ago and wanted to continue the same styles I made on my EP C'est La Vie where I can rap or sing and fuse rap with trap and future bass.
With that, you also recently dropped a Halloween-induced cut titled "Run & Hyde" with Adair and unveiled your first ever Diplo and Friends Mix shortly thereafter. 2018 has been a stellar year for you thus far, what's in the pipeline for last few months of the year?
Been an incredible year for releases! I think we're probably past 10-15 in 2018 alone. I have a few more before the end of the year and then plenty in 2019.
You're all set to take over NYC this on October 26th for an early Halloween with Valentino Khan and Dillon Francis. How excited are you for that? Who are you dressing up as this year?
That show is gonna be amazing, I have no idea what to dress up as, to be honest. But its gonna be insane (laughs). I love dressing up, I have so many dumb videos of that.
If you could have brought Nitti Gritti to life in another era of music, what year would you pick and why?
I think I would have felt most comfortable being in a band around 2001-2006 because that era of rock and metal is my all time favorite. 
Who're the top three artists on personal playlists right now?
Right now been listening to a lot of Travis Scott because the new album is amazing, Fleet Foxes, and Band Of Skulls, I rediscovered their album "Baby Darling Doll Face Honey" from 2009 and its one of my favorite rock albums ever.
Follow Nitti Gritti:
Facebook: https://www.facebook.com/djnittigritti/
Twitter: https://twitter.com/DJNittiGritti
Instagram: https://www.instagram.com/djnittigritti/
SoundCloud: https://soundcloud.com/nittigritti