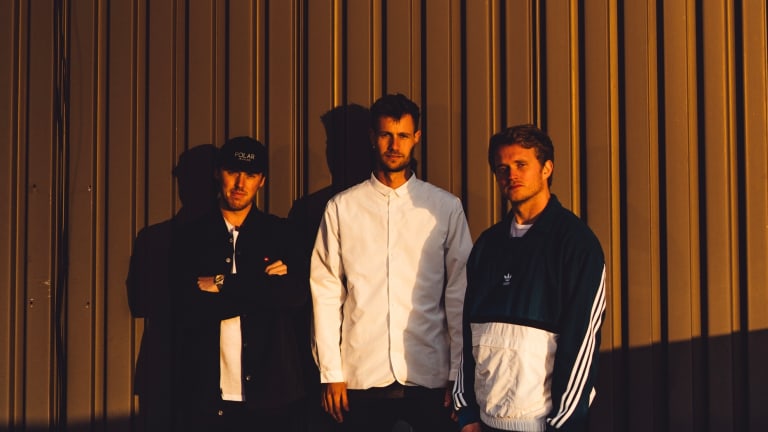 Nonsens Gets Real About Their Roots, Personal Strengths and Advice For Aspiring Artists [Interview]
This interview is far from (nonsens)e.
Meet Nonsens. This talented and ambitious trio are making their mark in the music industry, one demo at a time. With their tenacity, these guys have already worked with the best names in the business, making music with the likes of RL Grime, Diplo Flosstradamous and many more. You know that song Era, yea they co-produced that with RL. Their impressive portfolio is just getting started, with a plethora of new songs to be released! We sat down with Nonsens before their EDC set, gaining insight on making it in the industry, crazy festival moments, and their exciting collaborations to come!
EDM: How did you guys meet and what made you form this trio
Nonsens: We're from Denmark, Scandinavia, so that's where we met each other, on a small island. We went to the same high school, it wasn't a big community, so when someone had an interest in electronic music, like ourselves, something other than what you hear on the radio all the time, we kinda connected through that. After finding out we were into weird electronic music, we started DJing, producing, and that's like 6 years ago. So we just started chilling with it. After a year and a half we decided we wanted to go all in and rent a studio and then move to Copenhagen, we had our jobs and studies on the side but that's pretty much how it started.
EDM: It's hard to find people on the same wavelengths as you too with music, what challenges do you face when you're producing?
Nonsens: It's always trying to do something different. It's kinda easy to do generic stuff but trying to stand out with sound and who you are, that's what challenges everyone. A lot of people want to make it, so trying to stand out in our productions is the biggest challenge. We moved to LA 3 months ago, since then we've been going all in. I think loosened up some things that were difficult in Denmark, trying to connect in the US. It's a lot easier for us now, and we've announced a 10 date US tour.
EDM: How did you guys get to co-produce with heavy hitters like RL Grime and Diplo? That is an accomplishment many artists strive to reach.
Nonsens: We always sent music to artists we looked up to and that were our idols. Diplo was one of them and RL Grime also was one of them. So we kept on sending the new stuff and then they just started replying. They read the emails they listened to the music, and we had some trips back and forthcoming to LA for 2 weeks and we would hit them up and say "we're in LA for a couple weeks if you want to hit the studio lets go". They replied yea for sure, and we started doing stuff with Henry, RL Grime, co-produced Era, and with Diplo. You have to be persistent because these guys get so tracks per day.
EDM: Who is the type A of the group and who is the type B and who is in between?
Nonsens: We all are type A but we have different strengths, one is works with the videography, one is good with business and numbers, and one is a fast at producing, gets the beats down in a second. We supplement each other. If one of us is lazy in the morning, the other one will get us up.
EDM: So EDC is a pretty crazy festival. What's the craziest thing you've seen at a festival or show?
Nonsens: We had a guy who worked for our Danish label and we introduced him to a 3-second rule, where you drink from pure vodka and pure rum for 3 seconds. This was his first time drinking and he went for 20 seconds! Also at Roskilde, the biggest northern European festival, lots of people are free about nudity. So people would walk by our campsite fully naked! They would sit down and chat with us. (laughs)
EDM: Is there any artist you are dying to see as a spectator at EDC?
We love many genres. We love techno so we saw Cirez D and Zedd. We are seeing Post Malone for the first time. We've been listening to his new album, it'll be fun to see him at an EDM festival.
EDM: What can we look forward to you for you guys in the coming months?
Nonsens: We've been in the studio with Flosstradamous, Boombox Cartel, there's no plan for the tracks yet but hopefully that will end up with some nice collabs and we'll keep being persistent and consistent about making music. We're gonna release some new stuff soon, within a month.
EDM: What's one piece of advice you would give someone trying to make it in the music scene right now?
Nonsens: I would say keep sending stuff, be persistent. It sounds obvious, but it pays off in the end. When we went to the studio with Diplo he opened up his iTunes library and had all the tracks we sent him. He searched for our name Nonsens, and a full list of tracks came up. He saved the first tracks we sent him until the last one. So I feel like even though people don't always reply, because they are really busy, I would say don't lose the hope, keep on going, keeping pushing keep sending your music, because they might download the music, play it out and you won't even know it. I also think quality always speaks loud, put in the hours in the studio, stay focused on the brand. Have a vision.