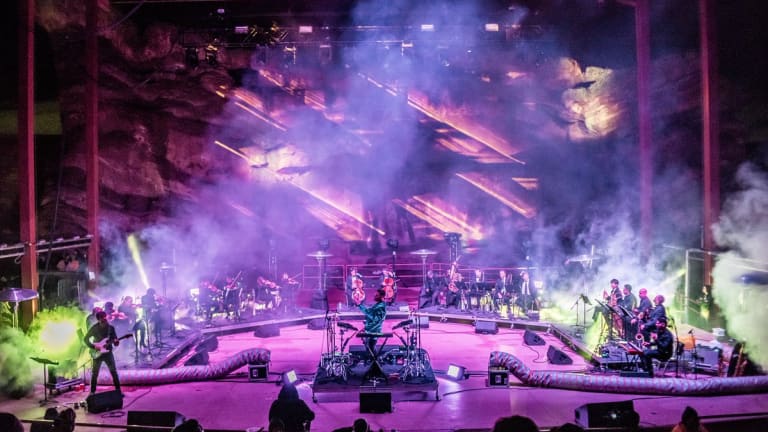 Opiuo Shares the Origin Story of His Syzygy Orchestra
I remember the first time I found one of Oscar's tracks, I didn't even know how to say the name of the artist - O-pi-U-o? Opio-o? I didn't understand what I was hearing but I knew I loved it and wanted more.
I couldn't help but move in weird ways, and smile and just wonder at the flexibility of sound. Never in a million years did I imagine the sounds I came to love so much for their otherworldly, spongy quality could be produced using live instruments by an orchestra. But somehow, Opiuo found a way.
Oscar took some time to sit down and tell me more about his Syzygy project in the artist tent before his set at Shambhala Music Festival.
EDM.com: Where are you coming in from? 
Opiou: I was just in Colorado, performing at Arise, which is a really cool festival and the first time I've been there. Not the first time I've been in Colorado by any means, but first time doing Arise and it's a great party.
What types of audiences do you most often find yourself playing for? 
Well, at Arise, it was a lot of people from our generation, which was refreshing. Overall, I've played to a mess of variations of people, which I feel slightly proud of, that I've been able to perform to a wide array of different generations and span across age groups. I feel like that's pretty cool.
How many times have you played with the Syzygy Orchestra? 
Just once, at Red Rocks. I'm doing it again once more before the end of the year in Melbourne, but Red Rocks was the debut of the act.
It's so different because every show takes at least a couple months work because you've got to figure out how you want each show to look and feel. At this stage, each show is its own thing. And I don't want to treat each one as just another show, I think each one should be extremely special. Potentially, I'll only do two or maybe five, I don't know.
How long had you been planning the Red Rocks show? 
I thought about doing an orchestra on stage for years, but never thought it was a possibility, just thought "What a cool thing to do one day." And then when I got the Red Rocks day, I thought on it for a month or so, and mentioned it to my manager who was like "Well, you're not going to make any money off of it." Not that I had to, but he was right that it would be a very expensive endeavor. I knew that, but I also knew it might be my only chance to do something like this so I decided to go for it. 
All in all, it was about six to eight months of planning, three months of music writing with the guy who helped compose and transcribe and arrange everything, and then outside of that every little layer needs attention. All of it was stuff I and my team had never done before, obviously, so we had to figure it out from scratch, how to do what we wanted to do. I didn't really call anybody to ask "What should I do here," so it was a good challenge.
What was your goal as you went into putting the act together?
We really wanted to immerse the two worlds, and pull apart the electronic stuff and replace it with organic sounds. But then not remove the things that people love about electronic music, like the power and impact that you can have. It's perfectly produced and sounds incredible, but then I needed all this raw, live organic impetus.
Were you nervous about putting it together never having done something like that before? 
There were plenty of times I wasn't sleeping much, but you just can't think like that. I just didn't let myself think about what could happen or could go wrong, it's like why even do it then if you're going to think like that.
What was one of the biggest challenges and things you enjoyed the most about the process of producing your music live? Because of all the electronic music out there, I gotta say yours seems like one of the hardest sounds to convert to real life. 
That was half the process, figuring out how I wanted to mesh the two worlds. I didn't want it to be obvious or like the orchestra was just playing over or alongside the track. I actually went in and EQed out the mid to high frequencies of the bass sounds, and really challenged the orchestra to do short, sharp beats and play the stops and stuff. And that's what really made it all work and sound, good.
Honestly, mixing the live show afterward to release it, which we're going to do, has been the biggest challenge of all. Because it's like "What do you want it to sound like with nothing to reference?" But in the end, I wanted to do it my own way and so that's what I did.
What is your music background? 
I didn't study music but was around a lot of music when I was a kid. There were festivals on my parents land, and I was around party and festival culture, and I just really liked music. It was always my hobby, but I never put pressure on it to become something, it's just something I've always pursued because I loved it - which I think it could be detrimental when you do.
I've been producing and releasing music for probably 10 years.
The craziest thing is that you're still in your own category and no one has touched you or tried to copy you. Where have the ideas for those sounds come from? 
Just inside!
How do you choose the names for your songs? 
I do them as quick as I can and then I just name them. The band would always get annoyed because they're like "Which song are we playing, you changed it three times?" Sometimes the name's changed like three times. I feel like the name should sound like what the song does and sounds like, and to be a bit cheeky too, but also for it to mean absolutely nothing. It's just a name, so it's cool because it's kind of yours to take home and do what you want with.
Robo Booty was one of the quickest songs I ever wrote.
What is your creative timeline like? 
It varies, sometimes it takes a few days and sometimes months. I work fast, but I don't usually sit on an idea for too long. Lately, I've started writing with Ableton and that's sped up my process a bit.
What's one of your biggest challenges now as an artist? And how are you figuring out the learning curve to make you better? 
Well, I'm half deaf, so that has been one of the biggest challenges to overcome and it's been an evolution. And I think I challenge myself a lot in the shows I do because I throw myself in and commit to things before I know how to do it.
Do you create on the road? 
I try not to because I like to be on the road to perform and working on my live show, and create when I'm home and keep those different mindsets.
Do you prefer one over the other? 
No, I think they're both mutually inclusive of each other. I wouldn't like one of them if I wasn't doing the other one. I love writing music, but I'm always thinking of what it will be like playing it and vice versa. If I didn't get the chance to play it then it wouldn't make sense.
Do you try to see things through, or have a bunch of unfinished stuff? 
Oh, I always see things through, but I feel like I'm getting better at managing the direction of a song as I go. And better at telling what's going to fit with what I'm doing now or not. So I'm getting better at keeping it cohesive I think.
What is Syzygy?
I like the look of words, and actually, the meaning is the relationship of two opposing or closely related things. It's like synergy and opposition. It's a relationship between things that can affect each other, and that for me was an association between me and the music and the orchestra. It means a lot to me, but it can also mean something to someone else. I don't want it to become the meaning of the music it's just the gateway to listening to it. Look it up!
Huge thank you to Opiuo for sitting down with me in the couple hours he had between flights to tell me how his magnificent orchestra came to be. And for the boogies in the Fractal Forest! If I'm lucky, Red Rocks won't be the last time I experience Syzygy. 
Keep an eye on Opiuo's channels for a special Syzygy release he hinted at, and you'll get to experience it too.