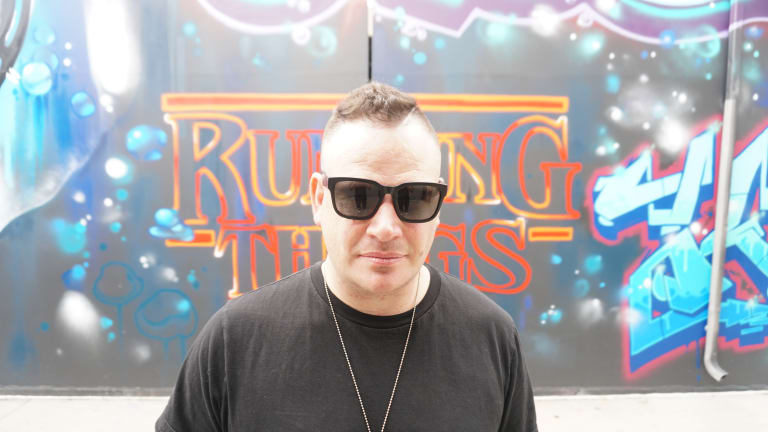 Option4 Is Dropping a 'Lifeline' on Latest HotBOi Records Release
Option4's candid approach gives us a much-needed breath of fresh air in a socially desensitized scene.
Jumping onto a Skype call with Brennen Bryarly isn't just a chance to interview him about option4 or his label HotBOi Records, it's a chance to catch up with a friend.
Brennen has a magnetic personality and a gregariousness that has been a major component to his success as a DJ and entrepreneur. Based in Denver, Colorado, Brennen has cemented himself as a figure in the dance music scene. His event promotion company, The Hundred, has cultivated a tight-knit group of regular club-goers (a hundred members, to be exact) that have helped to populate parties several days a week across multiple venues. As a talent buyer, Brennen has curated exclusive and globally recognized talent in house and techno to perform in the Mile High City, helping to build the city's reputation as a burgeoning underground destination.
But that's not all that Brennen does. As a creative through and through, Brennen's mind runs a mile a minute, constantly inspired by new ideas and fresh concepts. To the uninitiated, HotBOi Records may seem enigmatic, but to Brennen, the meaning is straightforward:
 "The word on the street is that if you've never been cold, you're a HotBOi. Simple as that."
Apart from inefficiencies in temperature cooling, HotBOi Records is cultivating a crisp image for a new generation of music fans. By creating a brand that brings awareness to fire beats, HotBOi records seeks to create authenticity in a scene full of click-baiters and scene-stealing Instagrammers. 
With an aesthetic that offers wholesome nostalgia, whether it's with visions of OJ's white Bronco, or former President Clinton's scandal with Monica Lewinsky, the imagery is iconic and hits close to home. But that's only part of the story surrounding the new record label and clothing line.
"The whole point of HotBOi Records is to focus on things pre-social media because it was a time when people had to actually connect with each other. Music mattered back then because you would get a mixtape from your girlfriend, or if you went to the store and got a CD that day, you couldn't wait to show your friends the next day at school." 
And so following the release of his latest single "Lifeline," Brennen and I chatted about the moments that matter in our lives and creating a distinction between real life and social media. 
The new single, which is already climbing its way up the Beatport tech-house chart, represents the sly (but sincere) strategy of option4 as he pursues another of his many projects.
Although Brennen has built a quiet empire in Denver as a talent buyer and promoter, he has purposely avoided leveraging his parties as a means to self-promote his own music. But with the catchy lyric, "I think it was Tupac, I think it was techno/I think it was hip-hop, I think it was disco… that saved my life." it's clear that he can no longer be ignored.
"Lifeline" resonates. As dancefloor daydreamers, we've all had a song, album, or music moment that has stirred within us emotional catharsis, or even transcendent inspiration.
But getting noticed by music connoisseurs has never been the problem. Having released several records on Nervous, Ninja Tune, and Club Sweat, option4 has garnered support from several of his DJ peers. 
"I'd have DJs play my parties and they didn't even know I was option4 and then they'd play my song in their set. That happened with Amine Edge and Dance and Dusky…like 'Oh man, that record is really really tight. Oh wait, it's mine.'"
Despite getting the seal of approval from industry elites, connecting with the general public has proved to have its own challenges. Which is where his new brand HotBOi Records comes in.
"You could write the dopest track of all time but if it doesn't come out on the right label people are like, 'Oh, I've never heard it.' If the majority of people are only going to pay attention to a brand, then I'm going to build the dopest brand over and put dope music on it. Then it's going to get to them, they can't ignore it."
So far, "Lifeline" is living up to every one of Bryarly's promises. Already garnering support from DJs at Florida's Dirtybird East Campout, the single began building ID buzz weeks before its release. 
Flume, Kaytranada, The Chemical Brothers, More to Play Goldenvoice's New San Francisco Festival, Portola
The two-day festival will also feature sets from James Blake, Arca, Peggy Gou, M.I.A, Four Tet, PinkPantheress, DJ Shadow, and more.
Don't get it twisted, however. Brennen is much more than a one-trick pony. Apart from his production chops, he also pursues different creative endeavors. 
"I'm writing a pirate story (laughs). It's fucking lit."
"It's the funnest thing in the world. The only reason I do any of that shit [like the clothing line or the book] is to activate different parts of my brain that I'm not using, and that's exciting to me. I think it's healthy for anybody to do that, and I've been having so much fun doing it."
Bryarly's creative drive and penchant for comedy should make him the recipe for overnight success, but that's not the approach that option4 wants to pursue.
"[With HotBOi Records] we're really going to focus on pushing that agenda, how poisonous social media is. To create as much awareness about as we can. I know what it's like to be viral as fuck and to have those feelings of 'oh wow that post didn't do so well, or that photo didn't get many likes, I should have posted it.' All that crap."

"And even now as a DJ you have to be a photographer, a personality, a comedian, a meme lord. It's not about making good music and playing good music, you have to be the best at everything to try to connect with more people and more fans."
There's a raw authenticity to Bryarly's quest to nurture an audience of genuine fans rather than simply "followers." This is one of the reasons why Brennen has shied from the limelight as a DJ and producer despite countless opportunities to push his music into the hands of touring DJs or backstage figures that he connects with as a promoter and talent buyer.
"I want things to be real, I want things to be organic, so I think the biggest thing that hurt me throughout all of this is that I never used the parties or the prestige of the branding to self-promote option4. I always kept things completely separate."

"But I just want people to like my music because they like my music, if they're a fan then they're a fan. I didn't want to try to use the business pressure, or play the game of 'if i book you, you'll book me,' If I don't like music, I'm not going to promote it. If I book somebody, I wanna use the platform to promote that artist. 
I don't wanna use it as a side-hustle. I've never given a DJ a USB, 'Here's my demos bro,' I've always tried to keep it completely pure and not contaminate it."
That's not to say that option4 hasn't already developed traction with his music, this spring he's hitting the road with good friend and fellow DJ, Worthy.  With only a portion of the 9-week tour already announced, Worthy & option4's Dance Around Tour is sure to be full of antics that will be tangible on the dance floor.
"I'm just pumped to get on the road with friends. That's the most fun thing in the world when you're traveling with a friend, hopping on a plane, meeting people in other cities, going to dinner and goofing off. It's a lot more fun to tour with someone then when you're by yourself."
There's no doubt that Brennen has had many options throughout his music career, but he's only ever been dead set on option4.
So actually my best friend went through a break-up with this girl and got a couple of guys together and we were all hanging out and he was going through all the options, 'I could do this, I could do this, I could do this…' 
I don't remember the first 3, but I'm pretty sure they were shit. But the fourth option was to stay single and party forever. And I was like, "That's it, that's what were gonna do! We're gonna stay single and party forever with my best friends."
Between HotBOi Records, the clothing line, and his new single "Lifeline," it looks like the party just got a whole lot bigger. 
                                                                                      ✦
option4
Beatport: Purchase "Lifeline"
Facebook: facebook.com/option4music
Instagram: instagram.com/option4
Twitter: twitter.com/option4music
HotBOi Records
Website: hotboirecords.com
Facebook: facebook.com/hotboirecordings
Instagram: instagram.com/hotboi_records
Twitter: twitter.com/hotboi_records