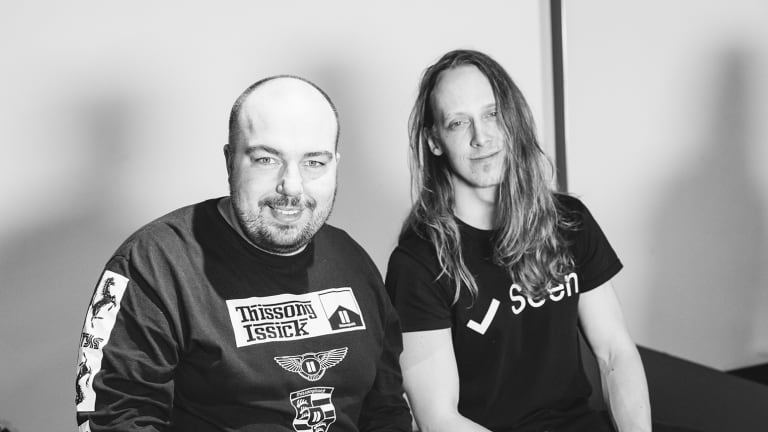 PEGBOARD NERDS TALK GAMING, TRAVEL HACKS & FAVORITE NON-EDM ARTISTS [INTERVIEW]
The 8-bit inspired heroes of dance music Pegboard Nerds have been humble influencers in the electronic music scene over the last five years.
The 8-bit inspired heroes of dance music Pegboard Nerds have been humble influencers in the electronic music scene over the last five years. Despite the growing sentiment that dubstep as a genre is not what it used to be, the Nerds continue to find success branching outside of the sound that once served as their bread and butter.Perhaps it's their consistent ability to adapt that has continued to keep this duo in the limelight since the group's formation in 2011. We had the opportunity to catch up with the Nerds, who are currently in the middle of a massive tour with Seven Lions, Unlike Pluto and Grum, to discuss their latest release "BAMF," their upcoming EP Nerds by Nature (available for pre-order via Monstercat on December 5th), gaming, and life hacks they've learned while on the road in this exclusive interview.
Q: Your new track "BAMF" was recently released on Monstercat. What was the inspiration behind this track?A: We found the vocal sample on a sample pack a friend of us made, and paired it with some sound design experiments we were doing at the time, basically just wanting to create a track that went hard and had attitude.
Q: A lot of your music and aesthetic seems to draw inspiration from video game tropes and even specific games. What are some games you guys are currently playing or excited about coming up?A: Alex: I'm excited about the new Zelda Breath of the Wild game coming!Michael: I play FIFA.
Q: What's the most frustrating video game you've ever played?A: Alex: Mega Man 10 from the Mega Man legacy series.Michael: Our own!
Q: If you guys could each have a superpower what would it be?A: Alex: The ability to harness that elusive creative spark at will, or teleporting, to alleviate the struggles of traveling while touring.Michael: Manipulate time.
Q: You guys have been touring the world these last few years and are now on your latest tour with Seven Lions. How has traveling the world affected your perception of the dance music scene?A: It's made us see that music affects people on a personal level as well as brings people together as a group for a shared experience. Touring and playing shows also allows us to connect with our fans through our music and trough being present in the same room.
Q: Are there any life hacks or travel tips you've picked up in that time we should all know about?A: Rolling your clothes tightly helps you fit more into your suitcase. Travel light and find laundromats, or just buy new clothes and throw the old ones away! Get TSA precheck or global entry if you can.
Q: Throughout your travels I'm sure you guys have learned to be very adaptable in sometimes making less than ideal situations work. Have there been any crunch time situations where that adaptability became particularly useful?A: At one show we didn't do soundcheck and trusted the promoter's word that everything was in working order, then came to play the show and realized that only -one- CDJ was working. We had to play a whole set with that, and "camouflage" our predicament by hyping the crowd in between each song and creatively using the effects on the mixer to hide the fact that we were only playing one song at a time off of the one CDJ. We do soundcheck at every show now.
Q: Who's an artist you guys love that we'd never have expected you to listen to?A: Twenty One Pilots and Mumford & Sons.
Q: With more producers trying to establish their place in the scene than ever before, it's becoming increasingly difficult to stand out. As Pegboard Nerds you guys have maintained high demand for your music despite the crowded market. What does it take to stand out as an artist in the electronic music scene here in 2016?A: Perseverance. Being able to adapt, being willing to reinvent yourself, and evolve. Be yourself, trust yourself, be passionate.
Q: What's up next for Pegboard Nerds?A: Right now we're focusing on playing the best shows we can for our tour with Seven Lions, Unlike Pluto and Grum. Release wise we have an EP coming with tracks that we are very excited about! Beyond that we are always working on new music, so we'll turn to all those WIP's lying around again and the cycle continues.Thanks to Pegboard Nerds for their time in catching up with us. Be sure to keep an eye out for what should be a dynamic upcoming EP, available for pre-order on December 5th and led by their upcoming single "Speed of Light."