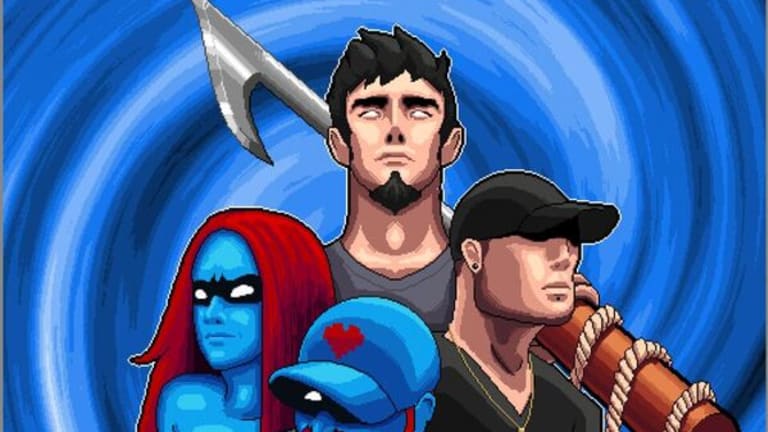 Interview With Pegboard Nerds On Highly Anticipated Collab With Knife Party "Harpoon" [Exclusive]
Listen To 'Harpoon' Out Now
The wait is over. Pegboard Nerds finally released their collab with Knife Party entitled "Harpoon". The track is released through Monstercat as part of #NERDWEEK in build up to the group's new Full Hearts EP. 
What more could you want in a collaboration? The high energy melody and pounding synths are accompanied by Rob Swire's iconic voice morphed to bring in the hook. We can't get enough.
EDM.com was lucky enough to chat with the Nerds to get their take on this legendary partnership. 
First off love the song! I feel like this collab was a long time coming! Why now did you guys decide to link up for a track together?
Well, it was a long time coming. We spoke about it years ago, but times flies you know. Recently we talked about it again, and we found the right foundation for doing a track together.
I feel like sometimes in collaborations, one of the artists sound can get lost and feel overpowered by the counterpart. I think you guys found the perfect balance of both your sounds! What was the process of collaborating together like?
We sent over this idea that Rob immediately recorded vocals for and we loved it from first listen. That night we booked flights and the week after that we spent in the studio in London with Rob and Gareth.
Rob Swire's tease of the song was great. "They reminded me that house music is better when you use cool synths, and I taught them that dubstep just leads to ass-eating competitions" What's your opinion on that? Haha
HAHAHA we had so much fun in the studio. We actually spent more time talking than producing. Listening to 90´s dance music and watching ridiculous ass-eating dubstep videos, so it was accurate, you know? But the track turned our great.
Where did the title "Harpoon" come from?
The main melody sound was a "happy accident" made with NI Massive and it sounded like a harp or middle eastern instrument, so Alex saved it as "superharp", but that name didn't have balls so he changed it to Harpoon. So its actually a working title that turned into the actual title.
Are you guys impulsive with your work or do you have a sketch in mind before you start?
Mostly sketches, but sometimes it's also spontaneous. Whatever inspires you in the moment. In a sense, a sketch is impulsive, and then once you have an idea where you're going, you start refining it and polishing it.
If you guys could pick any sound or noise in the world, what would be your favorite?
Michael: The sound of silence
Alex: I have something in mind that I would like to keep to myself, but other than that I like silence as well.
What gets you excited when you think about the future of electronic music?
The best thing about electronic music is, it will always change. Its been around for 30+ years and its still evolving. Maybe not always as fast as you want, but it changes. Sometimes for the better sometimes for the worse. All styles you hear in todays "EDM" have been heard before. When dubstep emerged in the scene it was new, fresh and exiting. Same thing happened with acid house in the late 80's, the balearic and goa sound of the early 90's, eurodance and Ibiza house in the mid 90's, trance and hard dance in the late 90's etc etc. there are infinite possibilities with electronic music, someone "just" needs to invent the edm wheel again. Someone is going to.
What's the hardest professional lesson you've learned thus far?
We learned a lot of things the hard way. All we can say is: Never lose yourself. Trust your instincts and be well prepared. This applies to so many aspects of the industry.
And finally, if you could be a pizza what flavor would you be?
Alex: Hawaiian
Michael: Napolitana
We couldn't be happier with the way this turned out. Check it out for yourself here: