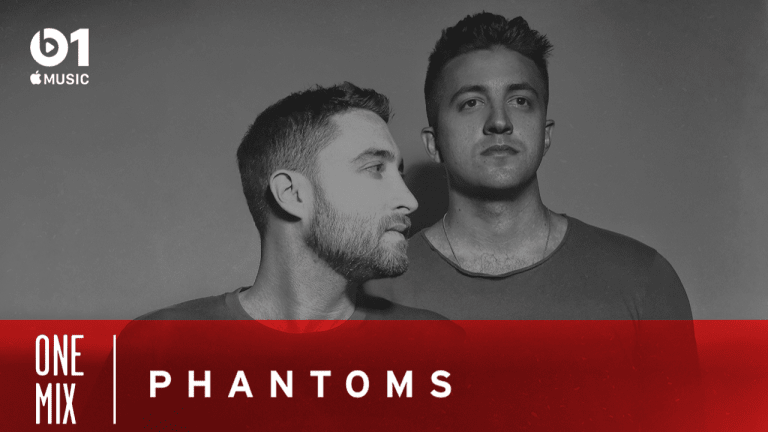 Teen Actors Turned DJ/Producers Phantoms Make Their Debut on Beats 1 One Mix [INTERVIEW]
The L.A. natives shared their dream collaborator, favorite throwback track, perfect sunset song, and more,
This weekend, L.A.'s vocal-driven, pop-inspired, house duo Phantoms take to Beats 1, making their debut on the weekly radio show One Mix. Cue Hot Since 82, Gene Farris, Anti-Up, Bontan, Silk City, and Tame Impala, as the duo describe the mix is "themed around spending a day with us - stuff we love and listen to when we are hanging out."
Tune in here, exclusively on Apple Music.
Air Date: Friday 26th April, 2019 - 21:00 LA / 00:00 NY / 05:00 UK
Before their music making days, Vinnie Pergola and Kyle Kaplan - the guys behind the Phantoms moniker - were stars of the small screen, teen actors in TV shows like That's So Raven, CSI: Miami, and Hannah Montana. So of course, they met at the glitz of an award ceremony for teen actors in L.A.
Hunting for TV guest roles didn't click with them in adulthood though. Pergola and Kaplan, disillusioned with their lifestyles, eventually veered towards music. Daft Punk, Justice, and sounds from the Ed Banger record label compelled them to the world of electronic music.
With a $700 light rig from Guitar Center, Pergola and Kaplan frequented house parties around L.A. But crowds, unenthusiastic about electronic music at the time, would demand hip-hop from the electronic music-savvy DJ duo. 
They kept at it, though - that is, until they got tired of playing other people's music, as most DJs-turned producers do. Pergola's passion for house and techno played off Kaplan's pop sensibilities in the ever-evolving Phantoms sound. The duo came to narrate relatable modern-day ballads of love and lust atop club-focused beats and soaring synths, a style cemented by their 2017 self-titled debut album, with tracks like "Throw It In The Fire" and "Just A Feeling."
Ahead of their One Mix, Phantoms dove into what makes their musical minds tick, sharing their dream collaborator, favorite throwback track, perfect sunset song, and more.
EDM.com: First show experience?
Phantoms: We did a popular L.A. party called School Night where a lot of new acts do their first shows. It's usually super intimate but the night we played someone had rented out the usual venue so they moved it downstairs to a club called Avalon Hollywood. We basically played a show for our friends in a massive, 1,500-person club.
First time you brought your mom to one of your shows?
There was a super small show at the Lyric Theatre in L.A. She was up front and dancing which was incredible.
The artist who inspired you to become a musician?
We have a wide mix of inspirations but the catalyst for us getting into electronic music was discovering Justice in 2007. It was our entry into the world of electronic music and after seeing their show at the The Fonda Theatre we immediately knew we had to be a part of it.
Go-to places for new music?
It's a mix of Apple Music playlists, Pete Tong's Essential Selection, and roaming around Beatport. We're also in a bunch of group chats with other artists where we can share the stuff we've been listening to or playing.
Guilty pleasure record?
"La Isla Bonita" by Madonna.
Desert-island dance record?
"Finder" by Ninetoes. It's kind of obvious sonically speaking but the amount of times we play that song to rally when we're hungover or tired is astounding. It'd keep us pretty happy on a desert island.
Dream B2B partner?
2ManyDJs.
Favorite BPM?
A smooth 126.
Piece of gear you always need on the road?
Does Tito's Vodka count as gear? I'd argue its just as important a part of our show as CDJs or laptops.
All-time favorite festival?
ODESZA's SUNDARA Festival was amazing. It was an honor to get to play the first one since we can see that festival going for a long time. Everyone left that festival completely elated.
Biggest misconception about dance music?
It's hard for some people to grasp the huge amount of variety in dance music if they aren't connected to it. I think with the right person to show them, people who dislike dance music could be turned onto either a genre or artist they would genuinely enjoy.
How often do you get out and have fun, and where do you go?
We tend to do almost nothing when we're home in L.A. and then blow it out when we're traveling for shows. It may not be the best financial plan but our job gives us the opportunity to see new places and we feel like it would be a waste if we didn't at least try to experience the cities we go to.
City with the most underrated dance scene?
I think underrated might be the wrong word but I definitely didn't expect how good Washington, D.C.'s dance scene would be the first time I went out there. Every time we are in D.C. someone amazing is playing one of the clubs like Flash.
Industry prediction for the next year?
House music is having a big resurgence right now. Who knows how long it will last but we've definitely noticed a much wider audience appreciating more refined and less aggressive electronic music. It's amazing for us because that's the stuff we love. Seeing a crowd of 5,000 people get down to FISHER and Chris Lake for three hours was definitely an exciting thing to see.
Best piece of advice for new producers?
Have fun and experiment. The technical skill will come with practice and time. If you have an idea just keep rolling with it and don't worry if your first tracks don't sound like a Martin Garrix record immediately. That naive creation and experimentation is something hard to recreate when you have years of work under your belt so enjoy it while you have it!
Dead or alive, who would be your dream collaborator?
Soulwax. Our gods.
What is one of the unique experiences you've had backstage?
One time a fan - borderline stalker - snuck back into our green room with a blue gift box. She got escorted out but we opened it and discovered it was a box full of grapes.
What's your favorite throwback track?
Lately we've been playing the "Reward Is Cheese" by deadmau5 in some of our sets. It's so damn good and sort of got lost in his canon of work. The bass is massive.
What's one track that fans always lose their mind to?
Any of the new Anti Up records - "Pizza," "Hey Pablo," "Concentrate." They are made to make people go nuts.
What was the first album you ever bought?
Some Best of Al Green record. I was probably seven years old and thought the art was cool. I think my dad was surprised I picked that CD out of all CDs.
Name one remix that you think is better than the original?
Armand Van Helden's Club Mix of "ADD SUV" by Uffie. So good!
What song would you want (god forbid) played at your funeral?
"In Love With You" by The Paradise. Lyrically it might not make much sense but in this scenario, I'm imagining my body getting sent out to sea on a raft and the Daft Punk robots are there and they fire off a single flaming arrow. My corpse burns and then everyone has a disco party on the beach.
What's the perfect sunset track?
"Patience" by Tame Impala. I actually just discovered this in Miami recently. It's a new one.
What song do you listen to cheer yourself up?
As mentioned earlier, "Finder" by Ninetoes.
Follow Phantoms
Facebook: facebook.com/phantomsmusic
Instagram: @phantoms
Twitter: @phantoms
SoundCloud: soundcloud.com/phantoms