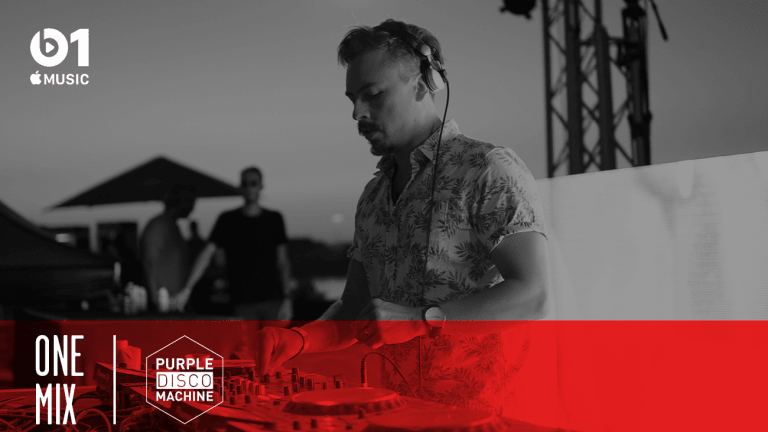 Purple Disco Machine Celebrates 10 Years of Music on His Debut One Mix [INTERVIEW]
Purple Disco Machine brings his "deep funk" sound to One Mix.
One Mix, Beats 1's weekly radio show, hosts Purple Disco Machine this week. As his name implies, Purple Disco Machine thrives on modern club music influenced by disco, classic house, soul and funk. Celebrating 10 years of his career, Purple Disco Machine picked his favorite tracks and remixes for his debut One Mix. Expect his remixes of old school artists like Fatboy Slim and Jamiroquai, modern producers like Jax Jones and Weiss, and a slew of hit originals.
Tune in here exclusively on Apple Music.
Air Date: Friday 1st February, 2019 - 21:00 LA / 00:00 NY / 05:00 UK
Purple Disco Machine (real name Tino Piontek) grew up loving music as his father was an avid vinyl collector. In fact, his father introduced him to the classic funk sounds of the '70s and '80s, spurring Piontek's taste for disco house.
By the time he was a teenager, he knew music was more than casual, it was bound to be the center of his life. Piontek cut his teeth in his hometown of Dresden, East Germany, working at a record shop and DJing at a club, exposing himself to music ever more and eventually championing his "deep funk" sound - a groovy blend of nu-disco and soul.
Piontek's 2013 breakthrough hit "My House" put him on the map, earning #1 spot on Beatport's deep house chart. The track still lives on as one of Beatport's best-ever sellers and Purple Disco Machine currently ranks #5 in Beatport's Top 100 Artists chart.
Remixes for hit artists like Gorillaz, The Knocks, Chromeo, and Claptone were no doubt a big factor in his popularity. And, of course, his debut album Soulmatic in 2017 solidified his reputation.
The coming year will see Piontek re-release a standout track from Soulmatic, "Body Funk," release his first ever mix compilation, and kick off the countdown for his sophomore album.
Before his One Mix, we spoke to Piontek about his biggest musical inspiration, dream collaborator, perfect sunset track, and more.
EDM.com: First show experience?
Purple Disco Machine: On April 30th in Dresden, 1999.
First time you brought your mom to one of your shows?
She has never ever been! My dad has, though.
The artist who inspired you to become a musician?
Sven Vath. This may seem like a strange answer for a disco DJ and producer, but seeing Sven play when I was a young raver made me realize that if you could be really good at DJing like he is, then you could do this as a career rather than just go raving.
Go-to places for new music?
I'm always checking Apple Music for new artists and tracks.
Guilty pleasure record?
"In The Air Tonight" by Phil Collins.
Desert-island dance record?
"Music Sounds Better With You" by Stardust.
Dream B2B partner?
Daft Punk.
Favorite BPM?
120.
Piece of gear you always need on the road?
Pieces of gear: USB sticks, headphones, ear plugs, reading book.
All-time favorite festival?
Defected Croatia.
Biggest misconception about dance music?
That you need to take drugs to enjoy it.
How often do you get out and have fun, and where do you go?
Fun for me it's hanging with my family. I'm married with two young kids so anywhere with them. We just went skiing and my five-year-old daughter learned how to do it on her own for the first time. That was special.
City with the most underrated dance scene?
Montpellier, France. I played an amazing festival there last year. The crowd was really knowledgeable about disco house and really into it.
Industry prediction for the next year?
More dance records on mainstream radio.
Best piece of advice for new producers?
Find your sound and stick to it. Be the very best at it. Don't keep changing genres or styles.
Dead or alive, who would be your dream collaborator?
Prince.
What is one of the unique experiences you've had backstage?
Having a gourmet buffet dinner with Jamiroquai and 30 roadies every night backstage pre-show on his arena tour where I was the support DJ. The food was always incredible!
A unique travel experience you've had?
It's pretty standard planes, trains and automobiles really. I do like catching the train in California between the cities there when I'm on tour. The scenery is beautiful.
What's your favorite throwback track?
I'm a disco DJ so there are too many to say just one favorite! This week it is "Taste of Bitter Love" by Gladys Knight.
What's one track that fans always lose their mind to?
My track "Body Funk." Easily the biggest record in my DJ sets.
What was the first album you ever bought?
Das Boot by U96.
Name one remix that you think is better than the original
Todd Terry's remix of "Missing" by Everything But The Girl.
What song would you want (god forbid) played at your funeral?
Not the first time I've been asked this! My own song, "Devil In Me."
What's the perfect sunset track?
"Talisman" by Air.
What song do you listen to cheer yourself up?
"It's Not Unusual" by Tom Jones.
Follow Purple Disco Machine
Facebook: facebook.com/purplediscomachine
Twitter: @PurpleDiscoM
Instagram: @purple_disco_machine
SoundCloud: soundcloud.com/purplediscomachine