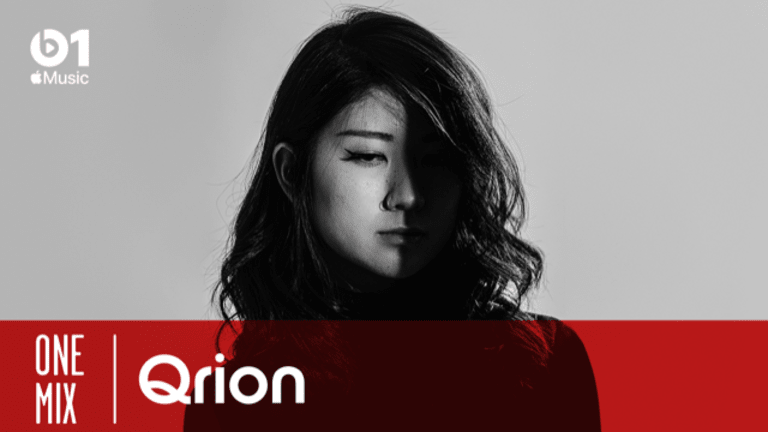 Qrion on Beats 1 One Mix [Interview]
Whether it's the digital buzzes of an iPhone or the tranquil sounds of nature, Qrion's known for sampling the world around her to create moody, electronic tunes.
This week, Beats 1's weekly radio show One Mix hosts rising melodic electronic producer Qrion (real name Momiji Tsukada). Tsukada's known for slow, moody, electronic jams, so expect tunes from TSHA and Jacques Greene alongside Qrion originals.
Stream Qrion's Beats 1 One Mix here, exclusively on Apple Music.
Tsukada grew up in Japan, on a quiet, snowy island near Tokyo called Sapporo. When she was just four years old, her father introduced her to orchestral music, teaching her chords on their piano at home. When she was 12, he taught her how to use music production software.
Her first taste of electronic music was through Japanese pop. Then, as EDM was peaking globally, her friends introduced her to Skrillex and Zedd. She never thought of taking her little music hobby to the next level - that is, until her high school years, when someone heard her music on SoundCloud and invited her to play a small local show. Playing onstage for the first time was a pivotal moment for Tsukada. It inspired her to go deeper than just being a bedroom producer.
In Sapporo, cultural norms dictate people follow a traditional life path: go to college, get a job, get married, buy a house, and have kids. Instead, Tsukada followed her passion for music and moved to San Francisco. Luckily, her family is and always has been supportive of her dedication to music.
Tsukada has since released on labels like Mad Decent, Moving Castle, and Anjunadeep. She's remixed Alina Baraz and TOKiMONSTA, and played on rosters with Above & Beyond, Porter Robinson, and Tourist.
Whether it's digital buzzes, like on her track "iPhone Bubbling" or natural sounds, Tsukada's style is marked by distinct sampling of the world around her. Most recently, she released the EP Waves. The three-track collection is full of warm, low-end vibrations, lush synths, and simple, soothing melodies.
Learn more about Tsukada as she shared her musical inspirations, dream collaborator, and more with EDM.com.
EDM.com: First show experience?
Qrion: In U.S., it was at Public Works in San Francisco. After party of GCD video game convention; I played 80% my original music which wasn't so housey and danceable but the crowd really loved it. That is why I decided to move to the U.S.
First time you brought your mom to one of your shows?
It was a San Francisco gig with Giraffage. It was the first time in America for her too. She danced with my friends and super supported me. I love how my mom is open minded.
The artist who inspired you to become a musician?
Skrillex, Jacques Greene, TOKiMONSTA, Haruka Nakamura.
Go-to places for new music?
YouTube, Spotify, Beatport, Juno.
Guilty pleasure record?
"Blue" by Eiffel 65.
Desert-island dance record?
"Lady (Hear Me Tonight)" by Modjo.
Dream B2B partner?
Ben UFO.
Favorite BPM?
122.
Piece of gear you always need on the road?
MIDI keyboard.
All-time favorite festival?
Anjunadeep Open Air.
Flume, Kaytranada, The Chemical Brothers, More to Play Goldenvoice's New San Francisco Festival, Portola
The two-day festival will also feature sets from James Blake, Arca, Peggy Gou, M.I.A, Four Tet, PinkPantheress, DJ Shadow, and more.
Biggest misconception about dance music?
Nightclubs aren't all about stimulants. There are always pure, fun feelings to music.
How often do you get out and have fun, and where do you go?
Every day. I like to go have dinner and go clubbing with my friends.
City with the most underrated dance scene?
Osaka.
Industry prediction for the next year?
House is always trendy, but 2020 is gonna be a massive year for it.
Best piece of advice for new producers?
Just keep your style even if your friends said you're sus or unusual, 'cause it's your special skill!
Dead or alive, who would be your dream collaborator?
Four Tet.
What is one of the unique experiences you've had backstage?
At 88rising, they made a custom Johnny Walker bottle with my name engraved on it and had it in a box in my greenroom. It was super cool and I've never had a promoter leave a cool gift like that!
A unique travel experience you've had?
The airport lost my suitcase before my Tomorrowland gig in Belgium and I went to every single store to buy new clothes, gear, charger, cosmetic, literally everything.
What's your favorite throwback track?
" I Feel Love" by Donna Summer.
What's one track that fans always lose their mind to?
"Church of Nonsense" by Daniele Papini.
What was the first album you ever bought?
Beautiful Energy by 12 Girls Band.
Name one remix that you think is better than the original?
Shift K3Y's remix of "YOUTH" by Troye Sivan.
What's the perfect sunset track?
"Chamber Of Reflection" by Mac DeMarco.
What song do you listen to cheer yourself up?
Sasha's remix of "Amae" by BAILE.
Follow Qrion
Facebook: facebook.com/QrionQrionQrion
Instagram: instagram.com/_qrion_
Twitter: twitter.com/_qrion_
SoundCloud: soundcloud.com/qrionqrionqrion