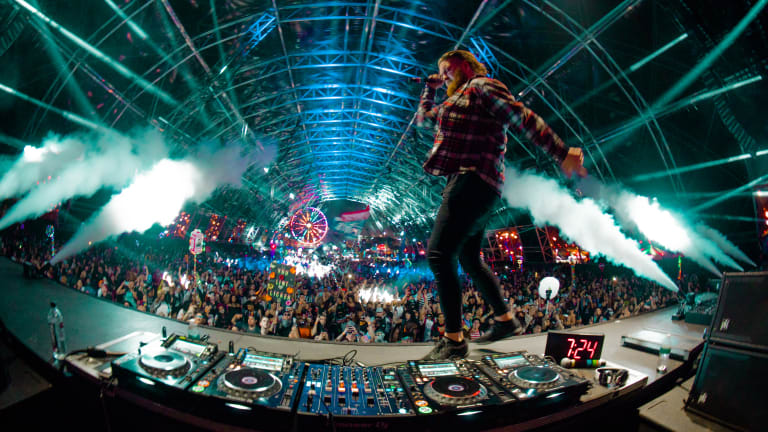 QUIX Takes ILLUSIONS to a Whole New Level [Interview]
QUIX talks about ILLUSIONS, the upcoming EP of its namesake, and how he's giving a USB away of unreleased music.
Trap and bass music without a doubt has seen a significant spike within the United States in the past couple of years. Several artists have emerged from the underground with superb talent, one of whom goes by the stage name QUIX. 
The producer was born initially in Auckland, New Zealand and has been making a statement in the USA with his original sounds. QUIX got to sit down and talk a little about what fans can expect from his new ILLUSIONS tour, how it felt getting started in the music industry at the age of 14, and how to score an unreleased original QUIX banger on a golden USB.
You have a new track that you released off your upcoming new EP called "Giving Up." featuring Jaden Michaels. What was the message you were trying to deliver with that track and title name?
QUIX: I was given the topline which had been previously written by Jaden - so I wasn't involved with the delivery of the message in the lyrics, but I loved her vocal. The instrumental and working her vocal into a new banger was where I came in. She has a strong and powerful voice, and I wanted the production to match it and give off this magnificent sort of feeling.
Your ILLUSIONS tour comprises both U.S. and Canada dates. Are there any specific cities you're genuinely looking forward to?
I'm very excited to play all of them! In every city I go to in the States I have fans waiting for me, so that is very encouraging. I'm especially excited for the show in Vancouver as it's my birthday!
You just finished your spring tour, which took place in New Zealand and Australia. Any standout moments happened during that tour?
Going back home to New Zealand is always fun; there is just something special having your home cheering you on. I played Listen In and then again at the after party and Skrillex came B2B with me. That was a big moment for me. Australia is nuts and the crowds there is crazy! Aussie feels like a second home.
ILLUSIONS is not only the name of your tour, but also your upcoming EP. What illusions do you hope your fans and people who are attending the tour perceive?
We're using the ILLUSIONS concept as a contradiction. I want people just to come as they are to my shows, it's all about the music to me, and I want to be real and share music that we vibe to and can be that moment together. No ILLUSIONS, just music.
A video surfaced on  Facebook of you doing a B2B with Skrillex, which is enormous. What would your dream B2B look like, and you can have more than one artist?
Well, my dream was to play B2B with Skrillex! But another dream B2B would be Mr. Carmack b2b QUIX.
You started experimenting with music around nine years old and got into the dance music scene around the age of 14. What initially attracted you to dance music?
I was big into heavy metal which then followed into dubstep. Then that flowed into trap which automatically led into the hip-hop scene, and I haven't left! I am always looking to explore and push new sounds and just be me.
If there was one thing, you could change about the music industry, what would be?
I love how music connects people, and if anything I hope that it keeps bringing people together through the good and the tough times.
Your collaboration with Boombox Cartel, "Supernatural" feat. Anjulie, has received several millions plays and tons of positive feedback. How did that collaboration come to be?
We have been friends for a long time and had been talking about making a track. When It was the right time I guess both our geniuses combined, and we struck gold!
If there was any other genre of music you would choose to get into more other than bass and trap, what would it be?
I love making really chill hip-hop beats. I love to relax and sleep while listening to them - I guess it puts me in a good mood.
The year is just about to wrap up, what are your plans for 2019?
More music and touring for sure! I don't plan on slowing down any time soon. 
Check the video down below to see how you can win a USB drive that will have an unreleased QUIX track that cannot be found anywhere else. Make sure to keep an eye out for his new EP, ILLUSIONS, dropping soon on Dim Mak.
FOLLOW QUIX:
Facebook: https://www.facebook.com/OfficialQUIX/
Twitter: https://twitter.com/QUIX
Instagram: https://www.instagram.com/quixofficial/
SoundCloud: https://soundcloud.com/quixofficial