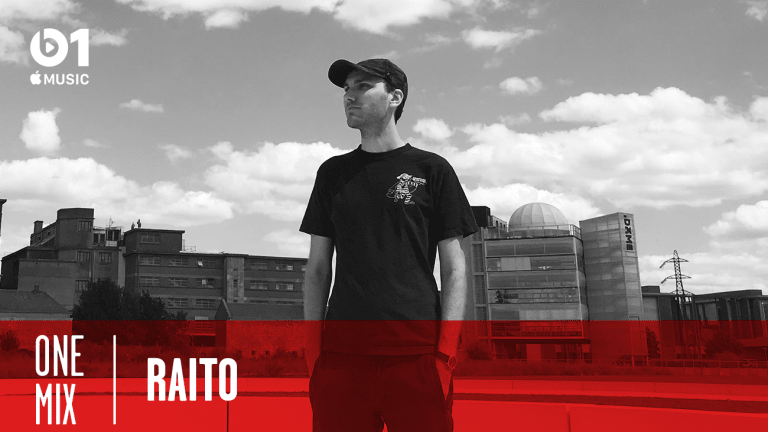 Raito Brings His Ravey Breaks Sound to Beats 1 One Mix [INTERVIEW]
The rising French producer is currently supporting Virtual Self on tour.
Another week, another rising artist in the spotlight courtesy of One Mix.
Presented by Apple Music's Beats 1, the weekly radio show hosts artists all across the electronic music spectrum. With everything from techno and trap, megastars and up-and-comers, One Mix always keeps it fresh.
The past couple of weeks have seen lesser-known artists like M-22 and Dynoro in the mix, and this week's edition continues that trend with French native Raito. You may have heard "Alien," the burgeoning producer's collaboration with fan favorite Rezz - or his stellar remix of Virtual Self's "Ghost Voices," whom he's currently supporting on tour.
Industrial techno and breakbeat percussion color Raito's creative palette. He cites Daft Punk, Eric Prydz, Dog Blood & Gesaffelstein as musical influences. It's evident if you listen to his productions. 
Raito has released a couple of EPs through Boys Noize's record label, Boysnoize Records. "Elevation" and "Innersense" are two standouts from his debut EP, Moon Dance. As Porter Robinson (AKA Virtual Self) put it last year, "Raito has mastered the ravey breaks vibe but brought it into 2017."
Tune into Beats 1 One Mix this weekend to get a taste of Raito.
Air Date: Friday 19th October 2018 - 21:00 LA / 00:00 NY / 05:00 UK

Raito also shared his favorite throwback track, perfect sunset track, and more with EDM.com. Read on for more dance music insights from the rising French artist.
EDM.com: First time you brought your mom to one of your shows?
Raito: When I had a party with the help of the music hall of my hometown. I invited Dusky and Fjaak to play. That was a great night!
The artist who inspired you to become a musician?
Eric Prydz.
Guilty pleasure record?
I don't feel guilty when I listen to music, but I know you want something that's supposed to not be cool. The first record that I ever remember loving and still love is "Boom, Boom, Boom, Boom!!" by Vengaboys.
Desert island dance record?
"Papua New Guinea" by The Future Sound Of London.
Dream B2B partner?
Good B2Bs are always unexpected for me.
Favorite BPM?
128.
Piece of gear you always need on the road?
My MacBook Pro, it's my main computer and I make all my music with it.
All-time-favorite festival?
I love Nordik Impakt, which is the annual festival from [Caen,] my hometown.
Biggest misconception about dance music?
I try to not care about these kinds of things but yesterday the sound guy asked me if I was playing WAVs or MP3s. That obviously doesn't matter.
City with the most underrated dance scene?
It's not underrated, but my favorite is London.
Best piece of advice for new producers?
Mastering is useless.
Dead or alive, who would be your dream collaborator?
Burial.
What is one of the unique experiences you've had backstage?
Eating Thai curry alone watching Mahou Shoujo Madoka Magica.
A unique travel experience you've had?
Playing Picross in the plane while listening to music.
What's your favourite throwback track?
"Digital Love" by Daft Punk.
What's one track that fans always lose their mind to?
I got an unreleased one that is having great reaction when I open for Virtual Self. I might release it under another alias next year.
What was the first album you ever bought?
I don't remember the first I bought but I remember the first I owned. It was a burned copy of Daft Punk's Discovery.
What song would you want (god forbid) played at your funeral?
"UK" by Burial. Not only do I love it, but it's also relatively short which makes this music moment not too long.
I'd love to also have "Ethereal Being" by G a t e w a y playing in the background during the whole ceremony, or even that whole album. Sounds like a good track to leave your body.
What's the perfect sunset track?
It's a precise moment that I usually spend in front of my computer. So I'm going to name an irrelevant one that I love for this moment.
"Untitled" by Duran Duran Duran.
What song do you listen to cheer yourself up?
"Come Down To Us" by Burial. Maybe that would be cool during a sunset?
Follow Raito:
Facebook: https://www.facebook.com/Raitobeats/
Twitter: https://twitter.com/RaitoBeats
Instagram: https://www.instagram.com/raitobeats/
SoundCloud: https://soundcloud.com/raitobeats