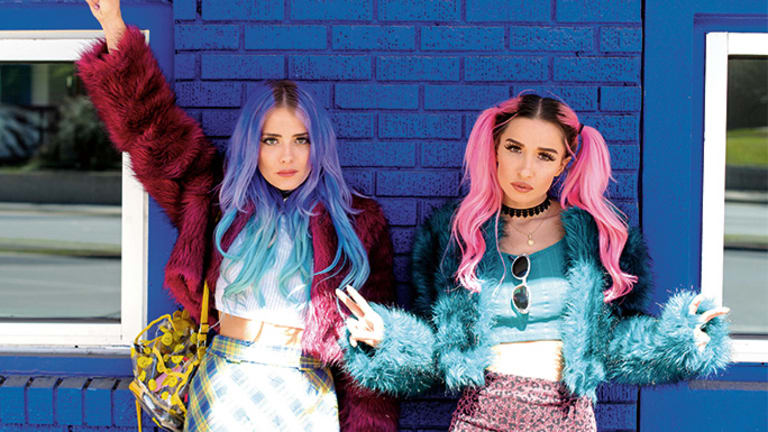 Get to know Swedish Female Pop-DJ duo Rebecca & Fiona [INTERVIEW]
We spoke with Swedish Grammy winners Rebecca & Fiona after the recent release of their "Art of Being A Girl" Album.
From winning 2 Swedish Grammies to touring with Avicii, Tiësto, and Axwell, Rebecca & Fiona are not strangers to success in the industry.  After two full album releases these girls, who have now been friends for over a decade, decided to switch things up on their newest project, "The Art of Being A Girl".  We had the change to talk to Rebecca & Fiona to get to know a little bit about the project and what inspired them on this new sound.
EDM.com: What were some of your main inspirations when creating "The Art of Being A Girl"?
F: Since we are two people creating lots of music all the time, we sort of set the theme for our albums quite long into the process. And that inspiration can come from anywhere and we sort of add from it to each other's work and let it influence the artwork and titles and so on.
R: For this album we have been thinking a lot about what the pros and cons are of being a woman in the music industry, and in the world. Sometimes we believe that our anarchistic way of working has been the key to master the art of being a girl. We always let everybody in our crew/team have a say, both with producing and everything around this job.
F: As female artists, we can get put on pedestals as well as being controlled by the "big bosses". And we have been. But now we often let the girl who does our make up into the process of creating a beat or ask our A'n'R what he thinks about feminist issues we are discussing, and all this just sort of break all the pre-programmed hierarchy.
R: It's fun to just mess everything up and fuck with patriarchy, but to be in the position to do that took us many years.
What track was the most challenging to complete? Why?
F: "Fade Out" is for sure the track who has been with us the longest, and it was never right for our previous albums. We had to wait for it to find its place in the world and now it's finally time to shine!
R: Grand opening of the album and everything!
F: "Different" also existed in many different versions.
R: And we ended up releasing two versions because we couldn't decide, they were both so good! One is featuring Swedish rapper Parham and the other one is with the wonderful Marcy Chin from Jamaica.
What have you learned since making Beauty is Pain and how do you think that has translated into your new album?
R: Where do we even begin…
F: Yeah that needs to be a whole book or something. But it is also hard to tell what of it is our personal journey, and what of it that is this world and how it is changing. Now I am answering the question from a feminist standpoint, but we definitely feel it is easier today being female in this industry. And our work has always revolved around those issues, but also around a lot of other more universal feelings and themes.
R: Production-wise, we have of course learned a lot of new skills and ways to collaborate!
4. What advice do you have for up and coming female artists?
F: Develop a strong gut feeling, and follow it!
R: Surround yourself with great people!
What is your favorite thing to do together when you are not working on music?
R: Hanging out with family and friends. I love to travel because there is such a big difference from traveling for work.
F: I run a cold-brew coffee brand together with friends, that is a lot of fun! We are a very small firm and we do everything together.
What do you think is the best part about being a duo? What is the hardest part?
F: I am certain that we have lasted this long in the industry because of it. We always have each other's back and always look out for each other. The inspiration is never-ending when you are two, we pick each other up.
R: The worst part must be having a mutual Instagram, haha. Fiona follows some weird shit.
Do you ever get writer's block? What do you do to overcome it?
F: That is what I meant, if I'm suddenly all out of inspiration, there is always some little scrap or idea that Rebecca can pick up on and develop. And then my light goes on again, and we continue together.
R: Yes we never leave anything unfinished! We have like 500 unreleased tracks.
What is your favorite/most memorable moment of your career thus far?
R: Touring with a live set in Sweden, it was an idea we thought was impossible, but we made it happen!
F: Best summer ever! We didn't make any money, but we had a ton of fun. Making all our songs come alive in a completely different way from when we DJ them. It was great and it is something we plan on doing again.
What are your plans after the release of The Art of Being a Girl?
F: We are trying to elongate the release of the album by doing more stuff than just your standard industry meet'n'greet with drinks. In October we will try on the roles of art curators by putting together an art show with our favorite female creators in Stockholm.
R: Our plan is to just keep on keeping on! Maybe an album with covers of our favorite songs?
What is something that you are really excited for in your lives right now?
F: Our album of course!
R: And each other! I feel blessed seeing Fiona blossom and I know she feels the same way about me.
"The Art of Being A Girl" is available now on all streaming platforms.
Follow Rebecca & Fiona here.