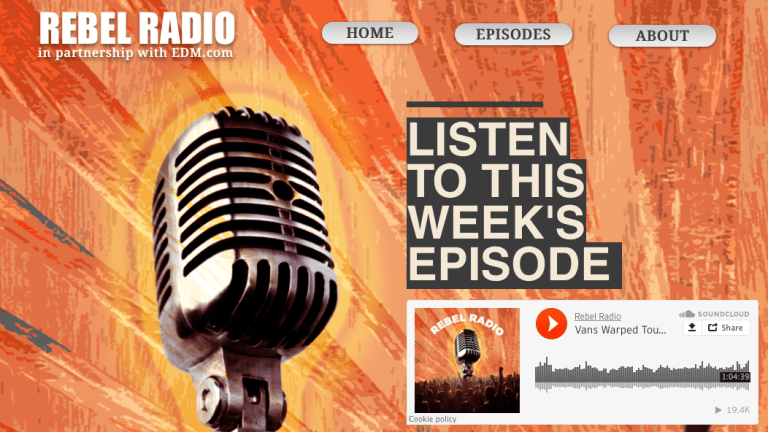 Rebel Radio: Inside Creativity and Entrepreneurship
Exclusive Interview with Co-Founder and CEO of EDM.com
Sometime in early 2015, my good friend and oft-times mentor Josh Levine reached out to me about a podcast he was looking to start.
His general concept was that entrepreneurs, particularly in the creative fields, have incredibly interesting and insightful stories - stories that span the gamut from the darkest depths of failure and despair to the extraordinary heights of innovation, success, creativity, and triumph.
"These creative entrepreneurs wield tremendous influence over the culture and collective consciousness of America today, and often even define what we wear, watch, listen to, and play with — and how we spend our spare time and loose change."
Both entertaining and educational, the show set out to explore how these entrepreneurs found their inspiration, how they created something where nothing existed previously, where they found their influences, and how they maintain motivation and creativity in the face of all the relentless distractions, obstacles, and setbacks that life so-often throws in your path.
Rebel Radio (the title that emerged for the show, a spin on Josh's own business Rebel Industries) shines a light on cultural pioneers, and "celebrates the rebels who innovate, collaborate, and penetrate the consciousness of young America and the world."
Each episode aims to provide deep insight into the spirit of creativity and entrepreneurship as a whole, as well as delving into the individual (yet recurring) motifs such as "seizing control of one's own destiny, and building business and legacies against all odds".
Nearly three years and over 100 episodes later, Rebel Radio has hosted many of the most engaging and influential creative power players across the creative space, and I've ravenously consumed nearly every episode. 
Suffice it to say, almost nothing provides the genuine affirmation of hearing first-hand how individuals you admire (or even look up to) have struggled with many of the same obstacles, and it's incredibly insightful and inspiring to hear them talk about how they approached and even overcame these trials.

That said, I visited Josh while in Los Angeles in January of 2018, and one night over sushi he asked if I'd like to do an impromptu interview for Rebel Radio after dinner. Having watched the project evolve and personally benefited from the stories of so many excellent guests, I was truly honored by the offer and immediately accepted.
I won't speak too much about the interview, as that seems a bit self-serving, but I highly encourage you to listen for yourself…. not because I'm a great guest, but because Josh is a fantastic host and has a natural talent for drawing what's most interesting and important out of anyone he speaks with!

"You might know that EDM.com is a co-presenter of Rebel Radio. You might have clicked on this episode because they told you to.

This week, co-founder of the site and their label, Ethan Baer, joins us to put us up on his journey, from discovering electronic music to innovating in the music business.

He tells us how artists should be thinking about connecting with fans in a business driven by streaming, and how he's adapted to the changing demands of leadership as he builds his company."
Check out the interview below:
Finally, I'd like to offer a genuine shout-out to the Rebel behind the Radio, Josh Levine himself. Self-taught, self-made, and a true model of perseverance, this dude thrives off of sharing his knowledge and experience with the world - his generosity, perceptiveness, and insight inspire me each and every day.
I hope you enjoy this weeks interview -- be sure to check out all the other excellent episodes below or on the Rebel Radio homepage!