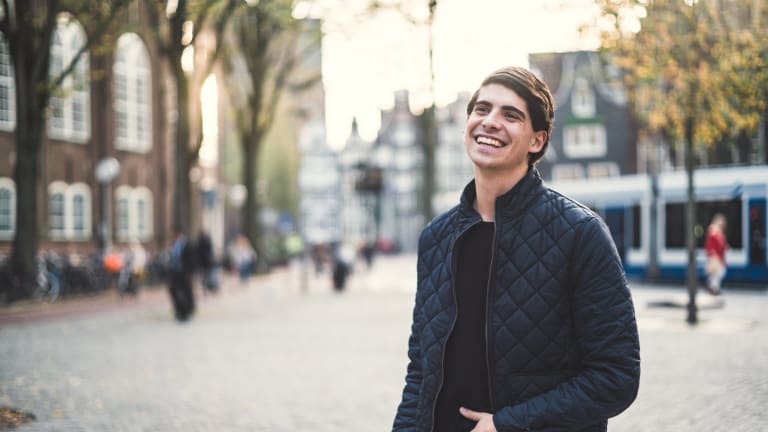 Euphoria & Energy: Refuzion's Unique Take on Hard Music [INTERVIEW]
Refuzion has created a hybrid euphoric & energetic style of Hard Music, and is gaining momentum quickly!
Hard Music has changed a lot over the years. Since it's explosion in the 90s, the music has split into many subgenres, such as Hardstyle, and Hardcore. As time went on, these styles evolved, and even more subgenres have been created over the years. Hard Music originated in The Netherlands and has spread around the world like wildfire ever since. During its rapid growth, a unique culture emerged around the music. 
Two decades in, technology has changed the game a lot. Tracks became more than just tracks - they became songs. Seemingly every day, new music comes out, each release sounding better than the last. Refuzion is one of the producers who is on the forefront of this movement. 
Refuzion has taken the scene by storm with a series of successful releases, including "Bass Jam", "Follow Me" and "Don't Care". He has performed at some of the biggest festivals in Hardstyle, and has a packed summer waiting for him. 
We spoke to Refuzion about his new music, and about his vision for Hard Music worldwide: 
First off, tell us a bit about yourself. Who is Refuzion?
Refuzion: My name is Benjamin Sahba - I'm 21 years old, I produce Hardstyle under the name "Refuzion" and besides producing Hardstyle, I also study music technology. I'm signed to the Belgian record label Dirty Workz, which is one of the world's leading hard dance labels.
I currently live in Norway, where I was born and raised. I love my country; we have such beautiful nature and it's accessible right outside our doors. Back in April I released the music video for my track "Follow Me". It was shot in the Norwegian mountains, and that video is very special to me because it shows my roots and where I'm from.
What was your rise through the Hardstyle scene like? What was your career like a few years ago, as opposed to your career now? What changed?
Refuzion: In the beginning, it was very slow. I started releasing music back in 2012, but it wasn't until 2014 when I signed with Dirty Workz that things started to get serious. My breakthrough track was definitely "Without You". This track was the turning point in my career. After the release, I started to get booking requests and it also resulted in me playing at Defqon.1, the world's largest Hardstyle festival. So, I would definitely say that a lot of things have changed when looking at booking requests and general response to my music. I've grown as an artist and as a producer and that has resulted in a bigger and better response to new music.
What is the Refuzion sound? What can we expect when we see a performance from you?
Refuzion: The Refuzion sound is very euphoric, but also energetic. I like to think that my music is more than just a kick and bass, I always want my tracks to be deep and bring out emotions in people, but at the same time get them going on the dancefloor.
In my live performances, I always do a mix of euphoric and energetic. It's important to keep it interesting, so I always want a mix of euphoric tracks who can create those beautiful moments and connection with the crowd, and more energetic tracks that get the dancefloor and makes people go crazy.
You just released your new track "Bass Jam." Tell us more about it.


Refuzion: As I mentioned above, I play a mixture of both euphoric and dancefloor friendly tracks. Since I started playing a lot of gigs, I've really felt that I need my own "crazy dancefloor track", and Bass Jam is my first one.

I'm quite inspired by both Trap an Hip Hop, so Bass Jam is a combination of cool Hip Hop lyrics, Trap Music, and of course, Heavy Hardstyle kicks :) I love the end result. I've already tested it out on several gigs, and the response has been amazing! People are going nuts!

My management and I also did a crazy music video which we shot in Amsterdam. People should check it out – it's crazy!
What do you think about the differences between the functions of DJ & Music Producer, and how do you balance these two to make unique performances?
Refuzion: I think this can be tricky because nowadays, everyone can be a DJ. You just need a little bit of practice and you're good to go! That's why I think it's important to have your own sound and represent your own music when playing live. As a music producer, you have fans who show up to your concerts to hear you play, to hear your tracks out loud, that's the one thing that makes music producers more unique when it comes to DJ performances. Anyone can play whatever track they want, which is why you need to represent your own sound and style.
What do you think of the growing popularity of Hardstyle in the US?
Refuzion: I love it! I like to think of Hardstyle as more than just Holland and Belgium, as a lot of people might think as it is far more popular there. I think that as an artist who resides outside of the main scene, you tend to look at more global markets that have a lot of potential, like the US has right now.
Looking at the US scene, it seems to have grown a lot in the past few years. As far as I know, there weren't any Hardstyle parties there some years ago, and now, there are some really cool parties going on! It's not on the same scale as Holland yet, where there are multiple ones every weekend.
I definitely think the Hard Music scene in the US will keep on growing because it's such a big country and the festival goers seem to be very open minded about the music that is being played at festivals. There is a lot of potential to grow a bigger scene.
Hardstyle will grow a lot more in the American market. It's already a big genre in Holland and Belgium as mentioned, so I think it will start to expand more to other countries around the world. It's also growing a lot in Asia now, which is exciting for the future of Hardstyle.
Do you think it's important to change the way you play when it comes to playing in a different country?
Refuzion: I think this is definitely something to keep in mind. If you look at the different countries, the scene can be very different. If you play in the Netherlands, you can play a lot of classics and old tracks because the scene there has been around from the beginning, but if you are playing in a country where the scene is fairly new, the crowd might not know these tracks and therefore it would be smart to play newer tracks since the scene might be more familiar with those tracks.
How did you discover Hard Music? What was the defining moment for you when you realized you wanted to be an artist and had a message to send with your music?
Refuzion: I had been fooling around with music production for some months when a friend introduced me to Hardstyle. I instantly fell in love with the music because it was so different from anything I've heard. It was energetic, catchy and so complex. Shortly after I started producing it, and I've been doing it ever since.
The defining moment for me was back in 2014 when I had just finished my track "DYWM (Do You Want Me)" which was a huge step in quality from my previous tracks. Back then I remember thinking that maybe this could be the track that took me to a new level in Hardstyle, that I could actually build a career in this genre. I then sent it off to Dirty Workz who decided to sign me to their imprint, after hearing the track.
Refuzion: Being a professional musician takes crazy amounts of motivation and dedication to yourself. Can you tell us a bit about the discipline it takes to follow this path?
It does take immense amounts of discipline to sit behind a computer and make music. Especially because in the first years it basically sounds very amateurish, you have all these cool ideas in your head, but you have no idea how to make them come alive. A lot of people might bash electronic music because they think it's easy to make with just a few clicks on the computer, but there is so much you need to learn before your music sound even remotely good. It takes many years of struggling in your bedroom before you get a high-quality sound to your productions.
What does your setup look like? What would you recommend a beginner who wants to start making music purchase to get started?
Refuzion: My setup consists of a pair of Genelec 8040B monitors, a computer, an Access Virus C, and a Focusrite Saffire 6 soundcard. You don't need anything fancy to get started, but I would definitely recommend getting a pair of studio monitors. I had a pair of Adam A3X monitors for many years before I got my Genelecs, those are cheap and work great.
What advice do you have for new producers entering the Global Hardstyle scene?
Refuzion: The most important thing to keep in mind is that you need something special to stand out from the rest of the producers. The genre has grown quite a lot the past years so it's getting harder and harder every day to break through. You need to have your own sound and your own image, don't look at other artists and copy what they do just because it works for them, no one is interested in a bad copy of someone else.
Tell us about your 2017. What's the plan for 2018? Where do you see Hardstyle going in the future, in a global context?
Refuzion: I had a great 2017 with multiple successful releases, music videos and, of course, some amazing gigs. My gig in Tokyo, Japan was especially a night to remember!
Next year I'm already seeing a huge increase in bookings, which will be a lot of fun because that means I'll be able to travel more, meet and play for my fans. So the plan for this year will be to release good music and hopefully reach a few milestones when it comes to playing in new countries and at new festivals.
As I mentioned earlier, I think Hardstyle will keep on growing in 2018, especially into new markets. In 2017 you could already see a lot of the big house DJs like Hardwell, Showtek, Armin van Buuren and more play Hardstyle in their sets, so I think the gap between House and Hardstyle might become smaller this year.


Thank you for your time, and we hope to see you play in the USA one day!


Refuzion: You're welcome! I hope to be playing in the US very soon!
Make sure you follow Refuzion: 
Facebook: facebook.com/refuzion
Soundcloud: soundcloud.com/refuzion
Instagram: instagram.com/refuzion