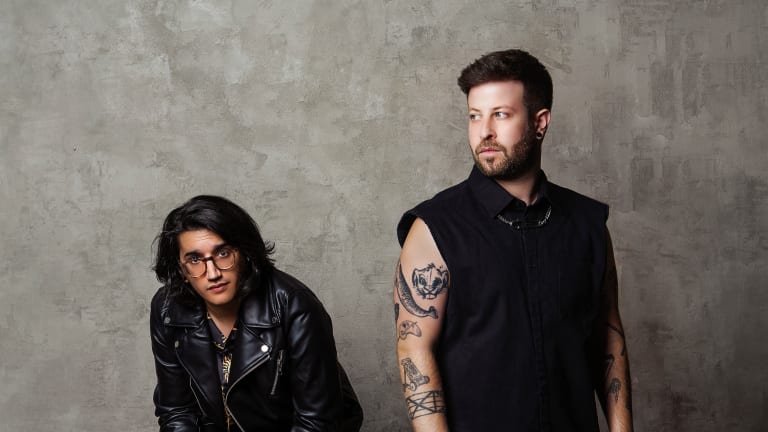 RIOT on Their Debut Album, Dogma Resistance, via Monstercat [Interview]
RIOT describe themselves as "just two stubborn guys who won't compromise until the snare is loud enough." When it comes to their sound, they can hardly define it in words. They states, "no genres, no pressure… just love for music."
Now, the L.A.-based duo return with their debut album, Dogma Resistance, a dark sci-fi concept project which comes alongside a comic book. This proves to be the Monstercat veterans' biggest project to date, clocking in at 10 tracks and bringing to life the story of Raymond Colt and his descendants. Fusing the past and the future, Dogma Resistance opens in the year 1936 as Colt and his sidekick accidentally encounter a never-before-seen force of evil.
Fast forward to 2045, the evil named Deinos has taken reign for over a century. Now, his descendants engage in a war to fight for all mankind against this alien enemy. Speaking on what they're most excited for with the release, RIOT revealed they've been working on and off on this album for over two years.
"We're most excited to let the listeners into our brains and have them be able to experience the full story in its final form," they told EDM.com. "Also, being able to put our story into a motion graphic novel was really a unique and cool experience we will never forget. Working hand in hand with another creative team that fully gets your story and vision is something we never thought could happen. Just crazy working with good creatives that share a common goal and vision!"
As far as the message to their fans, there isn't one takeaway from the project — it's something they feel should be personal and unique to the individual. They explain, "In general, we put our hearts and soul in every piece of art we're putting out. To see the response and effect it has on people's lives is the most satisfying thing we can ask for as artists."
RIOT's growth and evolvement as individuals has allowed them to work on the album together, symbolizing their journey to the top in the dance music realm.
Follow RIOT:
Facebook: facebook.com/groupRIOT
Twitter: twitter.com/RlOTmusic
Instagram: instagram.com/RIOTmusic