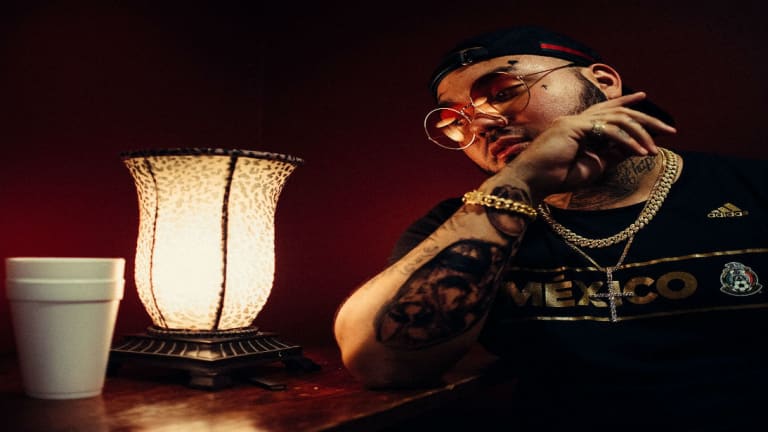 Behind the Music: Riot Ten Opens Up About Being a DJ Dad
Behind the Music is real-life conversations with your favorite artists to uncover gems of personal and professional growth. In this edition, father-producer, Riot Ten, shares how he came up as a DJ and a dad.
Imagine building a music career between the hours of 10am-9pm, amidst changing dirty diapers, after-school math sessions, and trips to the hospital. For Chris Wilson, that's life since welcoming his second son into the world, three months premature. Even with all this on his plate, the rising dubstep star keeps it mellow and focuses on the positive.
EDM.com: Which came first, your family or making music?
Riot Ten: I was making music for about six months when I had my first son. I was 16, and had just started producing my earliest electronic stuff the year before. 
You might think, being just a kid himself, that Chris would freak out about becoming a dad or give up his music dreams. But just like with everything else in life, he was up for the challenge.
Have you ever doubted that you'd be successful in music?
To be honest, I've always had this feeling I'd be able to make it no matter what I did. Anything I've done whether it's engineering, football or music, I do pretty well at it. I don't know if it's confidence or just positive thoughts about it, but I try to stay positive as much as I can and it definitely works.
It's not like I don't get discouraged or frustrated sometimes, but it usually lasts about a day before something big seems to happen. I get a big booking or make a good song. I remember why I love what I do and snap out of it. I've had to learn a lot of patience, though, because I want things to happen right away, which isn't often in this business
Did you get pushback about continuing to pursue music with a new baby to care for?
My family was super supportive in helping with both my sons. They did worry I would end up being one of those wannabe rockstars. But even though they weren't convinced my music career would go anywhere, I was stubborn and believed it would work out so I kept pursuing it. A lot of people were telling me I should quit music. But having a career I loved was important to me, and I knew eventually it would pay off for our family.
Not only did Chris have an unfailing faith in his dreams, he wasn't letting distance keep him from putting his work out there. 
Was it challenging building a music career in El Paso?
When I was a younger artist I definitely had a kindof grass-is-greener attitude. When you're younger you think you deserve more than you do and I would say things like "Man, if I was in LA I'd already be famous by now." Just ridiculous, immature stuff. 
But then I realized that it doesn't really matter where you come up from because you can get your music out from anywhere thanks to the internet. You can always reach out to this or that blogger with your new releases and anyone who can share your music. It obviously takes time, but if you're passionate then it's just like fun. 
 Sometimes, all you need to do is ask. You'll be surprised at the things you can get just by asking.
How long was it before you started making money with your music?
That didn't happen for a long time, honestly. I was pretty much riding off passion and hope for a lot of years. The first time I got booked for my first out of town show, in 2013 in Seattle, was exciting because it was like I started to see progress. 
Fast forward to today, and Chris is on his biggest tour to date. He's supporting multiple dates on Datsik's Ninja Nation tour,  just released his second EP, Hype or Die: The Dead, and six months ago became a father of two at 26.
How has life changed since your second son was born?
Life has been a wild ride the past six months. My second son, Kai, was born in September, at six months. Having a newborn is life-consuming, especially when they're premature. 
If he'd been born any earlier he probably wouldn't have survived, and even when he was born he was given a 30 percent chance of survival. We're so lucky and happy he's developing well, like a normal baby just a little smaller.
But the schedule was rough there for a while. I'd get up at six-thirty to take my first son, who's 10, to school, come back and go to sleep at 8 for a few hours, wake up around 11 and eat real quick, work on music for a couple hours then go to the hospital for 3 hours, then back to go get Chris Junior from his grandma's, do music a little more then help my son with homework. He goes to bed around nine-thirty so I don't work on music after that time. It's a lot better now that Kai is home, but there's still stress because we don't know the developmental challenges he could face as he grows up.
It hasn't been easy, but Chris has "zero regrets" about his path. Now on tour, he says he doesn't like having to be far from his family, but he's excited for the opportunities opening up in his career.
How's the tour with Datsik going?
It's amazing but it's intense!  We just finished a 6-show run and I don't even know what day it is anymore. This is my first bus tour so I have a chance to visit all these smaller towns I wouldn't be able to get to just on my own. I'm really enjoying getting to meet and make new fans, and just trying not to be the first party pooper to bed every night.
In the future, Chris says he wants to have more parameters around his tour schedule. 
How does your family influence your creative and career decisions? 
Well, it's tough right now because I'm trying to provide in the best way I can, but also want to be there with them. After this tour I'm trying not to go on tour for more than two weeks at a time and just playing a couple shows a week.
Do you have more career support from your family now?
Yeah, they're always teasing me like "Ooh, where did you get to go this time?" My family has always supported me, though. And even though my mom always told me don't get tattoos on your face and I do it anyways, she always helps out and my dad too. They've always wanted the best for me and I'm super lucky and grateful for such an awesome support system. I think my parents love my kids more than they love me, haha. 
Does your older son like music?
He does and he'll often request my music when we're riding around in the car. I hope to teach him some stuff soon when he's old enough.
How do you handle the difficult days?
When I'm depressed and have self-doubt, I like to really feel sad. I like to sulk in it and feel as bad as I can. I know it sounds weird, but I don't tell myself "it's gonna get better," I just let it be there. It's kind of like maximizing it and getting it over with, and then it goes away. Not when it's other stuff like everything with my son. Those times you have to be as positive as you can. But with doubt or career stuff, this works for me. I'll spend the day by myself being sad, then the next day wake up and think different instead. 
Is there a quote that inspires you?
I heard a quote from Oscar Wilde one time I've always remembered: 
"Everything in moderation, including moderation." 
I was awe-struck by that quote. I love it because it's deep and makes you think. That quote's been really influential for me. 
Thanks for being so real and sharing your optimistic vibes with us, Chris. We wish your family all the best. Check out Riot Ten's newest EP, Hype or Die, below.
Follow Riot Ten: 
Facebook: facebook.com/RiotTen
Twitter: twitter.com/RiotTenMusic
Soundcloud: soundcloud.com/riotten