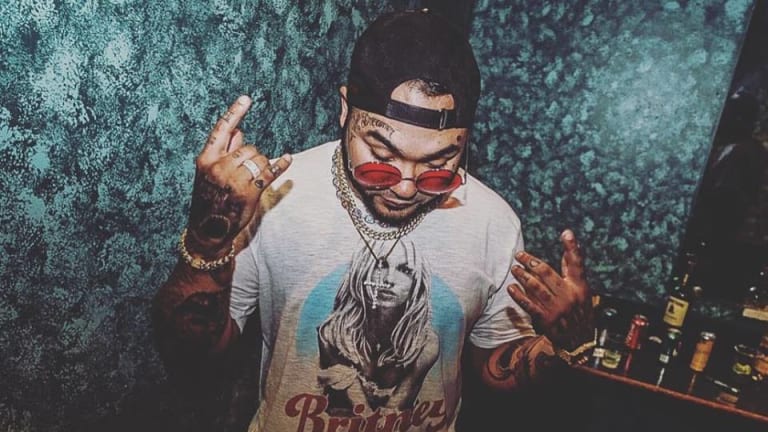 We Sat Down with Riot Ten at Global Dance Festival [Interview]
Chris filled us in on how he got his start in music, his upcoming HYPE OR DIE Tour, Fortnite, and more!
Riot Ten's set at Global Dance Festival this year was stock full of high energy and headbanging.  I haven't been lucky enough to witness this in person before, but the booming bass and screaming fans could be heard a good distance away from the Northern Lights stage.  Chris Wilson, the man behind the madness, has been producing since the age of 15.  Some of his most popular tracks you're sure to recognize are "Fuck It" with Sullivan King, "Money Walk" with H&D, and of course "Rail Breaker" feat. Rico Act.
After he finished his set, I got the opportunity to sit down with Chris and get to know him a little better as well as talk about his upcoming fall tour and EP.
Chris was thoroughly impressed with Global Dance Festival as a whole.  This was his first year playing the festival and not only did the fans go insanely hard (duh...Denver is the bass capital after all), but the people were nice and the festival was really organized.  When I asked him what sets he wanted to see while he was there, he mentioned Gucci Mane and Illenium B2B Said the Sky.  He also hopes to be back next year!
Despite being able to throw down some serious dubstep and hardstyle, you won't catch Chris blasting it in his car or when he's at home.  In fact, he usually listens to indie or hip-hop, which was his "first love".  He got his start in the industry by producing hip-hop, which gradually evolved through electro and trap, leading to dubstep.
I also learned that Chris is all self-taught as far as his producing goes.  He got introduced to the process by Cyber Punk (formerly Jack Bass) and then taught himself from there.  He did mention that he used YouTube to learn little effects or certain techniques, but he learned the program and sound design by experimenting on his own.  Chris uses FL Studio which he mentions is kind of looked down upon when compared to Ableton, but he said that he's been in music for ten years now so "if it works, it works".
When I asked Chris what one of his favorite songs was that he's produced, he said "Evil Dead".
It features vocals from one of my favorite movies, which is The Evil Dead, and it's one of the first dubstep songs I ever produced.  Even now, I listen back to it and it's definitely one of my favorites.
"Rail Breaker" feat. Rico Act is obviously another one of his favorites, and he also said he's continuously blown away whenever he plays it live.
I'm just always surprised by the reaction.  I play it a million times, and it's just always the same.
As I've been working in the music industry more over the last few years, I've learned that networking is a really important part of almost any position.  Lucky for Chris, this comes easily to him as he's a very outgoing person.  He says that once there's an icebreaker in the conversation, it's easy to get talking from there.  As far as the importance of networking goes, he says that it could be 50/50 next to talent.  "You never know who you're talking to" so it's important to always put your best foot forward and be respectful.
On June 27th, Riot Ten officially announced his HYPE OR DIE Tour which touches down in about 40 cities and festivals across the United States and even includes a few international dates.  This is his biggest headlining tour to date, as he's bringing out a bunch of acts on the lineup to help him break necks in each city.  For the full set of dates, lineups, and tickets, click here.
During the fall tour, Chris' girlfriend will keep him company and join him for a few of the dates.  Last year, he brought his son out to a few dates and even brought him out on stage during one of his festival performances.  One day,  Chris also hopes to bring his infant out to a few shows once he's older.
When he's on tour, a typical day for Chris consists of landing, going to the hotel, and relaxing until he has to go to the venue.  This is essentially the same as when he's off, as he loves to stay at home and spend time with his family.  For all of the Fortnite fans out there, there's a good chance you could catch Chris online as he spends about 6 hours per day playing when he's not making music or getting food.
At one point during the interview, I truly thought I was talking to myself when Chris said,
When I'm home, I like to just be home.  I don't like to go anywhere.  I hate that I'm boring sometimes, but you know what?  That's just me.
Is that extremely relatable to anyone else?
Amongst performances, Fortnite, and spending time with his family, Chris has also been preparing his second EP which is set to release this September.  When I asked him if there are any collaborations we should look forward to, he explained that he's more focused on finding amazing vocalists for his tracks.  His career has largely been based on solo tracks and progression, as he doesn't need "a big name to try and blow up a song".
However, he is definitely picky when choosing vocalists for his tracks.  Bok Nero (who is also a part of Dim Mak), Jeff Kush, Virus, and more are all making an appearance on the upcoming EP.  According to Chris, it'll have "a little bit of everything".  If he could have anyone do vocals for one of his tracks, he'd love to work with Meek Mill because he's always loved him and he feels like his energy matches his.
Towards the end of the interview, Chris dropped some serious words of wisdom for anyone out there that's trying to get into producing.
Never give up and don't listen to negative comments.  I dropped out when I was seventeen, I had a kid when I was sixteen...don't listen to anybody, just work hard.  Network, practice tutorials, anything you can do to always better yourself.  Whatever you can do, do it.
One random fact about Riot Ten?  He LOVES memes.  One of his favorite memes/internet crazes is below, and it's pretty funny.  Chris says that any time one of his friends says "yo let's party tonight", he sends that back and "they already know" what's up.
Riot Ten also recently released his first HYPE OR DIE Mix on SoundCloud.  This thirty-minute long mix has unreleased music from Riot Ten, some friends, and of course some of his already released songs we know and love.  Fans quickly took to social media to warn others that the mix absolutely has to be played at full volume, and causes profuse headbanging and bass face.  Listen (at your own risk) below!
To keep up with Riot Ten, follow him on Facebook, Instagram, Twitter, SoundCloud, and Spotify.