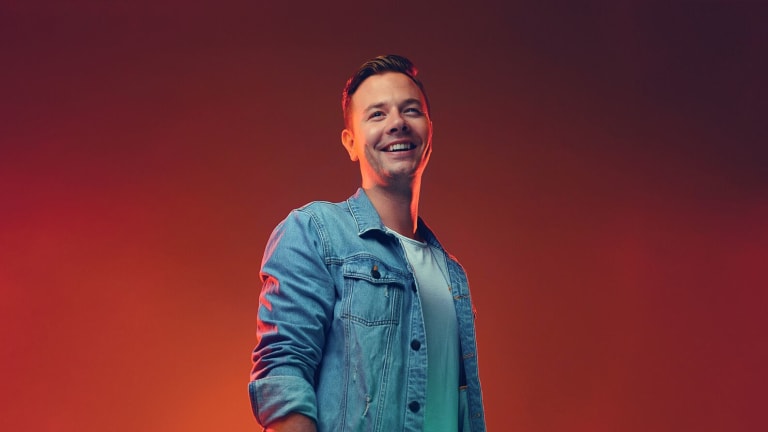 Sam Feldt Talks New Music, ADE and Everything in Between [Interview]
From his latest release with Jeremy Renner to his efforts towards sustainability, we sat down and spoke to Sam Feldt about it all.
We missed him through the summer due to a massive accident that left him bedridden, but Sam Feldt is back. Performing, touring and producing full steam once again, he dropped a track with an unlikely collaborator just earlier this month. 
Known for his unique collaborations, this time around Feldt collaborated with Hollywood star Jeremy Renner. Renner is mostly known for his role as the superhero Hawkeye in The Avengers and The Hurt Locker - for which he received an Academy Award nomination. Besides being an outstanding actor, a lesser known fact is that Renner is also a singer-songwriter, guitarist, keyboardist and drummer. Listen to their collaboration "Heaven (Don't Have A Name)" below:
We discussed not just music, but also Feldt's plans for the ongoing Amsterdam Dance Event (ADE), his efforts towards sustainability and his work on Fangage. Read what he had to say below. 
EDM.com: We missed you through most of the summer, but we're so stoked that you've fully recovered from your unfortunate accident. How does it feel to be back doing what you love?
Sam Feldt: It feels great to be back traveling and performing again! The accident really messed up the schedule for this summer. So yes, now that I've recovered I'm ready to get back to work and do what I love. These things happen, you learn from them, it could have been a lot worse. While slowly recovering from my broken leg, I had a lot of time to work on my music. So you see, there is always an upside to everything!
You've been known to hunt out some of the best collaborators in the industry to work with, and your latest release is no different! You just released "Heaven (Don't Have A Name)" with two-time Oscar nominee Jeremy Renner A.K.A. Hawkeye. How did this collaboration come around?
It was set up via my publisher, who reached out to me and said Jeremy Renner could sing and he was interested in collabing with me. I reached out to him and he recorded the vocals in his studio in L.A. We then bounced versions back and forth until we found the perfect take.
This song is very different from your other work, and it shows your ever-expanding catalog of work is only growing. What was the process of co-writing this track with Renner like? What would you say is the inspiration being this melodious and emotive track?
I wanted to show the world what I can do, that my music is not just one genre. This collaboration has been a great way to learn and expand my palette. It was something new for the both of us. With his background in Hollywood, I wanted the track to have a cinematic greatness to it. That's the sound I was going for. His raw voice was really interesting to work with. The track turned out great; I'm really happy with it!
Are there more Sam Feldt live shows on the horizon in the near future? With your melodic deep house sounds, live instruments seem to really enhance the experience. 
Absolutely, I love performing live with the band and it's such a great experience. It really adds something different to the whole performance and to see the responses in the crowd is something different. Each gig is different and playing together with the band adds this whole new show element to the arsenal. Don't get me wrong, I love doing my DJ sets, but I also love to challenge myself and spice things up a bit to see how the crowd responds to it. So far the shows have been amazing and the fans also love the addition of live instruments. Of course you have to think a bit more about how the show will progress beforehand but being able to do this next to my regular sets is a dream come true and another milestone that I wanted to accomplish.
Your music is versatile, and it took a bit of exploring before you found your sound. How do you best define Sam Feldt's signature sound?
I would describe my sound as: melodic, vocal and emotional. I always try to add these ingredients in my music. The music needs to grab your attention and stick in your head by the use of some nice melody or vocal. Most of my songs have an uplifting character because overall I'm a pretty upbeat guy and I like to make music that makes people happy. There was a time earlier in my career when I was too busy looking at other producers and doing my best to mimic their style. Of course, you can learn a lot from other people, but it took me some time before I realized that I had to figure out more what my style was, instead looking too much at others to find these answers. I decided to just make the music I like and that represents me best. That's the time when things really started to take off. No more focusing on trends or other DJs. Instead, I looked more at myself and started experimenting more within the realm of music making. That's the moment I started to develop my own sound.
We know you're always doing things to connect with your fans and make them feel special. With efforts such as Fangage, tell us how that's going and the idea behind it. 
Around two years ago, I was looking at my social media and I saw that I almost had 1 million fans combined over all platforms. I had, however, no idea who these people were or how I could reach them directly. The only option I had was paying large amounts of money to Facebook and Instagram in order to show my music to the people that already wanted to hear from me. For me, this was bizarre and kind of an eye opener. It was at that moment that I decided I had to create an independent platform for my fans where they could access all my content and where I could get personally in touch with them. After launching Heartfeldt.me, many other DJs followed and launched their Fangage portal - which proves to me that we are doing something right. So far we have a lot of companies, influencers, famous athletes and of course DJs that with the help of Fangage now reach a lot of their fans directly all via one portal that was tailor made and setup to fit their specific needs.
ADE is just around the corner and we hear you have some exciting plans in store for your Heartfeldt Fans. Tell us more about the exclusive, invite-only party you have planned for your fans. 
My Sam Feldt Invites You party during ADE is truly something special. 200 of my biggest fans will have the chance to win tickets for the event. When they do, they're in for a surprise. It's gonna take place at an amazing historic venue in Amsterdam. It will be quite an intimate event, something completely different. I'm really looking forward to it and it's a special way for me to give something back to the fans, who have supported me over time. Tickets can be won via radio and on the Heartfeldt fan portal.
You're also slated to speak on some extremely interesting topics during ADE this year. One of them being about "The Future of Plastic" by ADE Green. We know you can't give out much about that from now, but tell us a little more about how you feel about this and what steps we as an industry can be taking to do our bit.
I think for us human being it's really important to not close our eyes and look the other way when it comes to the way we treat our planet. We need to address these issues on all levels. So, I hope that I can create more awareness on topics such as our carbon footprint, the usage of plastic, the way we use transportation and other things that have a huge impact on our environment. Being a part of these panels is just one step I'm taking this year in a journey to become more sustainable as an artist. I'm also launching my own foundation, the Heartfeldt Foundation, this year - that will be a platform for influencers to raise awareness around sustainability issues. 
Here's an obvious one to sign off with, but what are you most excited about that is happening in the near future? Between shows, releases, collaborations, or anything else, what is the most exciting Sam Feldt news in the works?
First of all, I'm super excited to be back on the road again after two months forcibly at home - so I enjoy all the shows even more! There's one more release planned for this year that everyone is super hyped about, but more info about that soon. Touring wise my schedule is really full and I can't wait to hit all these awesome places together with the live band.
Follow Sam Feldt:
Facebook: www.facebook.com/officialsamfeldt
Twitter: www.twitter.com/samfeldtmusic
Soundcloud: www.soundcloud.com/samfeldt
Instagram: www.instagram.com/samfeldtmusic
YouTube: www.youtube.com/samfeldt